Managing projects can feel like you're spending most days screaming silently into the void. Scheduling tasks, assigning the right people, managing resources, juggling calendars, trying to get 10 people on a call at the same time… it's a never-ending battle against the clock.
And on top of that, didn't someone book time off for a family vacation during this upcoming project? Was it one of the dev ops team… or your creative director? Hmm… and wasn't your HR manager going on maternity leave sometime soon? You're sure you made a note of that… somewhere?
Even the smallest oversight in forgetting who booked time off can leave you dealing with a project mess that's stickier than a bear with a honey pot.
Luckily there are plenty of software solutions out there that are specifically designed to help streamline your leave management process and avoid project breakdowns.
But the best leave management software goes a step further by giving you the ability to manage time off alongside capacity planning and project forecasting – ensuring your team is never overbooked, and that they'll actually be available for upcoming project timelines. Employees should easily be able to set their own time off, view team calendars, and get notifications and approvals of upcoming leave.
In this article, we're taking a look at some of the best leave management software for 2022 – including Calamari, Resource Guru, and Rippling.
Resource Guru – Best leave management software for balancing time off and work
If you're looking for standalone leave management software, or a platform to complement your existing task management or HR tools, we recommend you check out Resource Guru.
Resource Guru takes a flexible, people-focused approach to leave management that empowers teams to enjoy a healthy work-life balance and builds time off into project plans, so managers are never caught short. Working hours and time off can be assigned and managed alongside each other, so it's easier to plan ahead and ensure that everyone's workloads remain balanced, while projects stay on track.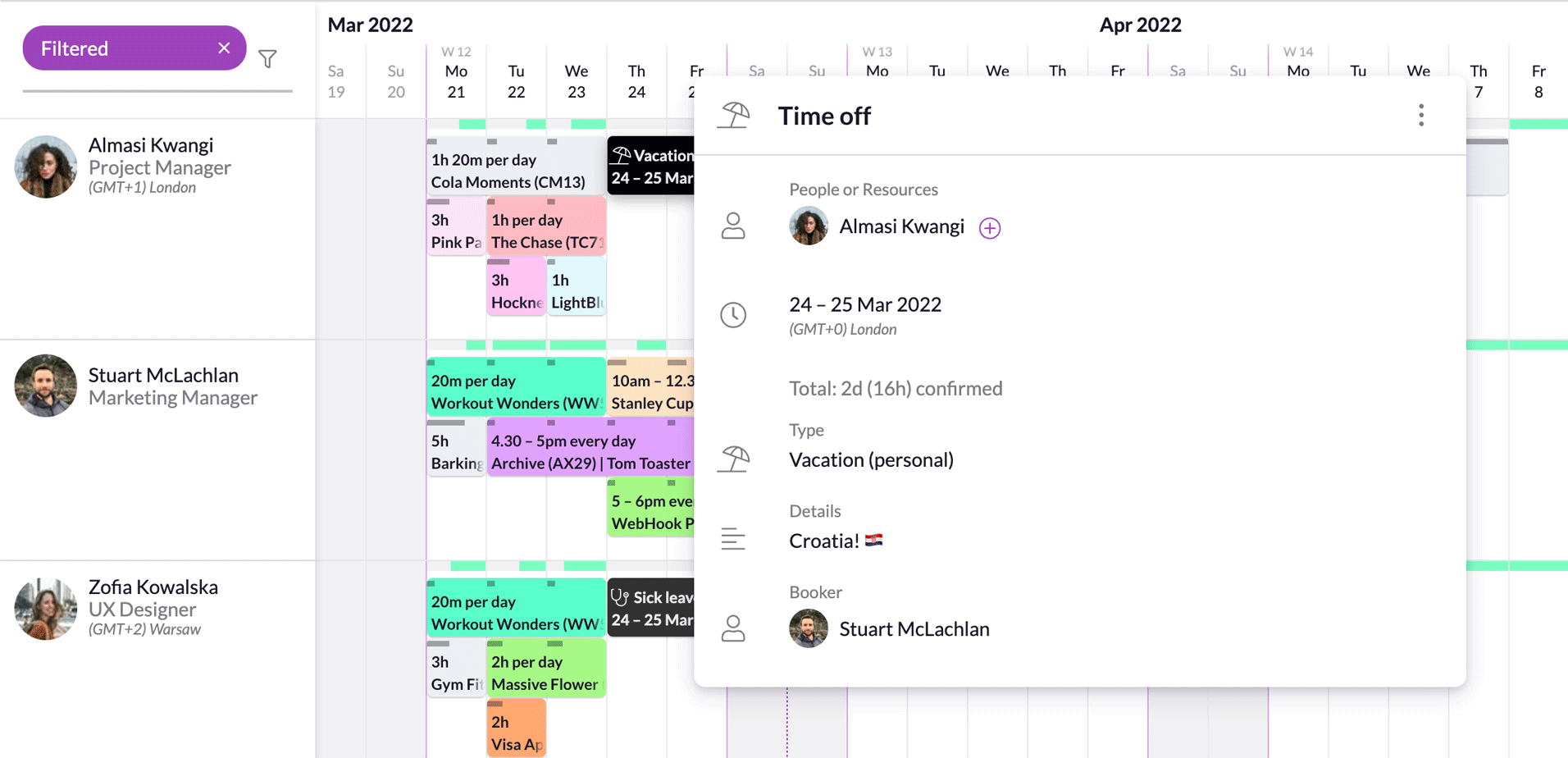 Resource Guru isn't a dedicated HR tool so it doesn't have features like payroll and timesheets, which you get with tools like Rippling and Grove HR. Instead, it focuses on being a lightweight, specialized solution that helps you build time off seamlessly into your project and resource scheduling. Resource Guru's drag-and-drop interface makes it easy to schedule leave and work seamlessly across multiple projects and resources.
Team members can view their schedule, book time off, and set up calendar integrations from their personal dashboard. They can also set their hours of availability and time zones – essential for remote and hybrid teams, or companies with a mix of full-time, part-time, and contract workers.
Through the team schedule and a handy availability bar, managers can stay informed about who's going to be working at any given time, so they can balance workloads and absences, and avoid potential timing conflicts. Capacity planning and project forecasting tools are also included to make leave management a breeze.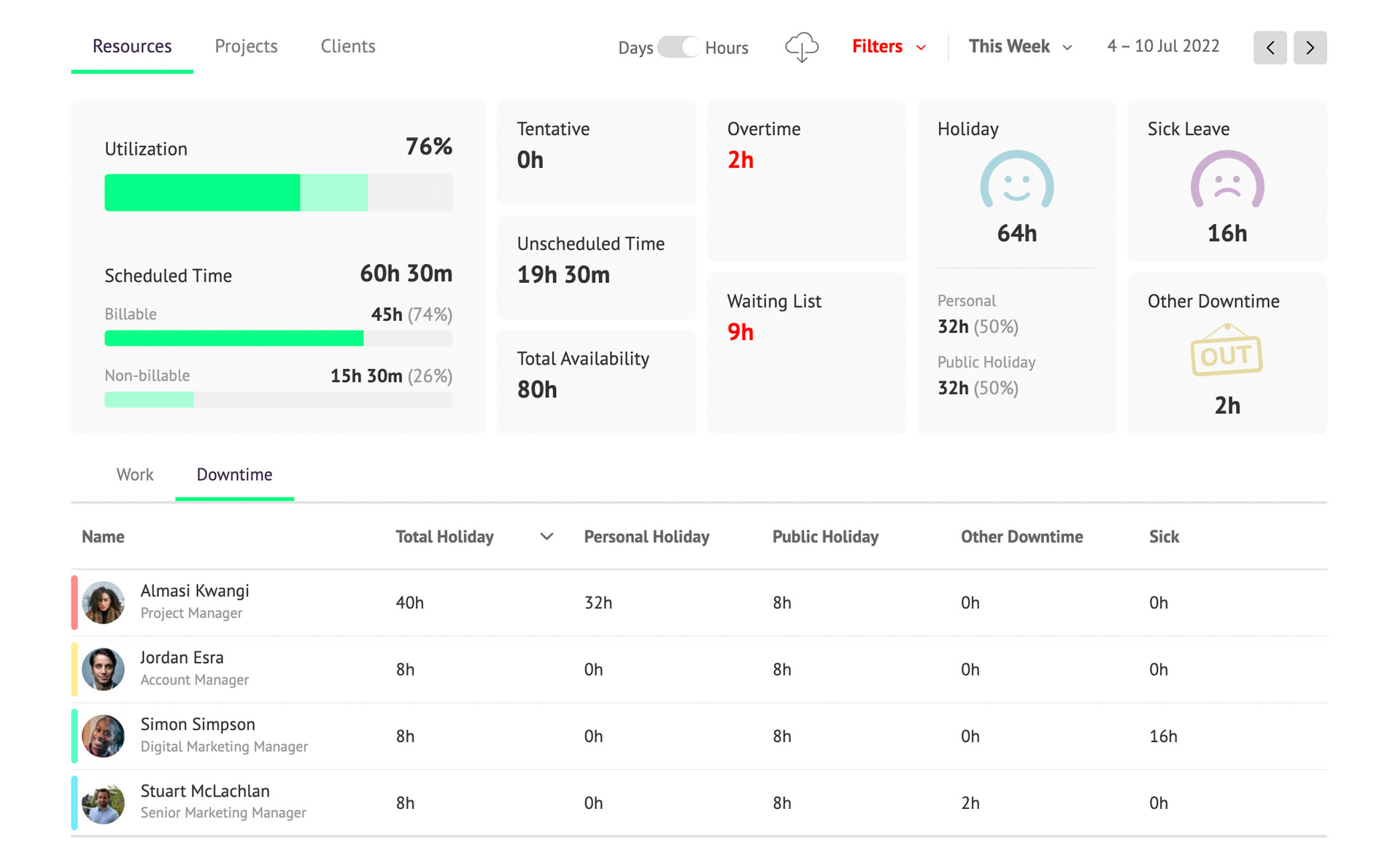 With Resource Guru, you can easily track different leave types, including maternity leave, compassionate leave, sickness, vacations, public holidays, and more. Plus, you'll always have a clear picture of what's coming up for your teams with daily notification emails and dashboards that give you full visibility into who's doing what at any given time.
Like Calamari, Resource Guru plays nicely with the tools you already love – you can set up integrations via Zapier, an API, or use direct integrations with Microsoft Outlook and Google Calendar. This ensures ease of communication and scheduling across projects.
If you've been searching for a leave management tool that prioritizes the work/life balance and productivity of your team members, look no further than Resource Guru.
What customers say
Their calendar is extremely helpful and clear. With Resource Guru you can schedule people and easily manage annual leave, sick leave, and hours dedicated to each task, client or project.
Management for the whole team has never been so easy and effortless. You can mark your annual leave so the account managers know not to assign any tasks on those days in advance.
Key features
Zero learning curve
Easy drag-and-drop layout
Robust leave management capabilities
Resource scheduling
Capacity planning
Project forecasting
2-way calendar integrations
Pricing
Resource Guru has three pricing plans:
Grasshopper (from $4.16 per user, per month)
Blackbelt (from $6.65 per user, per month)
Master (from $10 per user, per month)
There are also add-ons if you want to manage your non-human resources (e.g. meeting rooms and equipment) for an extra $2-$6 depending on your plan. You can pay either monthly or annually – but on the annual plan, you'll receive a hefty 20% discount.
Resource Guru's pricing is very competitive compared to the other tools on our list – and unlike tools such as Calamari, you get a full set of leave management features for one price. Even the basic Grasshopper plan gives you all the leave management essentials, plus other robust features like clash management, user permissions, API, and individual dashboards.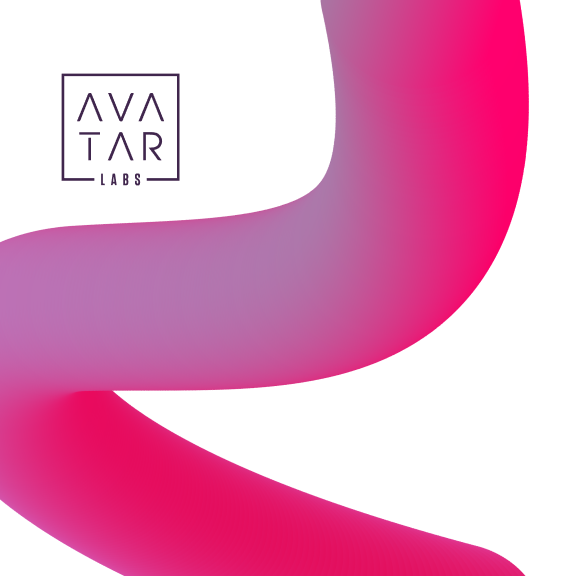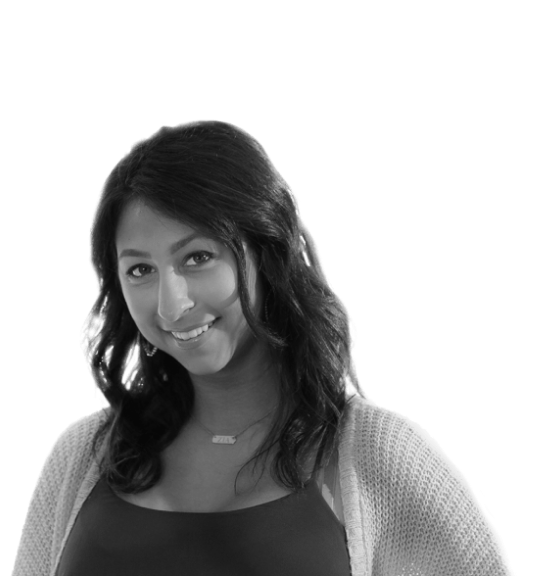 "Resource Guru has significantly improved our visibility, boosting project ownership and forecasting ability."



Try It Free
Calamari – Best leave management software for teams
Calamari is a software platform that helps with both time tracking and leave management. As well as being a good choice for managing time off for office-based employees, it's also suitable for hybrid and remote teams. It tracks time for remote workers separately and is available in five languages to suit the growing number of distributed workers around the world.
This product is designed to make leave management easier for teams. You can plan and track vacation, sick leave, and paid time off in one place, rather than relying on spreadsheets and messy email threads.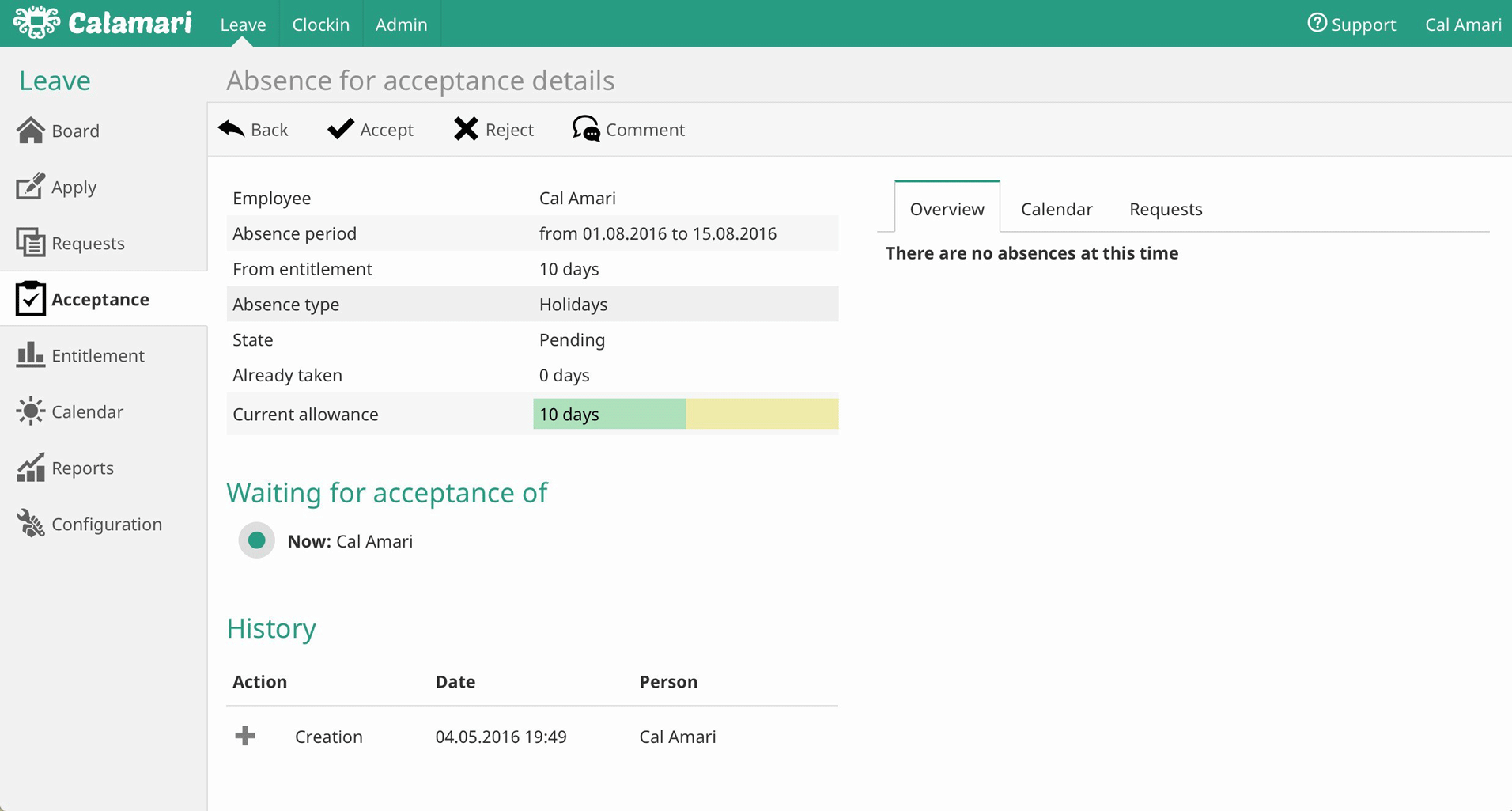 It's a fairly easy platform to get started with, but some users say they wish the design was not "so outdated" and that interface pages like App and Calendar look identical, meaning they often find themselves "trying to do tasks appropriate to one on the other."
This platform offers integrations with popular third-party tools such as Jira, Slack, Office 365, and Google Workspace. The Google integration in particular is very useful, but not as robust as some users would like. One reviewer commented that:
"It would be nice if Google sync wasn't an all-or-nothing solution. It would be nice to just see the people in our own division's team calendar events and not everybody's."
The main downsides to using this tool are that reports aren't fully customizable, and it can get time-consuming trying to personalize the reports for your needs. Users commented that to "set up custom leave rules you need to dig a bit" but that it becomes easier once you understand how to do this.
If you're looking for a leave management tool that gives you good visibility into who's taking time off across your local and distributed teams, then Calamari is a good option. But it doesn't have the capacity planning, clash management, or project forecasting capabilities that other tools like Resource Guru offer.
What customers say
The integration with Slack allows our team to easily track and be aware of team members who are off on leave.
The interface is very modern, and I thought it was relatively user-friendly (some of my staff disagreed, however).
Key features
Absence calendars
Automations to align leave with your PTO policy
Approval flows
Chat in-app or via Slack
Available in 5 languages
iOS and Android apps
Pricing
Calamari has two straightforward pricing plans:
Leave management ($2 per user per month, billed monthly)
Clock in, clock out ($2.50 per user per month, billed monthly)
As the plan names suggest, each tier corresponds with a specific module – one for leave management, and the other for time tracking and clocking in/out. So if you need the full feature set, you'll need to pay double for both subscriptions.
Although these plans appear reasonable at around $2 per employee – there's a minimum of 10 users required – meaning you'll pay a minimum of $20 per month for this software (and $45 a month if you need leave management plus time management features). In addition, admins and managers are also counted as active users, so you'll need to factor this into your budget. This can make the pricing steep if you're a smaller business.
Calamari doesn't offer a free version, but they do have a 14-day free trial.
Grove HR – Best leave management software for HR managers
Grove HR positions itself as a complete HR platform, and it has a ton of features to handle recruitment, onboarding, employee performance, and payroll. But while it has a very comprehensive feature set, it's not focused on building leave management into daily scheduling and workloads like Resource Guru or Teamdeck.
This platform makes it simple for teams to book, approve, and record their leave without any HR involvement. Employees can manage their time off requests by themselves – which increases job satisfaction and reduces admin time. HR managers can set their own custom leave policies for time off and eligibility, and then let them run on auto-pilot.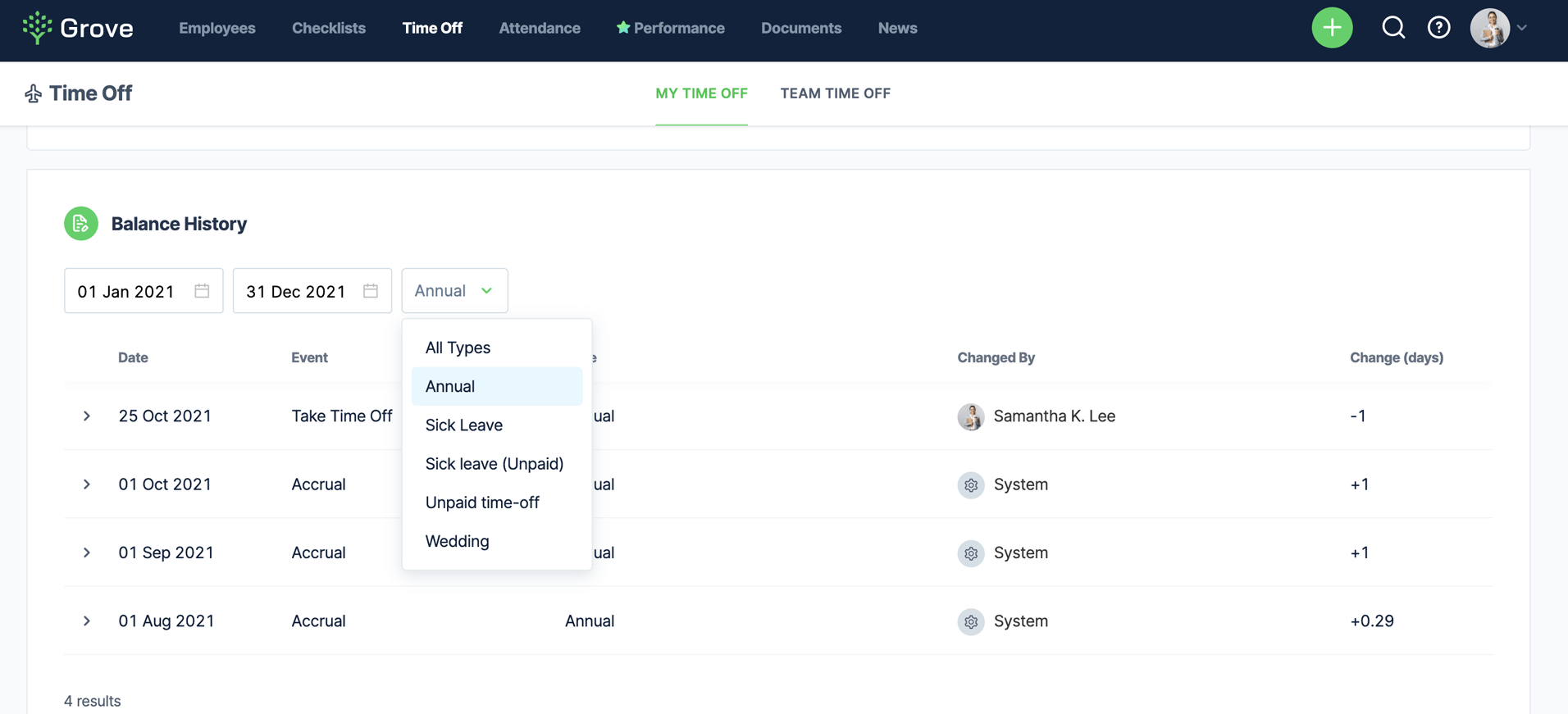 Grove HR covers the basics of scheduling time off, but users comment that it's "not that flexible in terms of leave management". There's also no functionality for capacity planning, project forecasting, or clash management to protect team members from being double-booked or overworked when they book time off or their availability changes.
What customers say
I like that it has all the basic needs such as recruitment, leave management, attendance tracker, HRIS, and basic reports.
Grove HR is no doubt among the best HR management platforms in the market, but it lacks certain features.
Key features
Time attendance
Payroll
Leave management
Team time-off calendar
Unlimited time off types
Pricing
Grove offers three pricing tiers:
Essentials (From $3 per employee, per month)
Perform (From $4 per employee, per month)
Engage (From $6 per employee, per month)
The Essentials plan offers 30+ features, including leave management tools like unlimited time off types, automated accrual rules, mobile requests/approval, and HR and payroll solutions.
The pricing page is a little confusing for visitors – as it states that the Essentials plan is free forever for up to 50 employees, despite showing that there's a monthly fee. It also mentions in the FAQ section that VAT isn't included in any of the prices, which is a little sneaky.
It's worth noting that the pricing model here is a "pay as you go" model, meaning that you'll be billed based on the number of employees who log into the Grove HR platform – which could potentially make things unpredictable at billing time.
Teamdeck.io – Best leave management software for agencies
Teamdeck is essentially a resource management suite, similar to Resource Guru, so it doesn't have all of the HR-focused features offered by other tools listed here.
What it does include is standard leave management features such as tracking time off, tracking leave according to leave types, and approval from managers. It's an ideal solution for agencies that work with freelancers and temporary collaborators.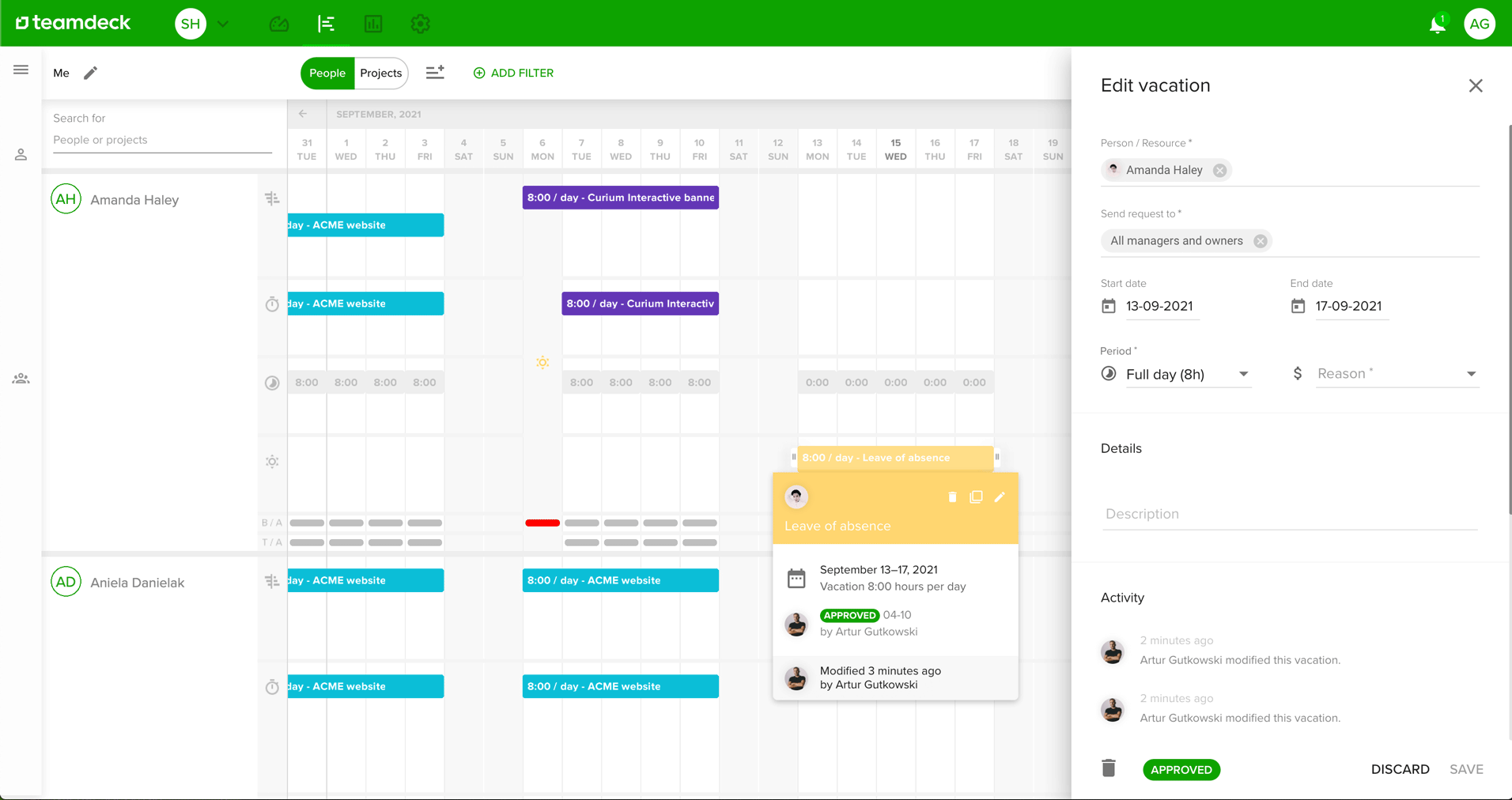 This platform gives companies an easier way to manage vacation requests and track daily availability. Employees can manage their availability from the app, and (if they're set up as users) freelancers and contractors can do this as well.
Team members can request time off in the app, and managers can quickly approve or deny this depending on upcoming project schedules. Approved leave will automatically show in the appropriate calendar view for visibility, so managers can assign people to projects at the correct times.
Teamdeck offers customized reporting features that teams can manage – with links that can be sent to clients. It also has ready-made templates for PM, HR, and finance teams. However, in product reviews, many users mention that the reporting system is buggy and they stopped using it as it was "consuming most of our time rather than benefiting our workflow."
Like Resource Guru, Teamdeck gives you the ability to control team workloads and get visibility into their capacity. But it doesn't offer more advanced features like clash management or non-human resource planning.
What customers say
It makes us stay focused and every kind of hassle related to work allocation can easily be sorted out with the help of this tool. But due to the limited options, we can only work with this tool for a limited team size.
The dashboard view is nice and the reports are helpful. It is very easy to keep track of holidays and vacations.
Key features
Resource scheduling
Time tracking
Leave management
Reporting
Pricing
There are two pricing tiers available in Teamdeck:
Basic ($1 per user, billed monthly)
Team Member ($3.99 per user, billed monthly)
As its name suggests, the basic plan means you'll just get very basic features. Each user is listed on your resource calendar and timesheets, but they won't have access to the app. Everything is managed by an admin on this tier. This plan is a good option if you work with freelancers or temporary collaborators who need their time tracked, but don't need access to the Teamdeck platform.
To get access to all the leave management features, you'll need to subscribe individual users to the Team Member plan.
Track different types of absence and build time off into your team schedules with Resource Guru. Try it free for 30-days (no credit card required)
Deputy – Best leave management software for shift management
Deputy is a popular tool for time tracking, attendance, and scheduling. It includes basic leave management features and enables shifts to be assigned based on team member availability.
The central dashboard lets managers visualize availability and approve all upcoming leave requests, plus track leave that has already been taken so they know the remaining time off that's available for each employee.
If an employee calls in sick, Deputy lets you find and schedule a suitable replacement without needing to make a bunch of time-consuming phone calls. It also lets employees easily swap shifts with other suitable team members when they need to.
From the employee side, people can clock in and out through their inbox on either desktop or mobile. They can see what their schedule looks like in advance, and when they'll be required to work.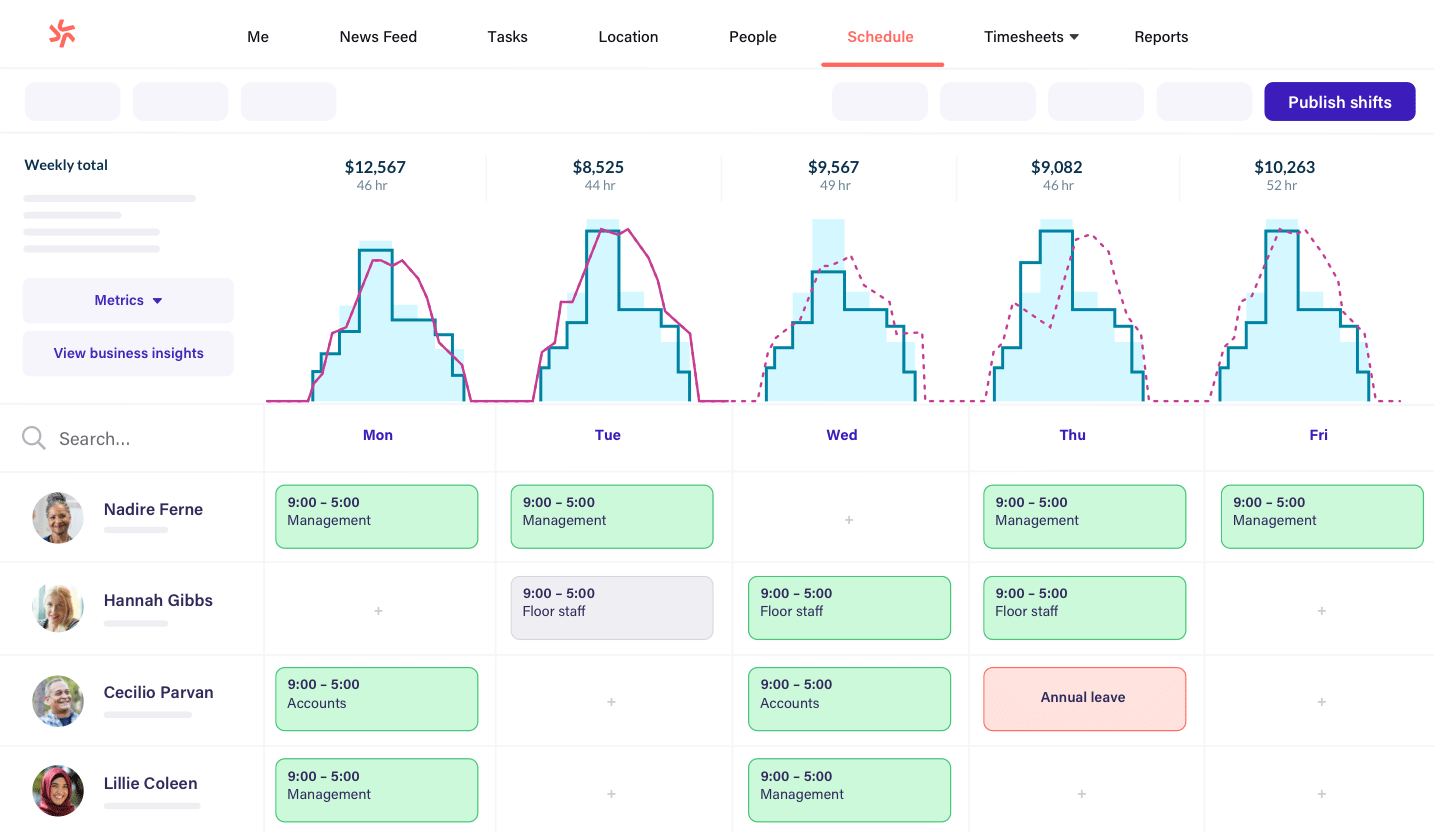 Deputy generally has good feedback about the friendliness of its interface, but users also comment that "some employee management features, such as setting/retrieving PIN codes, archiving employees, etc. are buried in strange places in the interface and difficult to access."
While it's a great tool for employee scheduling and time tracking, it's not robust enough to be a comprehensive leave management tool. Users mention the lack of customization options when it comes to setting up scheduling for their specific needs, the inability to assign specific working times for each user, and that the "scheduling feature is not very robust or intuitive."
If you're a manager that needs a more streamlined way to plan and assign shifts for workers, Deputy is worth taking a look at. But if your core needs are centered more around creating healthy team workloads, managing time off alongside capacity planning, and resource forecasting, then a software tool like Resource Guru might be a better fit.
Deputy integrates with popular third-party tools like Quickbooks, Square, and Gusto for increased payroll and bookkeeping capabilities. It also integrates with another leave management software option, Rippling, which we'll talk about shortly.
What customers say
Generally pretty user-friendly. Makes it easy to request time off and see who's working.
It is a very efficient system but is slightly easier to use on the desktop rather than on the phone screen.
Key features
Time and attendance tracking
Scheduling
Integrations
iOS and Android apps
Pricing
Deputy offers four pricing tiers:
Scheduling ($2.50 per user, per month)
Time and attendance ($2.50 per user, per month)
Premium ($4.50 per user, per month)
Enterprise (customized for teams of over 250 employees)
While these prices seem pretty good – you'll need to read the fine print on Deputy's pricing page before you sign up. In the FAQ dropdown, they require a minimum spend of $25 per month, which means you'll need at least 10 users on the lower tiers to get value for money.
In addition, they mention that admins, managers, and supervisors are also counted as users, so you'll need to factor this into your budget.
When it comes to the plan features – make sure you scan exactly what comes with each pricing tier. The Scheduling and Time plans both have core features missing between them (e.g. auto-scheduling, payroll integration, and timesheets) – so if you want to make use of the full feature set, you have to subscribe to the Premium plan at a higher cost.
Rippling – Best leave management software for automation
Rippling has a vast amount of features for employee management, payroll, talent management, and benefits – including leave management solutions similar to the ones offered by Grove HR.
Employees can request time off through the platform, and these requests automatically get sent to their managers. From the admin side, Rippling makes it simple to approve, manage, and track time off for each employee. But again, this tool is lacking "human planning" features that consider time off alongside employee workloads and ensure a balance between people's actual availability and their capacity to take on more work.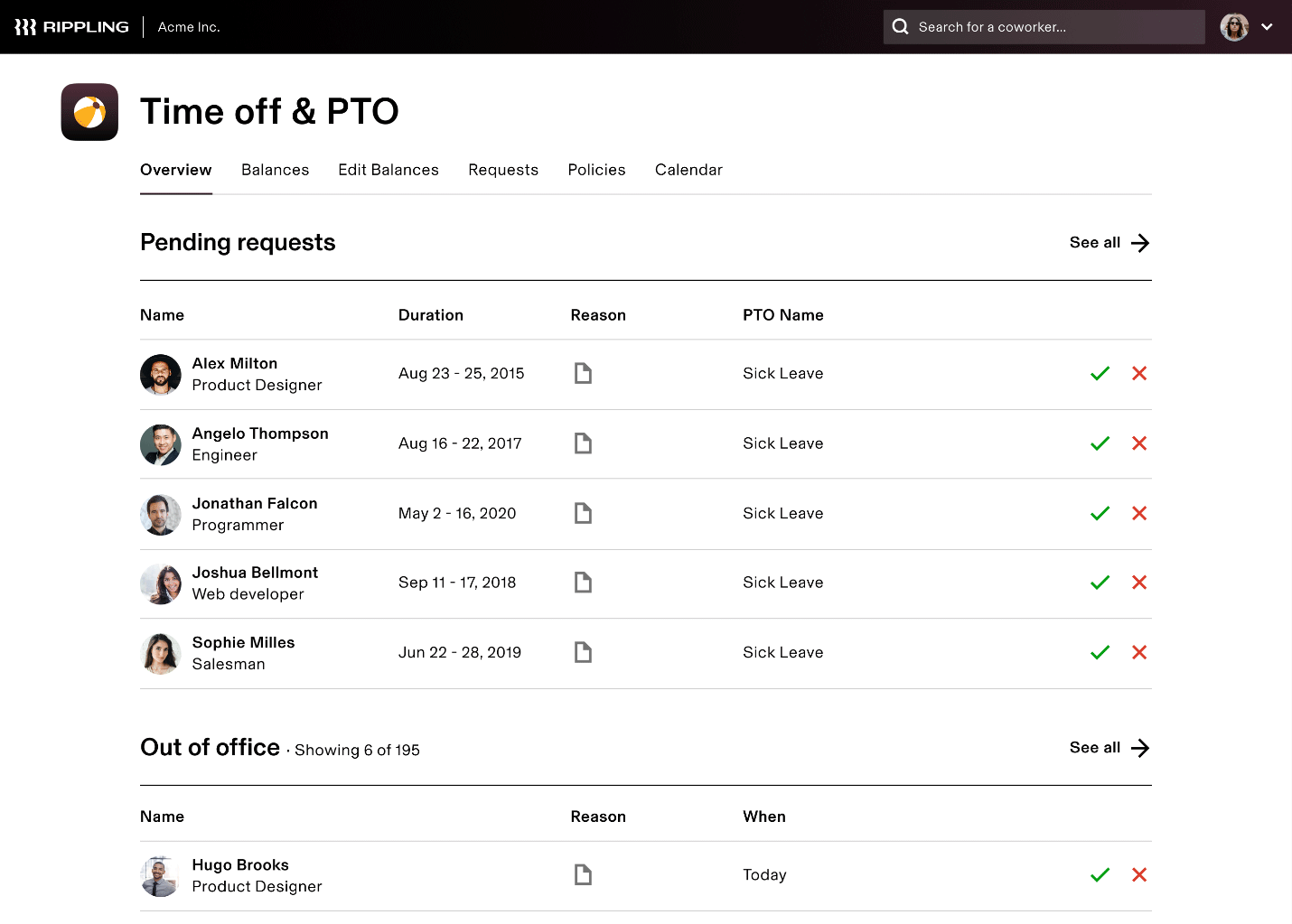 Rippling offers hundreds of handy templates, along with workflow automations that can track and approve leave requests without any human involvement. The customizations and flexibility are a highlight of the tool – but the complexity might intimidate smaller businesses – and there is a learning curve to overcome when you're setting up your customizations and reports.
For the most part, users find that the "interface is extremely easy to use and very intuitive from the start" and no formal training is required for managers or employees to get going.
Some users say that "things like leave type are confusing to create – there should be more language around how or when to do each type or how to set it up", but in general, you should find it a user-friendly experience.
As we mentioned earlier, Rippling integrates with Deputy to create more robust payroll and leave management processes for your organization. But that means you'll be paying twice the subscription fees, which can get pricey.
Rippling also syncs with over 400 other apps including QuickBooks, Xero, Slack, and Google Workspace – and you can access all your chosen integrations with a single sign on.
What customers say
It is a good basic payroll and benefits tool (banking, PTO, company directory, and shared documents).
The software is easy to use and intuitive. Up until the payroll defects issues, we had been happy with the product.
Key features
Very customizable
Time and attendance management
Payroll processing
Good variety of integrations
Reporting
Pricing
Unlike all the other tools on our list, Rippling has no pricing plans. Your base price will be $8 a month per user – but beyond that, the exact prices remain a mystery unless you contact sales for a custom quote.
Although this quote-based pricing will be fine for some organizations, the lack of expected subscription prices on the website can deter many people from investigating further. It makes things feel like they're going to get really expensive.
Users reflect this feeling by stating that the costs can escalate quickly, as "every move you make has a corresponding price" and "it can be frustrating to feel there are costs constantly being added on as we need to add features."
There's also no free trial with Rippling, so you can't easily determine if the features vs costs are going to be worth it for your specific business needs.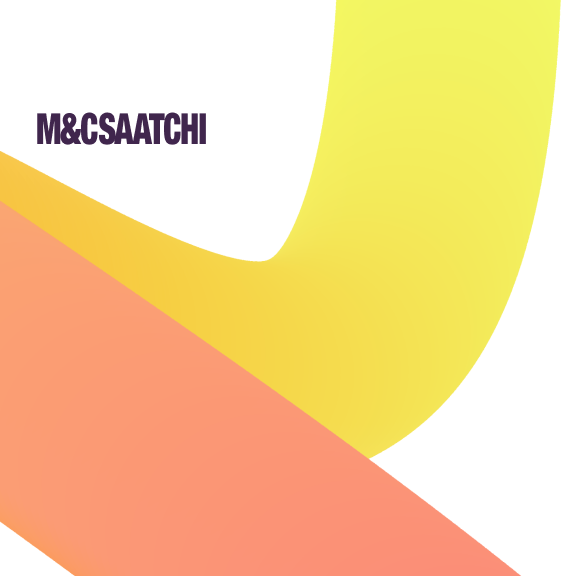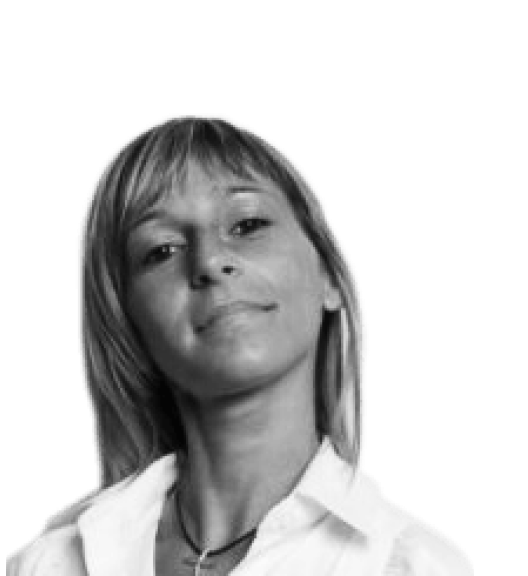 "Resource Guru is simple to use. It allows us to optimize our resources and keeps an eye on every project."



Try It Free
Freshworks – Best leave management software for all-in-one business management
Freshworks is part of a suite of business tools that include Freshdesk, Freshchat, and Freshteam. It offers fairly standard leave management features, which make it a good option if you're just searching for a smoother way to track and manage time off.
Employees can apply for leave easily, put it into the approval flow, and have it quickly signed off by managers. The dashboard shows how much leave is available for each employee – defined by categories like casual leave, earned leave, and optional leave. There's also a layout where you're able to see who is on leave today, or within the next week, so you can plan your task scheduling accordingly.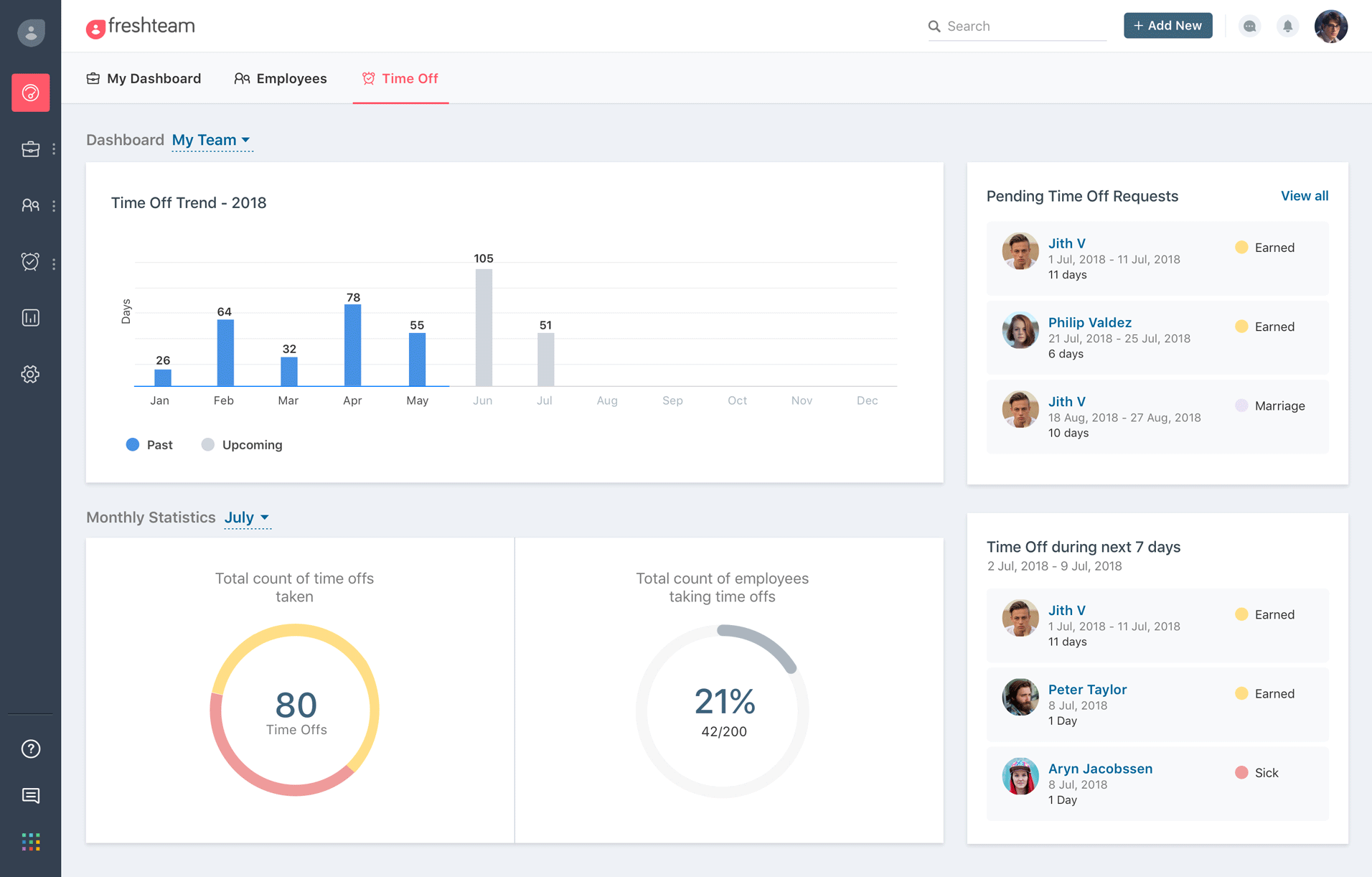 Freshworks gives you the option to manage multiple leave policies and team calendars. It offers automated features that allow accruals and carryover of leave that hasn't been taken – according to the internal policies that you can set up and run on autopilot.
While Freshworks covers the basics of leave management well, it could be more robust in terms of the specifics. One customer review mentioned that:
"It is difficult to see which colleagues are on holiday, sick leave or working from home on specific dates. Especially for a SaaS company, this is vital information where the majority of the team is working remotely".
What customers say
It helps us to identify availability and also helps teams to track time off and leave and other team-related activities.
Very helpful in monitoring and applying leave days.
Key features
Leave tracking
Holiday calendars
Approval workflows
Custom calendars
HR tool suite
Pricing
Freshworks offers four price tiers:
Free
Growth ($1.26 USD per employee, per month)
Pro ($2.52 USD per employee, per month)
Enterprise ($5.05 USD per employee, per month)
On the paid tiers, you'll also need to factor in the monthly platform fee, which starts at $74.65 USD. This makes Freshworks the most expensive leave management tool on our list by far – but you're paying for the full HR features and versatility of the business suite as well, which can make it cost effective for larger organizations.
The free plan is suitable for up to 50 employees, but this only offers very basic time management features. All in – this platform isn't really designed for smaller companies who need comprehensive leave management software.
What's the best leave management software for your business?
If you're ready to ditch the spreadsheets, tedious admin, and endless phone calls about taking time off – dedicated leave management software might be what you're looking for.
For larger organizations, Freshworks provides a comprehensive business suite with leave management features built in. But the pricing is prohibitive for smaller companies, and the free plan doesn't offer a lot in the way of managing and planning time off.
We think Calamari and Grove HR are solid options if you're looking for more of a standalone leave management tool, but they're lacking some of the features that can help prevent work overload across teams and projects.
If you're looking for a software option that manages leave management alongside team workloads and schedules then Resource Guru could be for you.
It puts capacity planning and project conflicts front and center, so you're always fully aware of the actual availability and workload of each team member. That way you can ensure your teams stay happy and productive.
Take a free 30-day trial of Resource Guru today.