Team scheduling is almost impossible unless everyone's calendars show every event, appointment, and meeting that matters.
That's why we're excited to announce our new two-way sync for Microsoft Outlook Calendar.
Hot on the heels of our Google Calendar integration, our latest release brings Microsoft to the party and takes us closer to the ultimate in team scheduling – a unified view of everyone's availability in one place.
This new calendar integration gives you the power to synchronize your Resource Guru schedule with Outlook Calendar, and vice versa, so you can reduce the risk of conflicting commitments and missed deadlines.
Ready to connect Outlook Calendar with Resource Guru? Read on for full details of what's new and how it works.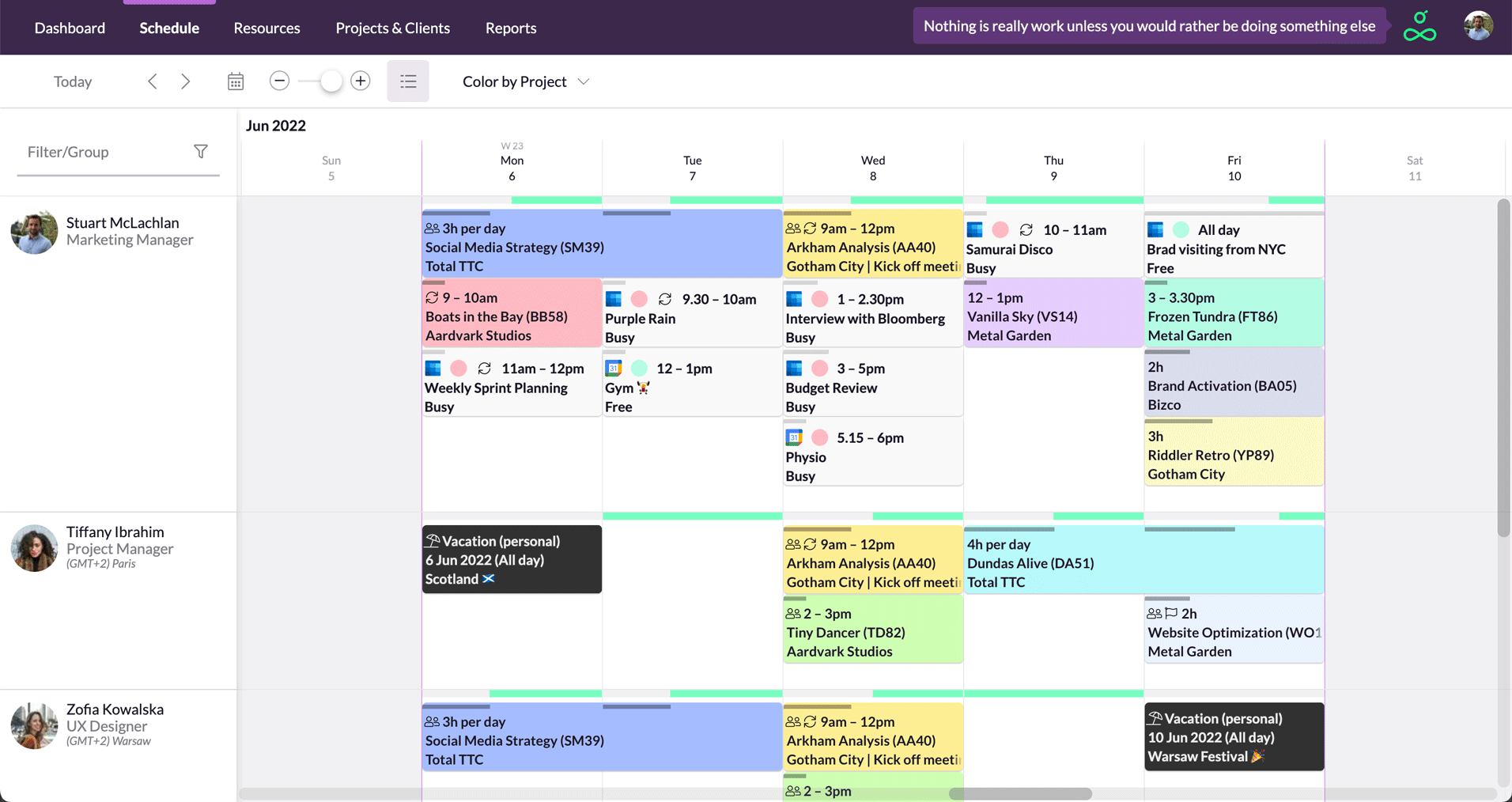 A fresh outlook for team scheduling
Resource Guru customers can already send bookings to Outlook Calendar using our one-way iCal feed, but this new release is a big upgrade.
A two-way Outlook Calendar integration means that events sync in both directions. So your Resource Guru bookings will be added to Outlook and your Outlook Calendar events will appear in Resource Guru.
Even better, it happens in real-time. So you can be confident that whichever schedule you're looking at, you're seeing an accurate, up-to-date view of the days, weeks, and months ahead.
No more unannounced appointments, unexpected meetings, and double bookings throwing your carefully curated working week off track.
Quickly connect your Outlook Calendar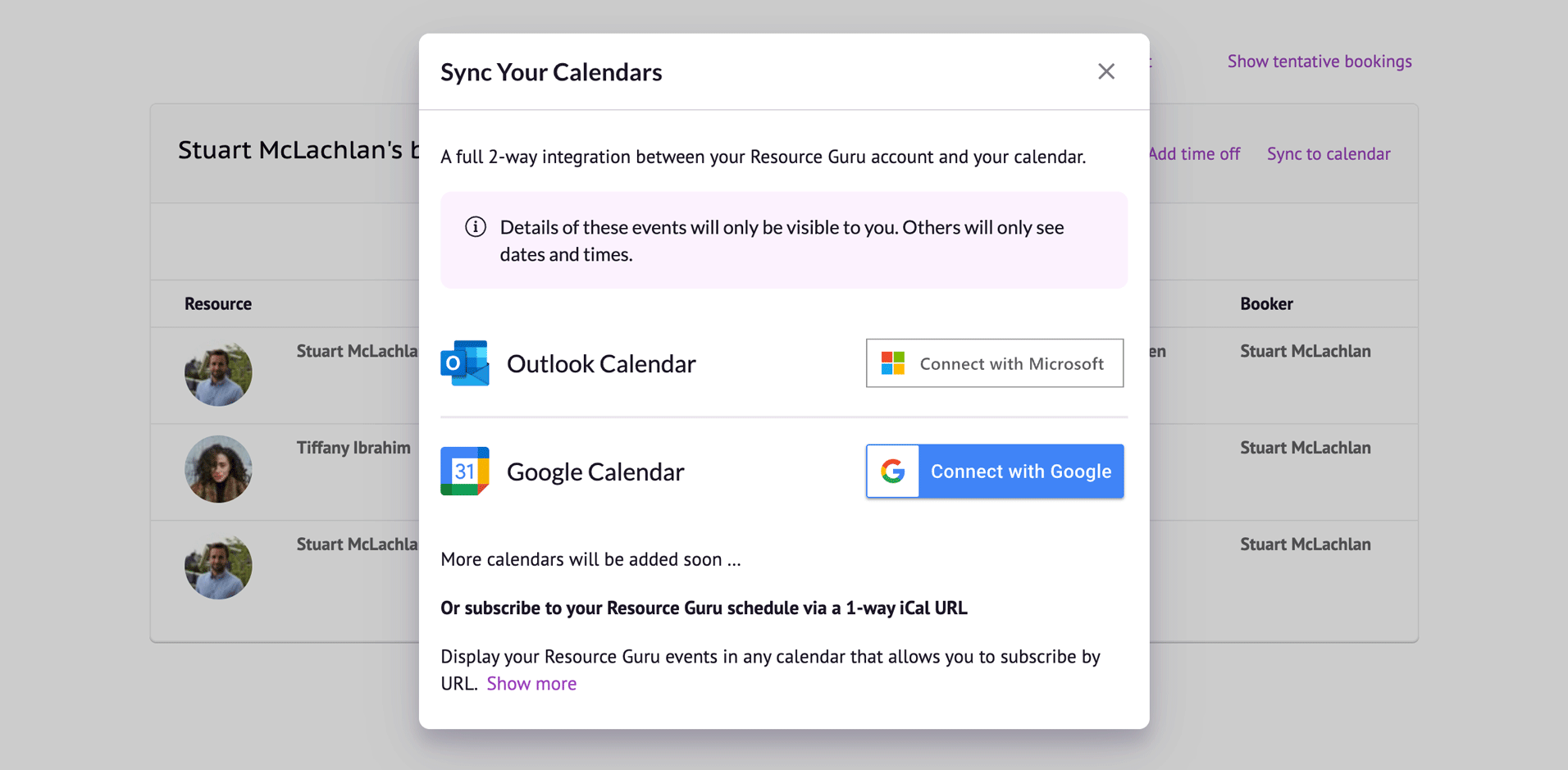 You can sync your Outlook Calendar with Resource Guru in four simple steps:
Go to your Dashboard
Click Sync to calendar
Authorize Resource Guru to access your Microsoft account
Choose which calendars to sync
Once the sync is complete, you'll start seeing Outlook events in your Resource Guru Schedule. The Outlook Calendar logo and light grey background will help you spot them easily among your other bookings.
You can manage your calendar integrations at any time by going to Settings > Calendar Integrations.
Visibility with privacy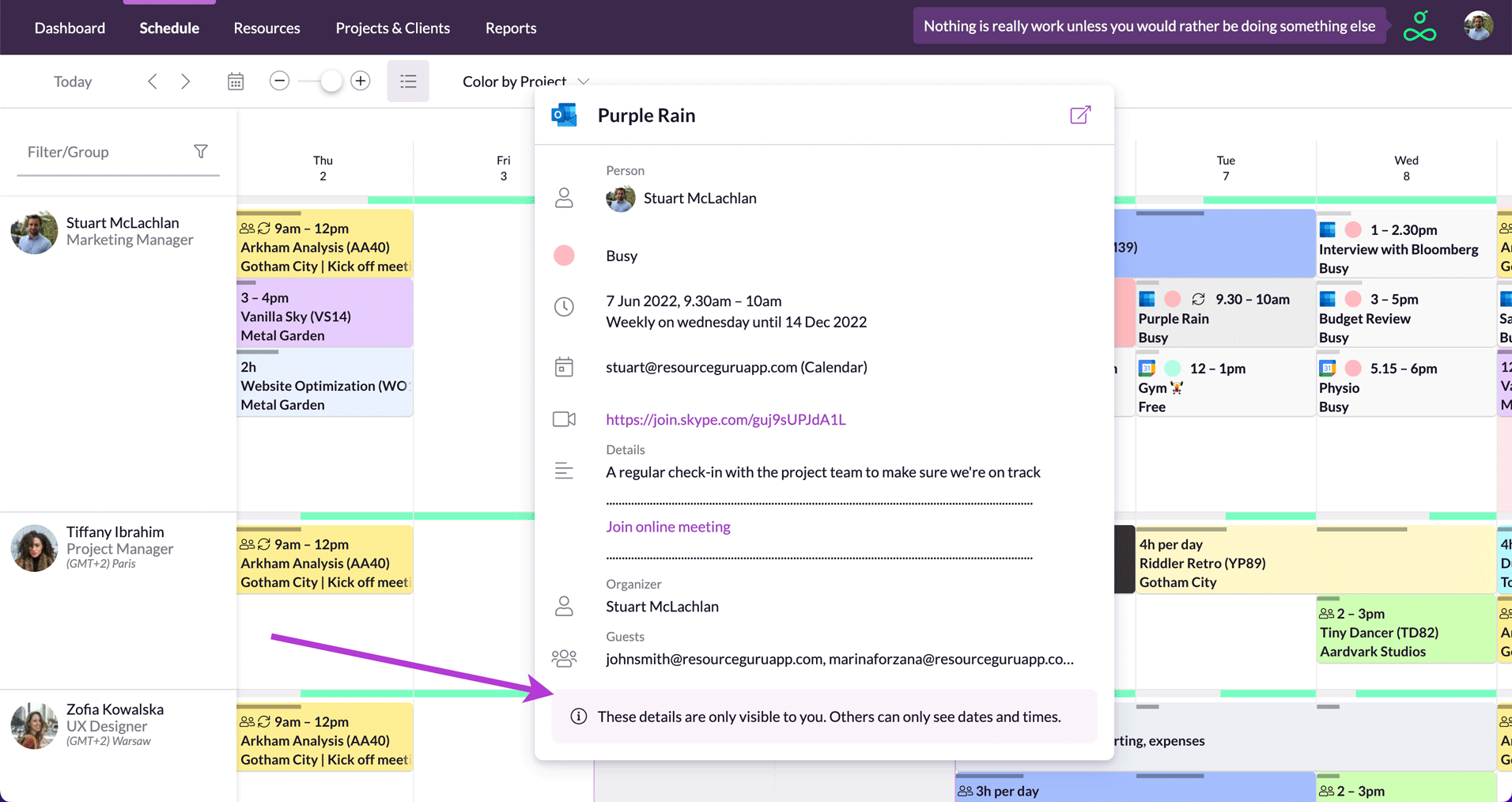 Shared calendars make scheduling easier, but they shouldn't come at the expense of your privacy. For any events synced from Outlook Calendar, we make sure that the full event details are only visible to the person who synced the calendar.
So for your own events, you will see all the most important details, including the name of the event, the date/time, conferencing details, location, organizer, and attendees. Anyone else viewing the same event in Resource Guru will only see that you're busy and the date/time.
This combination of visibility and privacy makes it easy to identify team availability without compromising anything confidential.
Working together in harmony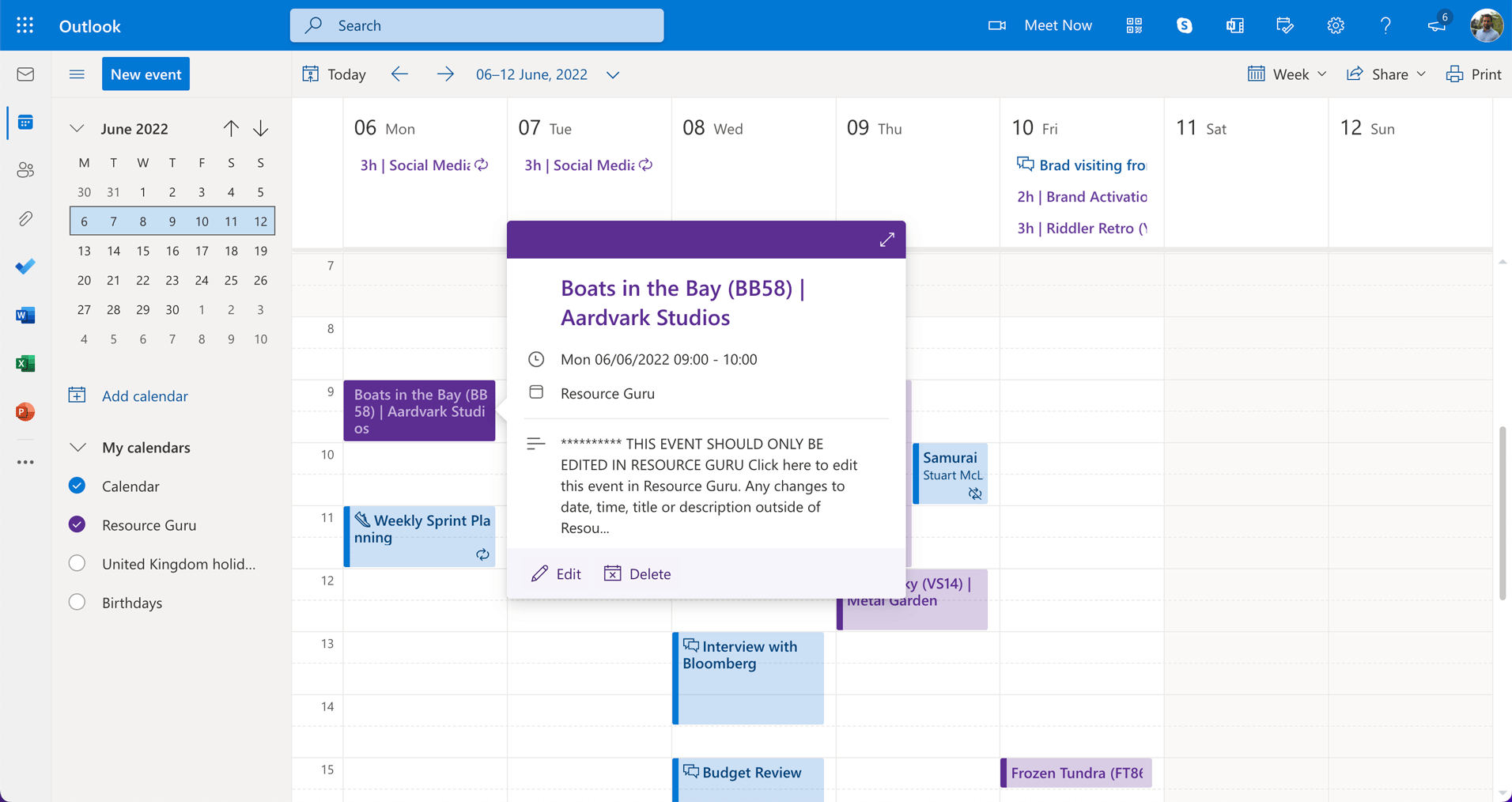 In keeping with our two-way Google Calendar sync, we intentionally kept parts of Outlook Calendar and Resource Guru separate. This helps ensure that they both work as intended and you experience no unexpected surprises.
For example, Outlook Calendar events synced into Resource Guru do not impact availability and will not trigger booking clash notifications.
However, we will warn you when an Outlook event clashes with a specific time booking in Resource Guru, or when an Outlook event takes you beyond your available working hours. Days where this happens will be highlighted with a red background and explained by a tooltip.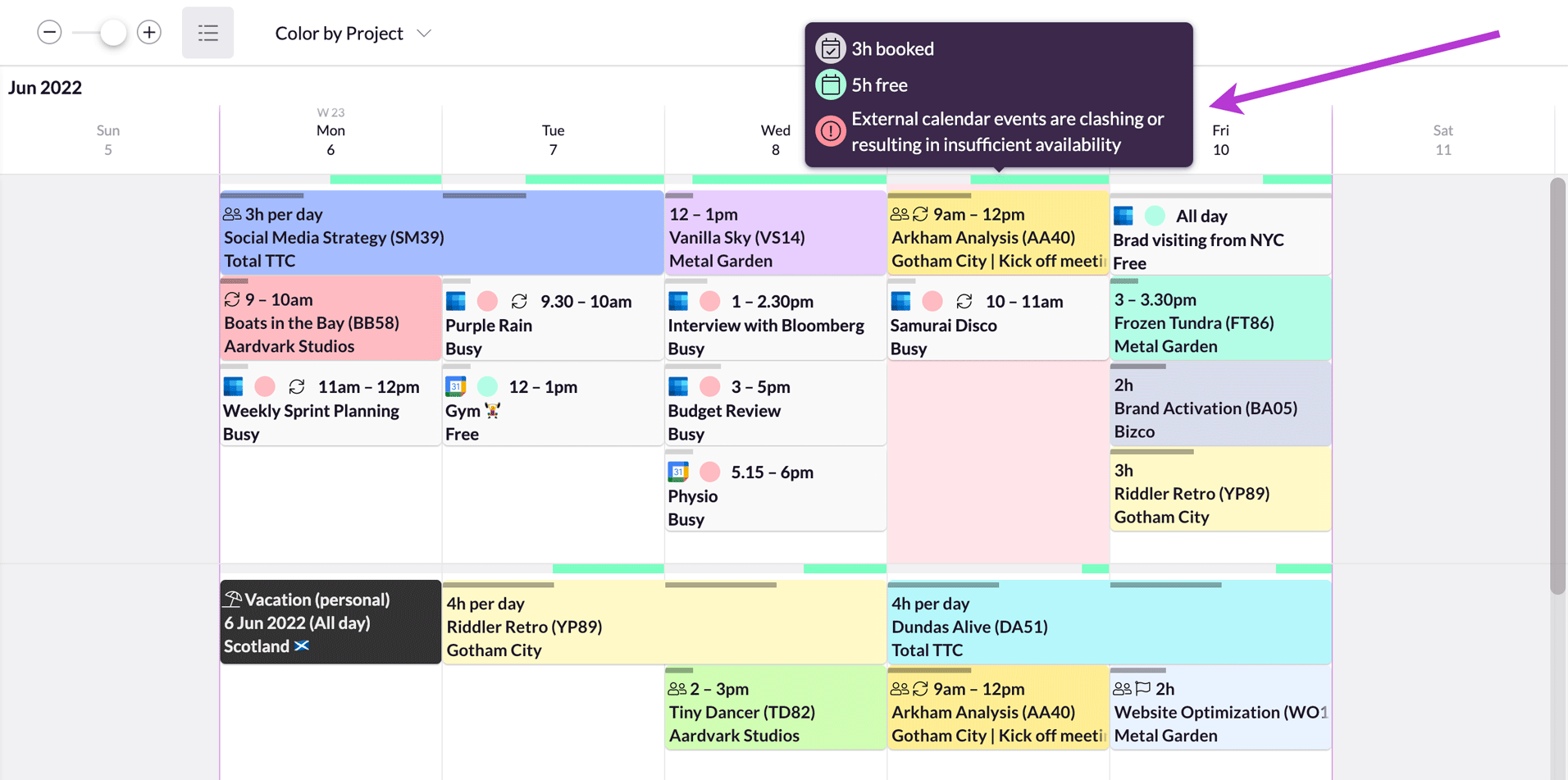 It's also worth noting that events can only be edited in the platform they were created in originally. For instance, if you edit the event name, description, start or end time of a Resource Guru event in Outlook Calendar, it will be re-synced and reverted back to the original.
This helps prevent inconsistencies in your schedules that can disrupt your scheduling.
More ways to keep on top of your bookings
Together, our Dashboard and daily schedule email keep you fully abreast of your working week. But once you've connected Outlook Calendar to Resource Guru, you get even more options.
For those who need an extra nudge, you can add Outlook reminders to Resource Guru events – for example, 10 minutes before a meeting starts.
With Resource Guru events synced with Outlook Calendar, you can also view your Resource Guru schedule in the Microsoft Outlook mobile app, giving you another way to stay on top of things while on the go.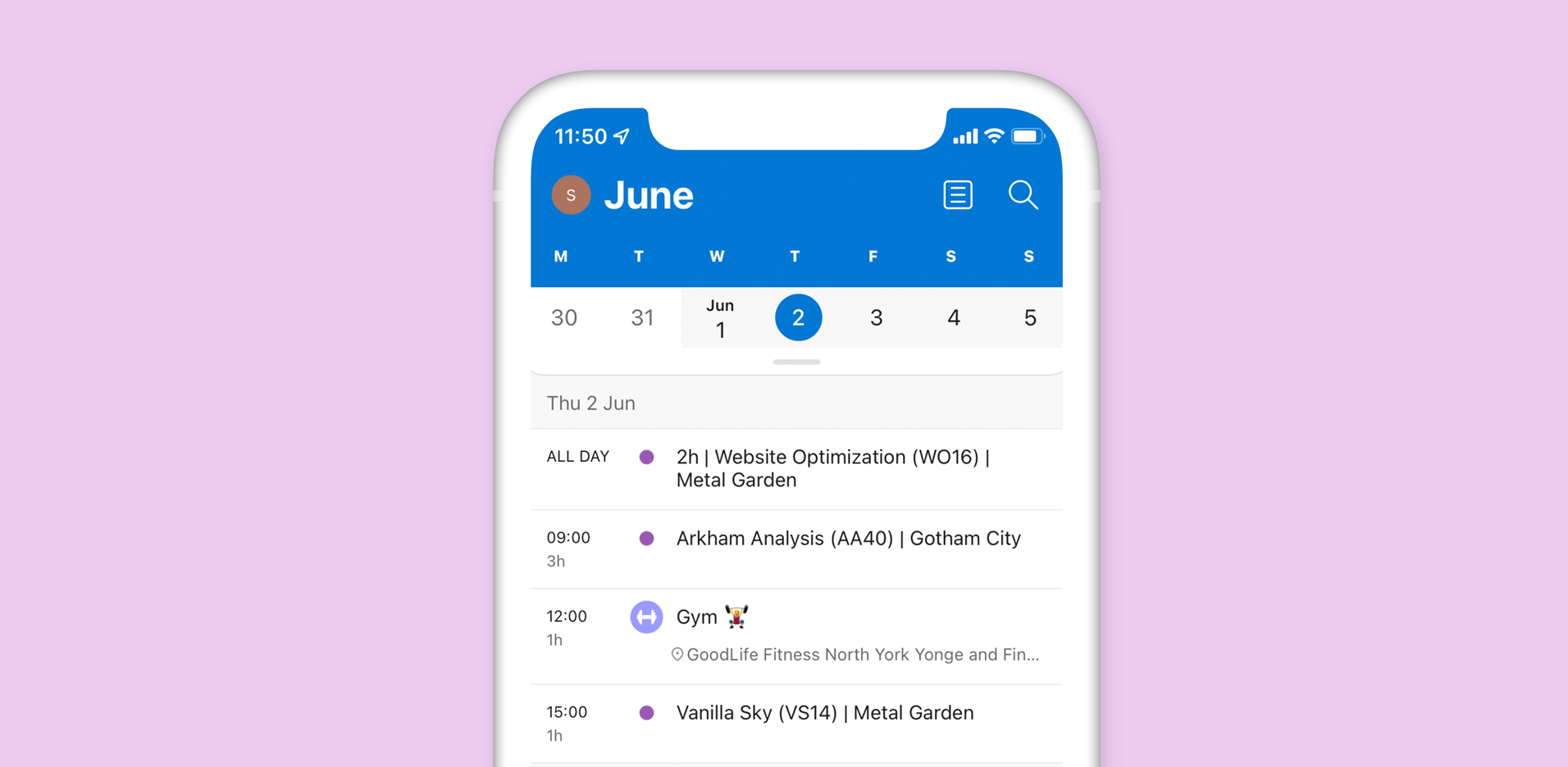 More information on how to use our Google Calendar integration and Outlook Calendar integration can be found in our Help Center.