Like it or not, calendars are at the heart of most of our working lives. With that in mind, we're very excited to introduce our new two-way sync for Google Calendar. This new feature allows you to synchronise your Resource Guru schedule with Google Calendar, so you can have full visibility of team availability, all in one place.
With this integration, you can cut down the time you spend jumping between calendars and reduce the risk of unexpected meetings throwing your plans off track.
Here's a rundown of what's new and how it works.
Two way is better than one
Our existing one-way calendar sync is already a popular way of making Resource Guru bookings visible in external calendars.
But we know from your feedback that many teams want to keep track of their external calendar events in Resource Guru too.
Our new two-way sync gives you real-time visibility in both directions. Resource Guru bookings will appear in Google Calendar, and Google Calendar events will appear in Resource Guru.
That means you can rely on both calendars to be up-to-date and accurate. You can book with confidence, knowing there's less risk of double bookings and disrupted timelines.
Get set up in seconds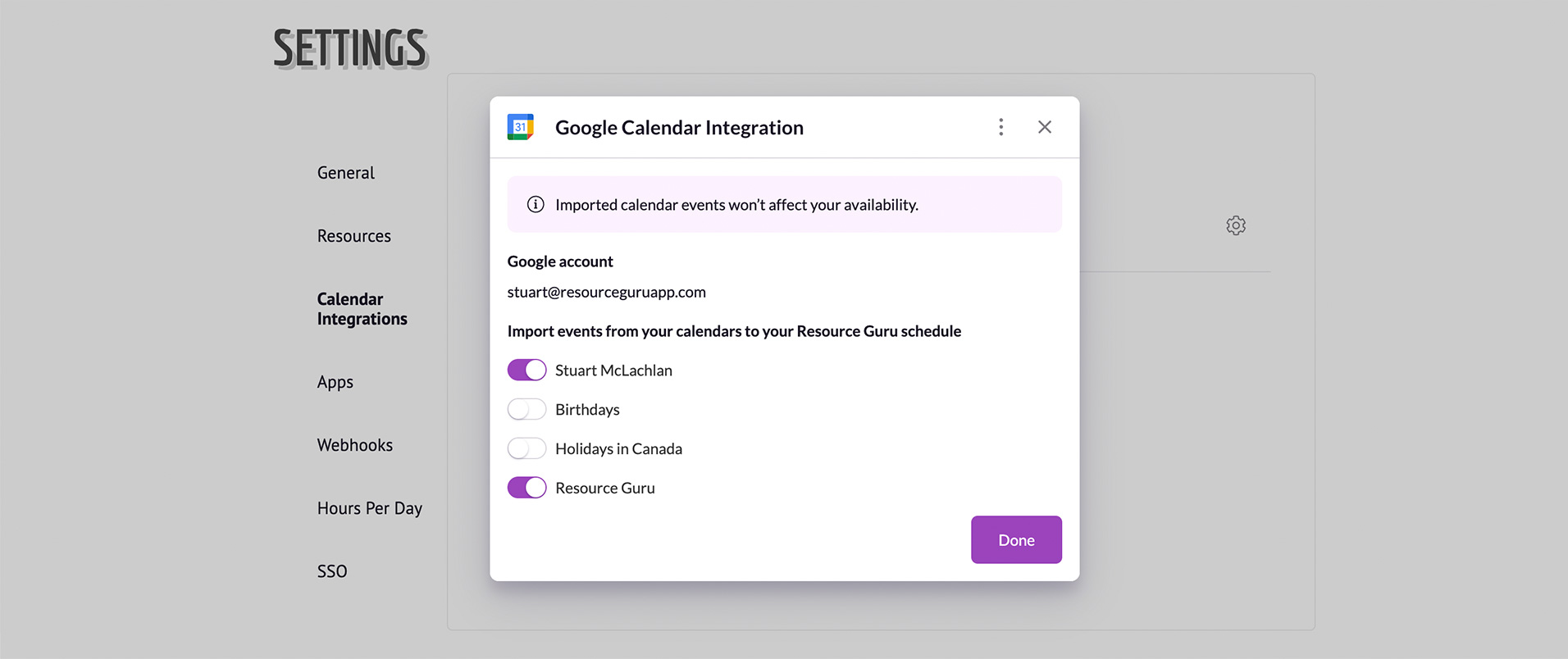 Setting up the sync takes less than 30 seconds. From your Dashboard, click Sync to calendar and authorize Resource Guru to access your Google account. If you have multiple calendars set up, you can choose which ones are synced. Once the sync is complete – as if by magic – your Google events will appear in your Schedule 💫 .
You can also set up the Google Calendar sync in Settings > Calendar Integrations.
Respecting your privacy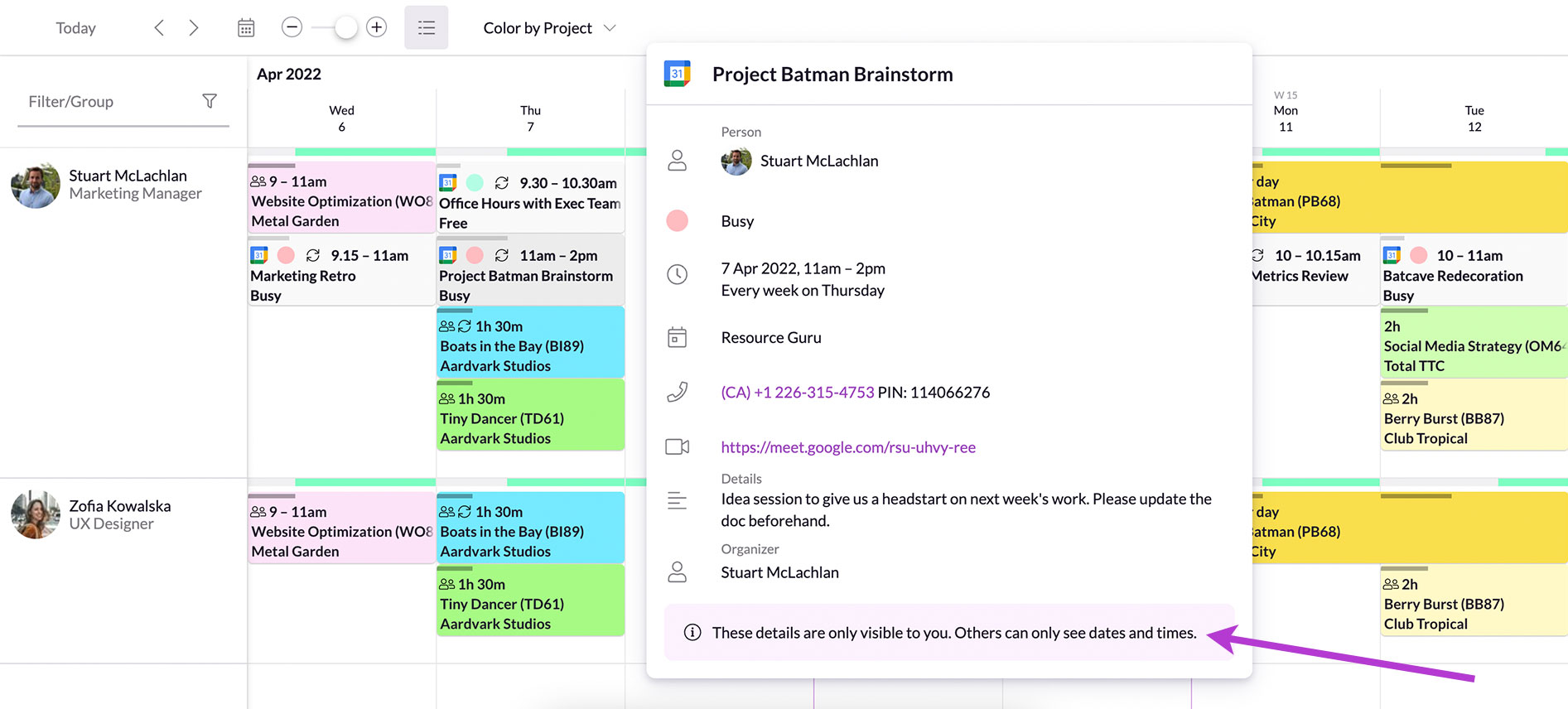 Once your calendars are synced, Google Calendar events will appear as external events in Resource Guru. A grey background and Google Calendar icon will help you identify them instantly and differentiate them from bookings created in Resource Guru.
For events synced from your own Google calendar, you will see full event details, including the busy/free status, location, conferencing info, description, organizer, and attendees.
To protect your privacy, this information will only be visible to you. If other team members view your imported Google events, or if you view theirs, only the dates and times will be visible. So you don't have to worry about private event details being shared unexpectedly.
Add notifications for Resource Guru bookings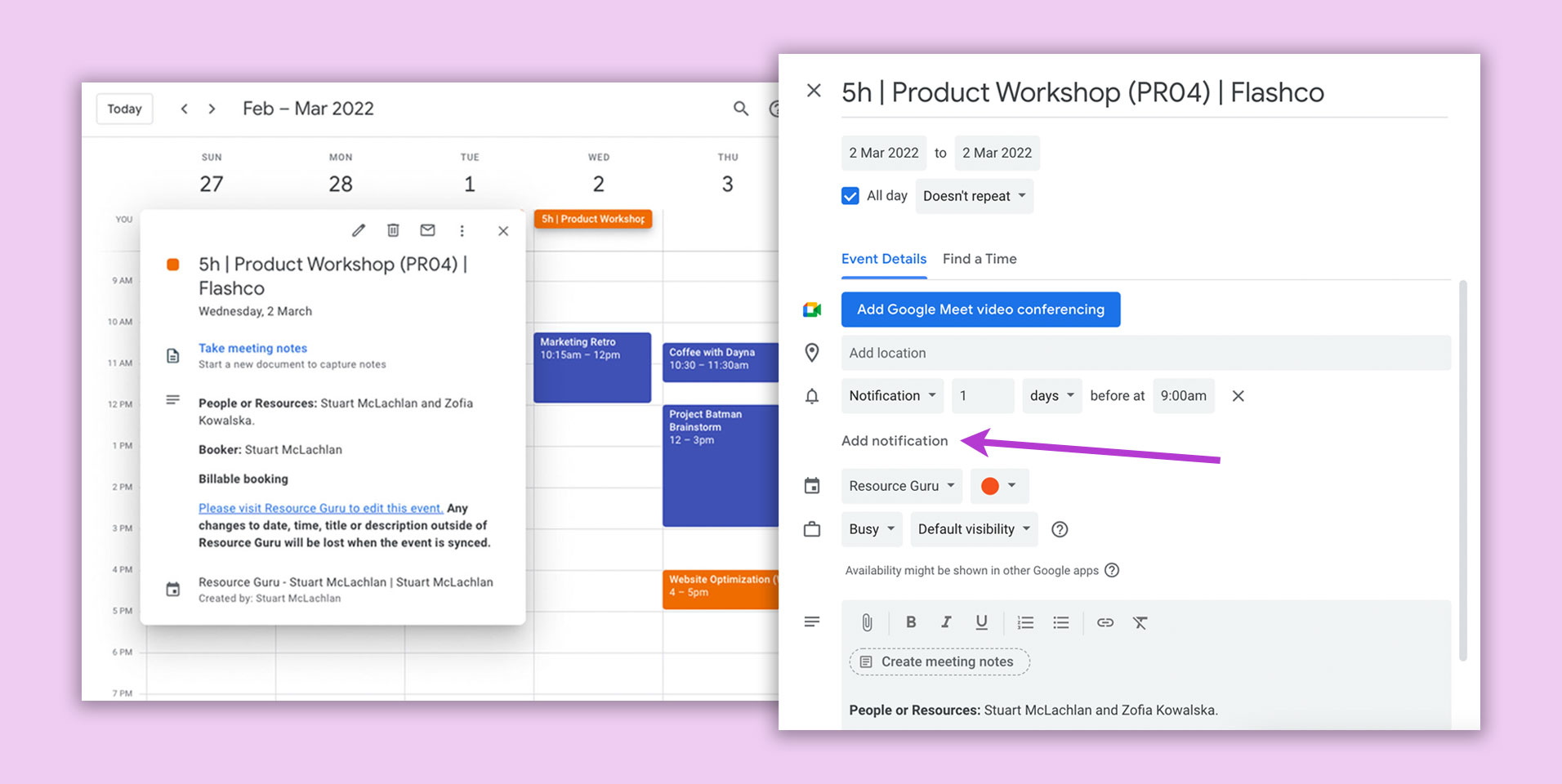 While this integration will help align your calendars more closely, we were careful to keep certain elements of Resource Guru and Google Calendar distinct, so they both still function as they should.
For example, Google Calendar events synced into Resource Guru do not affect your availability or time booked. Similarly, changes made to Resource Guru bookings in Google Calendar (such as the title, description, start or end times), will be overridden by Resource Guru, so your schedules stay in sync.
However, one exciting addition worth noting is that you can now add reminder notifications to Resource Guru events imported into Google Calendar. So as well as your usual daily schedule email from Resource Guru, you can add custom Google notifications that pop up in your browser, on desktop, or on your phone, via the Google Calendar interface and app.
Now you really have no excuse to miss that meeting or booking 😉
More calendars coming soon
Google Calendar was top of our list of calendar integrations simply because so many people use it. There are an estimated 1.5 billion Gmail users and over 500 million Google Calendar users worldwide.
But we know how useful this new feature will be, so we're already working on two-way calendar synchronisation for other major calendar providers, like Microsoft Outlook Calendar. We're planning to release these later this year
We hope this new feature helps bring your team's schedules into even closer alignment and bridges some of the gaps between the different calendars in your life.
For more in-depth info, please visit our Help Center. As always, feedback is welcome and appreciated.