Nothing sinks a remote project team faster than micromanagement. It sends the message that you don't trust your remote team to do their jobs. In fact, an HBR study found that 34% of employees said that their supervisors blatantly showed a "lack of confidence" in their work skills. This creates a recipe for burnout and ruins morale and productivity.
The negative connection between micromanagement and employee well-being is so strong that people who experienced "high levels of close monitoring and a strong belief that their supervisor does not trust them" had more anxiety when working. Yikes.
As Forbes senior contributor Heidi Lynne Kurter writes, micromanagement is "defeating, disempowering, and frustrating." Who can actually focus and do their best work when consistently dealing with those negative feelings? 
Yes, we get that it seems harder to stay in the loop on a project when your team is working remotely—but micromanaging isn't an effective or sustainable solution. To foster a positive, productive remote work environment, focus on striking a healthy balance between preserving your remote team members' autonomy and staying connected.
Use a remote project management tool that provides real-time visibility into workloads
The easiest way to keep track of deliverables without nagging is to use integrated resource scheduling software. This single source of truth (SSOT) gives you clear insight into all the info you need to keep projects running smoothly, from assignments and resource utilization rates to upcoming resource capacity.
And here's the best part: whenever a virtual team member makes a change to their calendar, workload, or PTO, it's automatically reflected in the platform—no more worrying about inaccurate schedules. It's like having an all-knowing resource magician (dare we say, guru?) as your assistant. This way, you don't have to incessantly ping people for project intel, and they can keep the project moving forward without feeling like you're breathing down their necks. Win-win.
Without a comprehensive project management tool, you're stuck toggling between different calendars, apps, and task management tools that may or may not be up to date. This eats up more of your time and your distributed team's time, as you'll have to keep virtually hunting people down to confirm what's actually going on. Additionally, without an SSOT that updates in real-time, you can bet there'll be errors in your resource capacity planning—ones that can quickly turn your projects into dumpster fires.
Understand and respect team members' differing productivity patterns
One of the biggest cited perks of working from home (or anywhere you see fit) is flexibility. But if you're rigid about monitoring when and how people use their time and energy to get work done, you're negating that benefit and increasing the likelihood of turnover. As noted in GoodFirms' 2021 survey, a lack of flexibility was the top reason why people voluntarily quit their jobs. And we haven't seen the end of the Great Resignation just yet!
Let go of the "always-on" need to announce you're stepping away for 15 minutes. That kind of culture is toxic and doesn't do anything to actually support productivity in a remote setting. To help your remote employees succeed, you need to respect them as unique human beings, each with different time zones, working hours, responsibilities outside their jobs, and ways of working. 
By encouraging people to work in whichever ways work best for them—from leaning into heightened productivity at night to using the Pomodoro method—they can do their best work.
A Robert Walters study affirms this, finding that "flexible working" helped workers achieve:
83% greater motivation

80% stronger work-life balance

70% higher focus and productivity

69% better quality work
The data doesn't lie.
Keep virtual meetings to a minimum
When you're managing projects remotely, you may find yourself wanting to schedule more meetings to get real-time feedback from your project team and other stakeholders. And you're not alone—from June 2020 to December 2021, the average number of work meetings increased by 7.4%, according to a joint study from the University of Cambridge and Vitality Research Institute. The more time you spend in Google Meet talking about projects, the less time your remote team members have to actually work on them.
We get that; sometimes, it's easier to hash things on a call instead of endless back and forth in Slack. (Plus, it's nice to see people's faces!) But to make the most of your team's schedules and deliverables, focus on meeting quality vs. quantity. 
We recommend having a daily 10-15 minute team call to check in and flag any project issues—and leave it at that. If anything comes up outside of those meetings, see if you can resolve it in a DM, thread, or email. This allows your team to continue to work async and on their own terms.
Additionally, stay in the loop without messing with people's work grooves by sending out surveys at the end of each week. Ask questions about their deliverable statuses, any challenges that came up, how you can support them in meeting their goals, and how they feel. This is a great way to keep the lines of communication and empathy open without cutting too much into anyone's busy day.
Implement resource smoothing in your capacity planning
While you can take steps to minimize delays in project workflows, odds are, they're going to happen at some point. From a team member taking an unexpected sick day to a client asking for another round of revisions, it's just a fact that unplanned changes come up. To avoid the temptation to check in too often (and to avoid scrambling in a frustrated huff when projects get off track), build in buffer time to your resource planning.
Once you have enough available resources for the project (resource leveling), use resource smoothing to manage your tasks in relation to importance and completion date. This ensures that team members are focused solely on the most critical tasks needed to get the job done on time while preventing them from exceeding an 80% utilization rate. 

With this built-in slack time and realistic task list, there's a cushion to absorb any unforeseen road bumps. Not only does this help minimize burnout, but people also have a greater capacity to focus on producing high-quality deliverables without feeling like they need to rush—or without you feeling like you need to keep asking, "How are things going?"
This buffer also has the added benefit of accounting for asynchronous communication delays. It may be 4:00 p.m. in your time zone, but it might be 9:00 p.m. in someone else's—it's unrealistic to expect them to respond right away. Since your projects aren't constantly down to the wire, you're not going to feel like you're stuck in a pressure cooker and have to send three Slack DMs in three minutes because of some kind of "crisis."
Create alignment between employee skills and interests and their assignments  
Getting to know your team without meeting them in person can be a challenge, especially for new hires. But if you don't know what type of work people like and are the best at, you're probably going to feel some anxiety about how well they'll be able to do their assignments—which leads you to check in more frequently. Skip the constant stress and DMs by basing your resource allocations on information stored in an accessible skills matrix. 
Just because someone has the bandwidth to handle a task doesn't mean they're the best fit for it. With an updated log listing remote workers' primary and secondary skills, you'll be able to make smarter resource allocations that make the most of your team's talent and time. Not only will this give you more peace of mind up front, but employee engagement will also go up—people want to work on assignments that fit in with their long-term career goals.
The good news is if you follow our previous suggestion to use comprehensive project management software to track workloads, you can also use the platform to track skills. Team members can simply add different capabilities to their profiles, which you can then search for with custom filters when putting your project plans together. Need someone working East Coast hours who's a JavaScript genius? You can easily search your directory to find that person.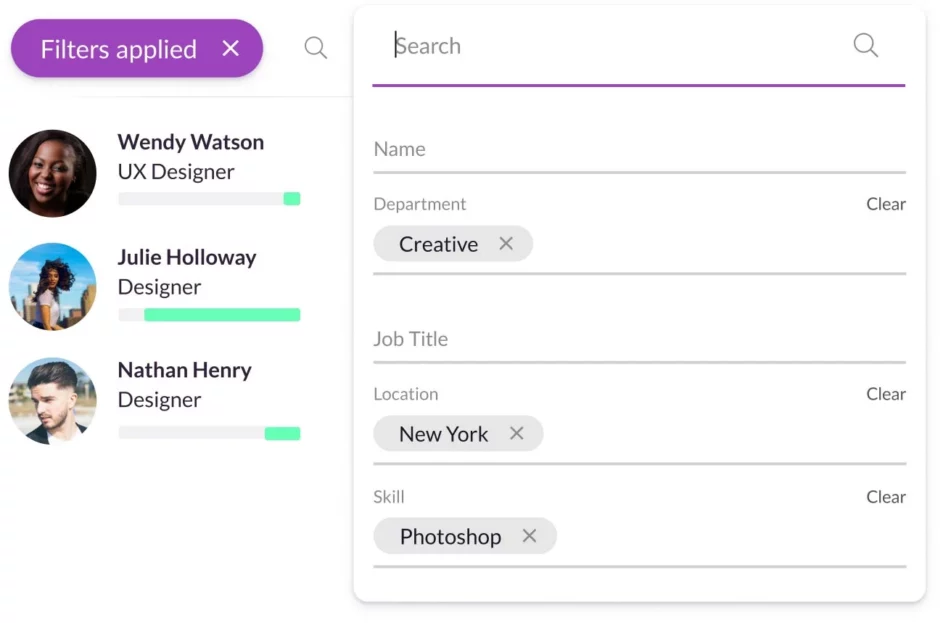 Remote team project management requires engaged teamwork
The less you micromanage, the more you can effectively lead and bring out your remote team's true potential. Without the distractions and stress of a manager constantly checking in, employees have more mental energy and time for productive deep work. The result? Higher-quality deliverables completed on time and on budget.
At Resource Guru, we believe you need much more than a solid collaboration tool to truly master remote project management. And we've got the experience to back it up—we've been acing the fully remote game for 10 years. Check out our top tips and tricks to help you, your team, and your projects thrive in a remote work environment.  
Related Resource Guru reads