For a new starter like myself, while the reasons to join Resource Guru were already plenty (remote-first, async culture, work-life balance), learning about the upcoming team retreat, or Guru Gathering as we call them, sure was the cherry on top.
The last time the gurus all gathered was in the lovely (but rainy) Dublin back in 2019. With the pandemic putting a stop to life as we knew it, most of the team hadn't seen each other since.
That's why this year, we decided to go big – South Africa big. A guru first, we all headed to the southern hemisphere for a Guru Gathering like no other in the mother city of Cape Town.
A people-first team retreat
While we're a fully distributed company and have been remote-first since day one, we understand that there's nothing more valuable than spending time together in person to both build and strengthen connections between individuals and teams. 
We had three goals for this year's Guru Gathering:
1. Alignment: Alignment is crucial for any business, and admittedly, a challenge even for the most seasoned and well-respected orgs around. While we remain a comparatively small and nimble team, Resource Guru has gone from 12 to 19 employees this year, with some forming entirely new teams. That's why having alignment and clarity as we move into the next phase of growth together is essential to not just our success, but also to making our customers successful.
The foundation of alignment comes down to one thing: having a shared vision. That's why our cofounders kicked off our coworking day by asking if everyone was aware of Resource Guru's vision. By a show of hands, we could quickly gauge where we needed to fill in the gaps.
But it's also important to remind people of the vision. Because in our everyday work, it's easy to lose sight of why we're doing what we're doing. Bringing all our efforts back to a shared vision is an effective way of not only driving alignment but a welcomed reminder of what we're here to do: help people use their time more effectively.So what's our vision here at Resource Guru? It's simple: Give teams superpowers so they can get the best out of their people and resources, master their time, and succeed.
How do we do that? By building the best resource management tool out there. 😎
2. Getting to know each other: Remote work comes with a lot of benefits, but there are some innately human behaviors that require us to go off-screen and in-person. It's no secret that connecting with each other and building relationships is better done face-to-face, human to human.
With "the guru" leading the way, we like to do things a little differently. In Cape Town, that meant choosing a power boat trip over puzzles and a Table Mountain excursion over trust falls. Because we believe that having experiences together is more valuable than any typical team-building exercise.
(Find out exactly what we got up to in the next section!)
3. Getting stuff done: Last but not least, this was also the time to get to work. But not in the traditional sense. As the team packed their bags for a day of co-working at Workshop 17, a packed day full of education, insights, and alignment was waiting.
Team leads from engineering, design, marketing, customer success, QA, and people ops took the stage to share what they're working on along with challenges and successes, and what's next. The goal? For everyone to get some more insight into each team and understand how they operate, what's important to them, and how their work aligns with our overall business goals.
Our team retreat schedule – Breaking bread and building bonds
First of all, why Cape Town you might wonder? Well, as it so happens, one of our founders, Andrew, is from South Africa, as is our CTO, Kevin. Say no more, this year it was time to bring the gurus "home."
Needless to say, the team was buzzing with excitement as we signed off the last Friday before the team retreat. With a week full of adventures ahead of us, people packed their passports and Pleo cards, readying for the team retreat of a lifetime.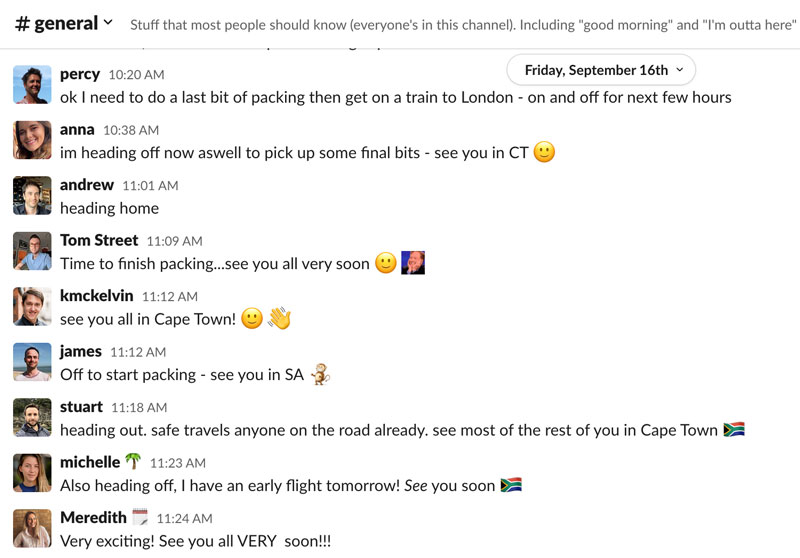 Arrival days
The team arrived for the most part in two batches, one arriving Sunday morning and the other, Monday morning. While slightly groggy from the long journey, we arrived full of anticipation and excitement. (Plus, no jet lag is always a bonus!)
The arrival days had no schedule, apart from a 7 pm team dinner Monday evening once everyone had arrived and got their bearings. This was the very first opportunity for everyone to sit down together and share a meal – and a few bottles of Pinotage, of course, South Africa's signature grape variety.
But the good times didn't end at dinner. Everyone gathered in Vice Guru Percy's room for a celebratory team toast accompanied by some guru goodies. New team t-shirts and totes had arrived!
Day 1: Powerboat trip and Groot Constantia
What better way to start the day than out on the open sea? The team jumped on our transfer bus to Millers Point where our vessels awaited. After most of us had lathered up in SPF 50 (some of us multiple times), we boarded the boats and set off.
We spotted baboons and ostriches on Buffel Bay Beach and got a glimpse of Cape Point Lighthouse as we cruised around the surprisingly still waters of False Bay. Before heading to Kalk Bay for lunch we got to meet a colony of seals and enjoyed a lesson in kelp.
Bonus: The fact that there were no phone casualties was nothing short of a mother city miracle.

After a stroll and lunch in the quaint Kalk Bay, we shuttled off to Groot Constantia, South Africa's oldest wine farm, established in 1685.
Set in the beautiful Capetonian hills, we walked across the grounds over to the most important building of them all: the one where the wine tastings happen.

Feeling appropriately toasty, and some of us carrying bottles of newfound favorites, we headed back to the hotel in Camps Bay to get ready for our evening meal and to rest up for a day of co-working.
Day 2: Co-working at the waterfront
Every quarter, we wrap things up with what we call a "Guru Huddle."
This time, we had the opportunity to do this in person. Team leads had prepared presentations (including the gifs necessary to drive home the message) and one after the other, they shared learnings from this year to date and what's to come.
Here's what we covered:
Vice Guru Andrew

kicked things off by talking about our mission and how it relates to our product, and what we're building toward.

Vice Guru Percy

shared

the five metrics we care about

+ which teams are responsible along with things to celebrate such as big customers we've landed.

Engineering

talked about horizontal and vertical scaling and how it'll drive growth.

Talent & People

took the opportunity to welcome some new starters in person, shared our eNPS score, and gave everyone an update on what's next in the hiring pipeline →

open roles this way

, folks! 

Marketing

shared the good and the bad from Q3 and unveiled their Q4 OKRs featuring some out-of-this-world Nicholas Cage gifs.

Customer Service

shared some customer news along with challenges and opportunities, but most excitingly – a new churn fighting tool. 

Design

gave us a look into the design journey and called for more cross-functional work with the design team. Big like!

QA

allowed us to peek into the "guru test suite" and talked about our QA philosophy. But most importantly – they reminded us that

product quality is everyone's responsibility

.

With our in-person Guru Huddle complete (a first of this size!), it was time for a lunch break. Most of us headed to the nearby foodcourt to hunt down Boerewors (pronounces BOO-ruh-VORS), the South African sausage traditionally made out of minced meat. 
After enjoying what can only be described as a South African feast, we headed back to Workshop 17 for the team exercise: World Café.
Never heard of World Café before? (Watch an explainer video here.) Few of us had heard of it before the exercise was shared the week before the team retreat. But, in short: it's an engagement process rooted in two core principles:
As humans, we want to talk to each other about things that matter to us

If and when we do, we can create collective power from shared knowledge and ideas
This makes it a great tool for ideation and collaboration between different teams. Our task? Return to our remote HQ with one or more ideas to implement that will support our growth targets.
Unfortunately, we can't share what came out of the exercise – even gurus need to keep secrets sometimes. 😉But what we can say is that there were plenty of ideas going around, and hopefully we can reveal them to the rest of the world in the not-too-distant future.
Watch this space!
Day 3: Table Mountain and Winelands cycle
The South African weather gods were not on our side this morning. We glanced up towards Table Mountain where the infamous "table cloth" (aka clouds) engulfed the famous landmark. But unfazed, we headed to the cable car and quite literally disappeared into the clouds.
After enjoying a refreshing walk in the clouds we set our sights on Franschhoek, a town featuring Cape Dutch architecture and centuries-old vineyards. And do you know what's better than a wine tasting? A wine tasting on wheels. That's right, we made our way around Franschhoek's Winelands on bikes, visiting La Brie and Grande Provence wineries.
Two wine tastings and zero casualties later, we sat down for a scrumptious (and much-needed) lunch at Grande Provence's stunning restaurant. As bad weather moved in from the mountains, we enjoyed oysters, steak, and an open fireplace.
Things could most certainly have been worse. 
Our last evening together as a team was made extra special by, well, more wheels! Because is there a better way to arrive at a restaurant than in a vintage car? As we walked out of our hotel, six beautiful vintage cars were lined up on Victoria Road, waiting to take us into town.
"Arriving in style" has taken on a whole new meaning for Team Guru.
Day 4: Penguins and surprises
The day Paul, our QA Lead, wouldn't stop talking about had finally arrived. We boarded our shuttle bus one last time as a team and headed to Boulders Beach for the last activity on the agenda – it was penguin time. 
In Simon's Town, a protected colony of African penguins live their best lives. Breeding season had just ended in August, and we got to see some fluffy youngsters cuddling up to their parents. There was also a debate about whether one penguin was protecting a rock or an actual egg. (We'll never know.)
After the penguin therapy, we said goodbye to our flatfooted friends and headed to nearby town Muizenberg for our last official team lunch. Well at the restaurant, a surprise was waiting for our Vice Guru duo.
Admittedly, at Resource Guru, we don't celebrate our successes enough. But this year we reached a huge milestone as Resource Guru turned 10, and while we didn't celebrate in person at the time, this event sure warranted a surprise. As we walked into the restaurant, two huge silver balloons floated above our table. There were cards, cake, and two delightfully surprised cofounders!
A great ending to a memorable week.
But now, time to get more serious. After four days of quality time together, apart from new connections and memories for life, what learnings did we take back to the northern hemisphere with us?
Our team retreat learnings
Team retreats are just as much about learning as they are about building connections. These are the biggest learnings from our week together:
People want purpose

–

Purpose comes from understanding our "why." Why we're doing what we're doing and what we're working towards. This is where having a shared understanding of the company vision and creating alignment comes into the picture. 

We need to move faster

– One of our values is to

move fast

. We're not satisfied we've delivered on this of late. As we ramp up the teams, we'll also be able to increase our speed and gain more momentum together.

We're at a crucial stage

– The whole world is

going remote

and Resource Guru is an important tool for companies undergoing this transition. Being a small and product-led company for a long time, now it's more important than ever to bring in new perspectives and learn from each other as the team grows.

Remote-first should mean people-first – While we champion the remote-first model, spending time together in person is invaluable to understanding how people communicate, what motivates them, and what their working style is. By having that understanding, we're all much better equipped for collaboration and taking on our growth targets together. With this in mind, we're looking to implement more opportunities for teams to connect in person.
We hope that everyone came home from the team retreat feeling energized, motivated, and with more clarity on our vision and direction.
Looking ahead
Back on our home turfs, Team Guru is going into Q4 with more clarity and better relationships, both between individuals and teams. We're ready to take on the challenges ahead and continue to shape our Guru culture as we welcome even more team members in the next couple of months.
Do you want to join us on our journey and improve the way teams manage their time? Head this way to see our open positions.