By 2025, 36.2 million American employees will be remote. (Let that number sink in for a second.) Pre Covid-19 we might have been on that same trajectory, but at a much slower pace. Today, many companies and project managers have opened their eyes to the benefits of remote work—a model Resource Guru has embraced since our inception in 2012.
Now that we're out of the eye of the storm, members of the remote work fan club can sit down and evaluate our practices and tech stacks to ensure we're all getting the most value out of full-time remote work.
For newbies, shifting to remote work means shifting your idea of what work looks like. Effective remote work isn't just an online version of what you've always done, and no two remote work cultures are exactly alike. While there are differences across teams, at the heart of successful remote management is a foundation centered on flexibility, streamlined workflows, and employee satisfaction.
To help you keep that foundation rock solid, we're sharing some of the key tips, tools, and best practices we've picked up over our years of remote working. From collaborative tech to scaling back on synchronous meetings, this list will guide your team to greater productivity and growth wherever and whenever they're working.
Visibility is the key to success for remote teams
Resource Guru has never, ever had an office—and we've still managed to build a thriving company trusted by thousands of clients, from NASA to Virgin Media. The not-so-secret sauce to that success is maintaining transparency. We know who's working on what and when they're working on it, and we keep the lines of async communication open.
Resource Guru has been remote since day one because we know that letting people work where they work best sets everyone up for success. There's never been a physical office in the mix, and we intend to keep it that way. 
But with a distributed team, visibility becomes even more important. At Resource Guru, one of our top remote work best practices is our focus on visibility (and transparency) in Slack.
Here's how we do it.
Avoid private Slack channels
In our Slack workspace, you won't see any padlocks next to the channels. That's because they're all public. From engineering to customer support, team members have access to all channels. This keeps everyone on the same page and fosters greater collaboration and encourages curiosity. For example, anyone can drop an idea into the marketing or design channels, even if they aren't part of those teams. Plus, it also allows people to give input on areas where they might have knowledge or expertise that you didn't realize they had.
Use channels over DMs
We use Slack in a way that imitates sitting next to each other in an office. So, much the same way you might ask a colleague, "Hey, do you want to grab five minutes to talk about email campaigns," we'd use the #marketing channel to simply @ the person in question rather than sending a direct message. By doing that, we create those much-desired virtual office vibes and avoid leaving people feeling isolated or excluded.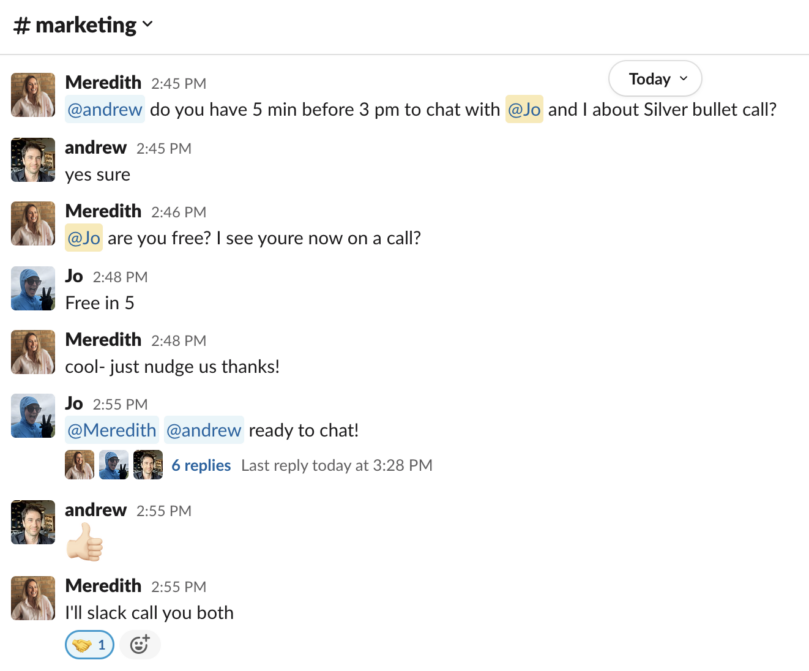 Keep everyone in the loop with Zapier and Slack integrations
If you already use the integrated workflow tool Zapier, you've heard the saying, "there's a zap for that." At Resource Guru, we fully embrace this comprehensive power of Zapier, using it to pull information from everything—from our customer support, finance, and task tracking tools to our QA and data tools—into one clear source of truth. This is especially helpful for leave management. Whenever someone logs time off in Resource Guru, a notification pops up in #general and the entire team will instantly know, helping everyone plan ahead and ensure that person has a stress-free vacation and that the team is fully equipped while they're away.
Manage meetings strategically to boost productivity
We try to drink our own champagne as often as possible. We're not fans of having a meeting just for the sake of having a meeting. Instead, we view meetings as another tool in our remote work toolkit—it's not the be-all and end-all solution for workplace communication and collaboration.
Keep meetings to a minimum 
Apart from our daily team standups, we try to minimize meetings. Instead, we primarily communicate via asynchronous comments and @mentions, email, Slack, and Loom recordings—whatever is the best fit for the discussion. We only schedule meetings when it's truly the best way to convey new information or work through a complex problem. And even then, we do our best to keep meetings short and sweet. (No one is perfect at this, but it's the thought that counts.)
Keeping meetings to a minimum allows our employees to get into a flow state and do their best work. Our end goal is productivity, not just filling an eight-hour workday, and we want to encourage productivity without employee burnout. The 2021 Global Agency Productivity Report suggests that employees may gain an extra 2.5 hours of daily "deep work" while working remotely. If you force your team members to constantly join meetings that could've been resolved asynchronously, that valuable extra time goes right out the window. 
Tools we use to minimize the need for meetings
Slack – our main communication hub

Loom – if words aren't enough, record a quick video instead of scheduling a meeting

Resource Guru – see what the team is working on and quickly adjust workloads as needed
Respect each other's unique schedules 
At Resource Guru, we believe that if we put our people first, the company benefits. So, we've always given our team the option to set their own hours. 
We've found that asynchronous work is a win-win for everyone. People get more work done in less time because they can align their time on the clock with when they're most focused and productive. And the data backs this up. In a study by the Aspen Economic Strategy Group, 56% of respondents acknowledged a higher productivity level when working from home. Strict work schedules are only good for one thing: inhibiting productivity.
Additionally, letting people work when it works for them also helps them maintain a better work-life balance, which is key to employee morale and job satisfaction. PwC's US Remote Work Survey found that 79% of employees said the flexibility of remote work helps them better manage family needs like childcare. 
A big part of respecting people's different work hours is respecting the fact that they might not respond immediately to your message. This can be an initial challenge for people who aren't used to working with distributed teams, but async comms actually help to relieve stress and pressure. When you can't always get a quick answer, you gain a greater perspective on what is and isn't a crisis—trust that your team members will get back to you, and things tend to work out.
Tools we use to work async:
Slack – our virtual office, more immediate than async

Shortcut – a repository of every project in our pipeline, where we can collaborate internally to prevent any work from falling through the cracks

Email – compared to Slack, this is a less urgent form of communication 

Google Workspace – a place to collaborate, see each other's work, search our content (it goes all the way back to 2012 when we started Resource Guru!), and create a single source of truth 

Figma – this is where we collaborate on all design work

Front – the main hub for our customer service where we also invite other teammates to give input on certain cases

1password – give everyone access to company logins while also protecting the company's data

Trello – collaborate and manage small projects with external contributors 
One of the biggest benefits of async work and documentation is that there's always a paper trail. Sometimes projects are paused or blocked, and whether you come back to something a month or a year after you first started the project, you'll have all the information you need to pick things back up.
Make the most of synchronous meet-ups
Even though we minimize meetings, that doesn't mean we've abandoned them entirely. They're still valuable tools for collaboration—some things are just better talked out over Zoom than in a Slack thread. 
At Resource Guru, our synchronous daily standups are our key sync meetings that help our team stay plugged in and on track. We host two different Google meetings each day: one with customer success and marketing and another with engineering and product development. These meetings only last 15 minutes, which we've found is enough time for employees to voice any questions or concerns and grab some face-to-face time with their colleagues. Research shows that most employees are not engaged at work and want better communication from management. These meeting check-ins give us a clear space to stay connected and work through problems as a team. 
Every two weeks, the entire company gets together for a sprint review meeting where each team shares news and updates to provide additional visibility into what they're working on. During this time, anyone can jump in with questions to get more context and clarity where needed. This is also a good time to flag if you'll be needing resources from another team in the upcoming weeks for a specific project or task.
The other reason we use meetings is just for plain ol' fun. For example, sometimes Winston the Goose stops by our marketing/customer success standups to make sure team spirit is top-notch.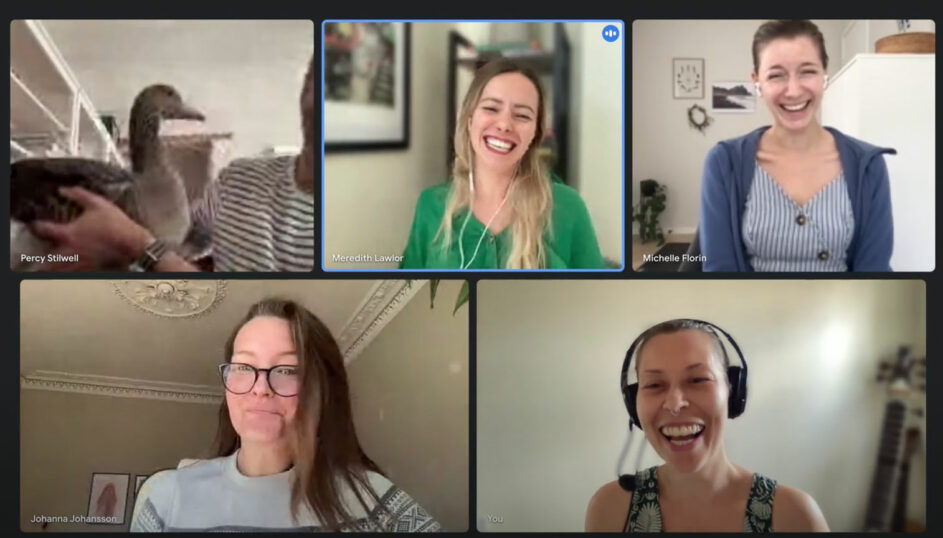 Point is, that these informal calls give everyone time to get to know each other better and chat about non-work-related things for a change.
Tools we use to collaborate synchronously 
FigJam

– synchronous whiteboard brainstorming 

Google Meet – our 15-minute daily standups and other video calls
Designate urgent and non-urgent communication methods
Once upon a time, etiquette meant some arbitrary set of rules for societal behavior. Our etiquette is all about avoiding burnout and setting realistic expectations for workloads. A culture that expects employees to check work messages constantly is bad for an employee's mental health and work output. At Resource Guru, we encourage employees to unplug when needed and take time away from work. Their Slack messages can wait until they return.
For non-urgent communication 
Email – the

inbox zero technique

turns our email into an ongoing to-do list instead of a slush pile that we have to sort through each time we need to touch base with someone.
For urgent communication
Slack – while we don't exclusively use Slack for urgent communication, we like the tagging feature for alerting someone to a new message.
Create a positive remote management approach 
Strong employee-manager relationships are at the core of collaborative company culture, especially a remote one that may increase feelings of isolation. If you want a workplace that promotes employee happiness rather than fear or judgment, you have to lead with empathy and trust. 
This involves taking the time to check in with your team members and letting them do their thing without hovering. Micromanaging? We don't know it. At Resource Guru, we've seen firsthand how employees engage more when they can work independently while knowing they have a manager who has their back. No one can work at peak performance 100% of the time, and putting extra pressure on your remote team will only backfire. Showing your employees you care about and trust them gives them the space to do their best work.
Tools we use to support a positive management approach
Resource Guru – track and schedule work hours for awareness of what each team member is doing each day 

Google Workspace – create employee handbooks and all the documentation your employees will need to be autonomous and succeed  
For more positive and respectful best practices for working remotely, check out our posts on team management, resource management, and remote project management.
Always respect work-life balance
We've said it before, and we'll say it again: employees are not robots! They need work-life balance. 
We believe companies have a responsibility to their employees to support their physical and mental health. In one study, only 33% of employees said they were "thriving" at work and in life. That's pretty dismal. As an employer, you can combat employee dissatisfaction by encouraging time off, balancing workloads, and leading by example. When employees feel in control of their working life, they feel less stressed and more valued, maintain better mental health and well-being, and are happier in general.
Make it simple to take time off
There's nothing worse than a drawn-out PTO process. With our leave management tool, everything is clearly displayed on one calendar. Managers can see PTO requests in the context of other work so it's quick and easy for them to give approval. For additional transparency, we also use a Zapier integration to automatically send reminders to Slack when an employee is out of the office.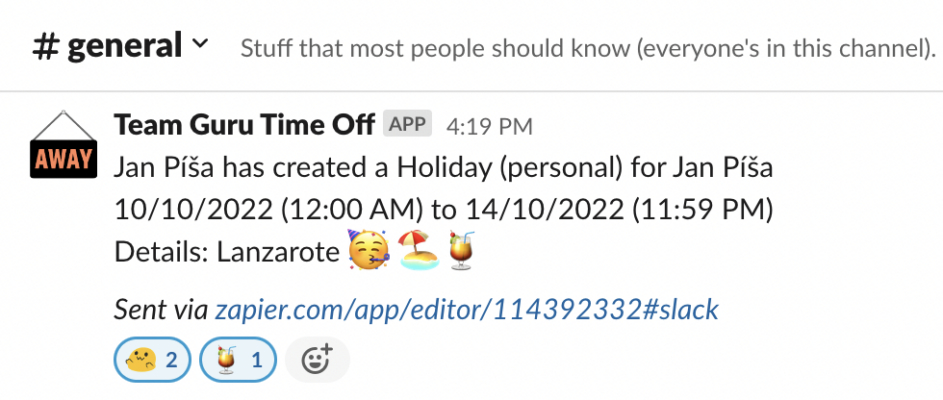 Provide proactive coverage for employees who are OOO
Resource Guru's schedule management feature helps us fill gaps in resource availability before team members leave for vacation, giving everyone peace of mind and keeping projects running full steam ahead. For instance, if we know that our designer will be out-of-office for a week next month, we can line up a freelancer or reallocate work in-house to cover that week of vacation. 
Collaboration keeps projects moving
To minimize project roadblocks while others are away, we use Shortcut, an internal collaboration tool that displays all the work in our pipeline. It helps us make sure deliverables don't fall through the cracks, and no one has to come back from vacation to a total trash fire that could've been avoided.
Strengthen your onboarding and hiring processes
It's hard for new remote team members to be effective if the hiring and onboarding process sucks. Seamless onboarding can help you increase employee retention by 82% and increase productivity by 70%, but onboarding that doesn't connect new hires to the right people and tools they need for the job increases the chance of people leaving within the first year. 
A solid onboarding process is one that inspires motivation, creates community, and provides a sense of meaning within the role. These goals should be woven through every step of the onboarding process, from pre-boarding and skills training to formal mentorships, internal networking, and skill-share sessions. 
Bring the same focus on engagement with potential candidates as you do with individuals who've signed their new job offers, so they feel connected from the start. For example, we use Workable to easily manage the candidate pipeline for each role and keep them in the loop on updates in the hiring process so they don't feel ghosted.
Resource Guru's remote work best practice: Communication and transparency
Communication can take many forms in remote work—from Slack messages to virtual meetings—but it should always be transparent. Transparent scheduling and allocation set individual expectations, streamline decisions regarding time-off requests, and improve project results. Because your employees aren't overallocated, they have time to recharge and learn, which makes your team more productive and dependable overall. 
Resource Guru gives you full visibility into team scheduling. You can easily rework employee schedules and resource allocation in real-time with simple drag-and-drop changes. To learn how you can streamline your resource allocation and see your remote team's availability at a glance, start a free trial. 
Related Resource Guru reads:
Master remote project management with these 4 tips
Project management tactics that drive project success
Workation – productivity killer or performance enhancer?
From beach to business: How PMs can get back on top of projects post-holiday