Cast your mind back 10 years to 2012. It was the year Barack Obama was re-elected as President. The year the Olympic Games were held in London. And the year Queen Elizabeth celebrated her Diamond Jubilee.
But way, way bigger than all that… Resource Guru was born!
This month we're celebrating our 10th anniversary so we thought we'd take a moment to pause and take stock of the journey we've been on since those heady early days back in May 2012.
We're also thinking about the future and wondering where we'll be in 2032. What will the world look like in ten years' time and how will productivity tools like Resource Guru fit in?
The birth of a Guru
Andrew and I started Resource Guru to fix a problem we had experienced ourselves.
Having spent years working at marketing agencies in London, we had become increasingly frustrated at how hard it was to manage creative workloads and keep projects on track – most agencies opting for resource scheduling spreadsheets.
We knew that there must be a better way and so we set out on the challenge to build it ourselves.
After months of writing business plans, fundraising, researching, prototyping and coding, Resource Guru started to come to life and on 24th May 2012, we launched.
We always wanted Resource Guru to be more than just a scheduling app. What if we could improve work-life balance so employees didn't have to work late and on weekends? What if as a result of better time management, people were more fulfilled at work, more productive and less inclined to leave looking for another job? And what if all this actually helped a company's bottom line in the process? Win-win, no?
These goals still form the basis of our brand philosophy and are baked into our DNA. We aspire to be a magical, insightful Guru that helps teams do their best work in a happier, healthier way.
Over the last 10 years, that mission hasn't changed, but everything else really has!
10 years older and wiser
We couldn't possibly have predicted all the changes that would happen between 2012 and 2022. From Brexit to the pandemic and resulting WFH revolution, and now the war in Ukraine and cost of living crisis hitting the developed world. It's been a wild ride.
But one thing is for certain – productivity is valued more now than it's ever been. When we started out we were one of a handful of pioneers in the SaaS marketplace. Now cloud-based productivity software is a multi-billion dollar industry and the options are endless.
Resource Guru has moved with the times and changed a lot in the last decade. Most obviously, the Guru looks slicker and more stylish than he did 10 years ago.
If you peek inside our app you'll see big changes too and they're not just aesthetic. Over the years we've added a long list of features and found new ways to ease our customers' scheduling woes. Things like drag-and-drop scheduling, multi-resource bookings, and calendar integrations, were mere embryonic ideas back in 2012.
And of course, it's not just me and Andrew working on Resource Guru now. We've grown from a team of 2 to 16 passionate professionals, working in 6 countries around the world. And we're always hiring these days.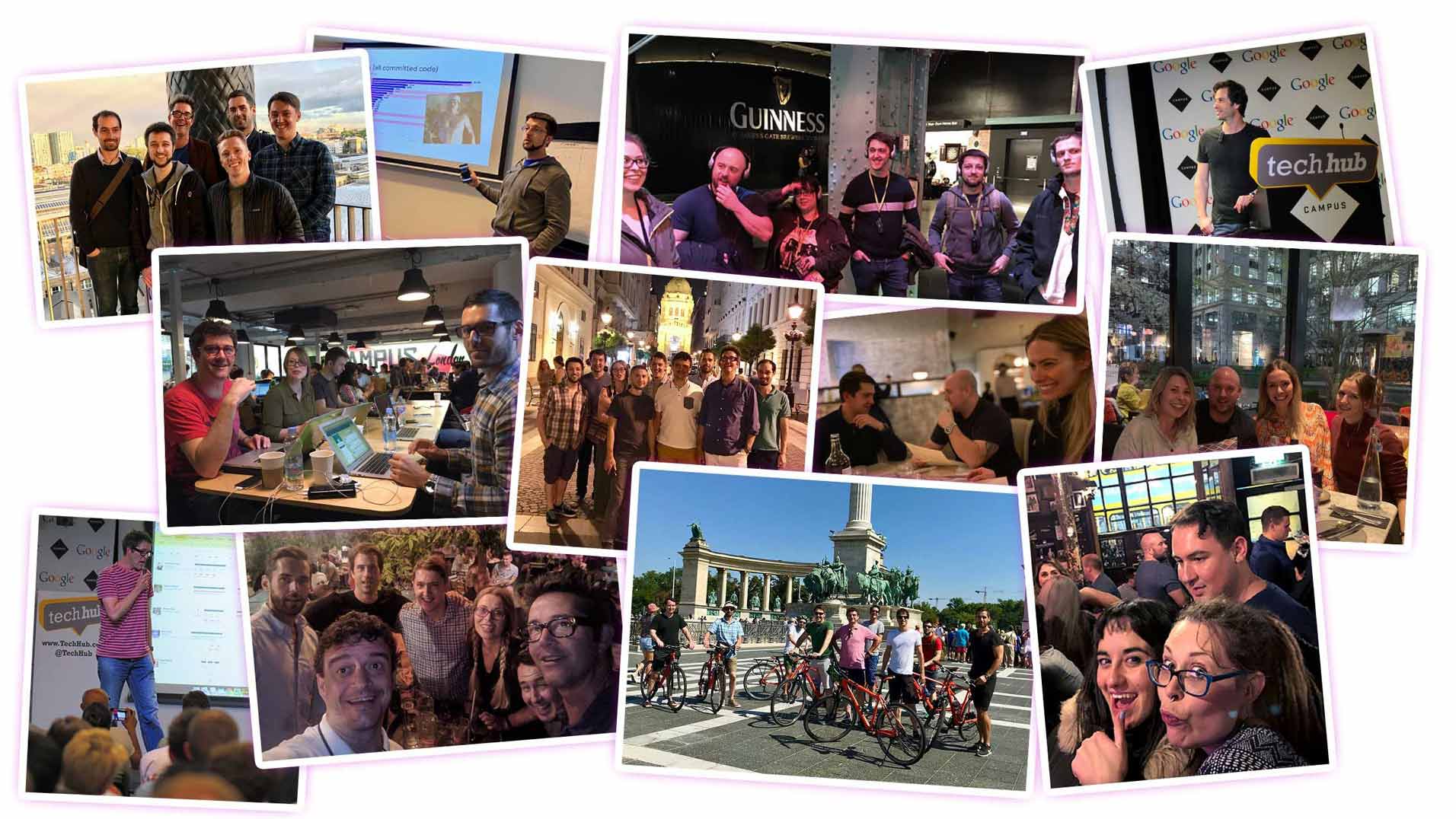 Finally, and most importantly, we're working with more companies than ever to help them achieve their productivity goals. I still remember the excitement of signing up our first few customers and now we proudly serve over 28,000 people in 100+ countries across the globe.

We learn from our customers every day and their feedback is an essential part of our evolution.
Looking forward to the next decade
Looking forward to the decade leading up to 2032 is a little overwhelming. But that's why we wrote down our vision and mission – to keep us focused on what we want to achieve.
Whatever the next 10 years throws at us, we're committed to giving teams superpowers so they can harness their people and resources, master their time, and succeed.
We still believe that time is the single most valuable commodity in life, and we want our customers to claim back more of it so they can find a happy balance between work and everything else.
If anything, the need for a tool like Resource Guru is more pressing than ever. The rise of remote and hybrid working has raised the stakes for project managers who need to keep on top of things without the usual buzz and flow of in-office working. The tools they use to manage team schedules and workloads are even more important now than they were 10 years ago.
Remote work and the endless connectivity of modern life have also blurred work-life boundaries so it's harder for people to find balance and stay stress-free. Productivity tools look certain to stay relevant as we venture further into the 2020s.
Our product roadmap is packed with exciting enhancements and we can't wait to reveal some of the things in the pipeline for this year… and decade! We're proud of our recent releases like our two-way Google Calendar integration, but there are many more to come.
We hope that you'll join us on our journey! See you in 2032. 🙂