At Resource Guru, we're committed to building the best team scheduling tool out there. In recent months, we've made a bunch of improvements to the app for an even better scheduling experience. Here's what we've been up to at Guru HQ.
First and foremost, let's focus our attention on a number of the more notable additions:
In the Schedule, you now have more control

over which imported external calendar events are displayed. Use the new toolbar menu to toggle between "

All

", "

Mine Only

", and "

None

". Also, note that the toolbar under the main navigation within the Schedule has been slightly redesigned. Everything you love is still there – but better.
Haven't connected any external calendars yet? Log in and simply head to Settings > Calendar Integrations and click on your calendar of choice. Currently, we offer integrations with Google Calendar and Outlook Calendar.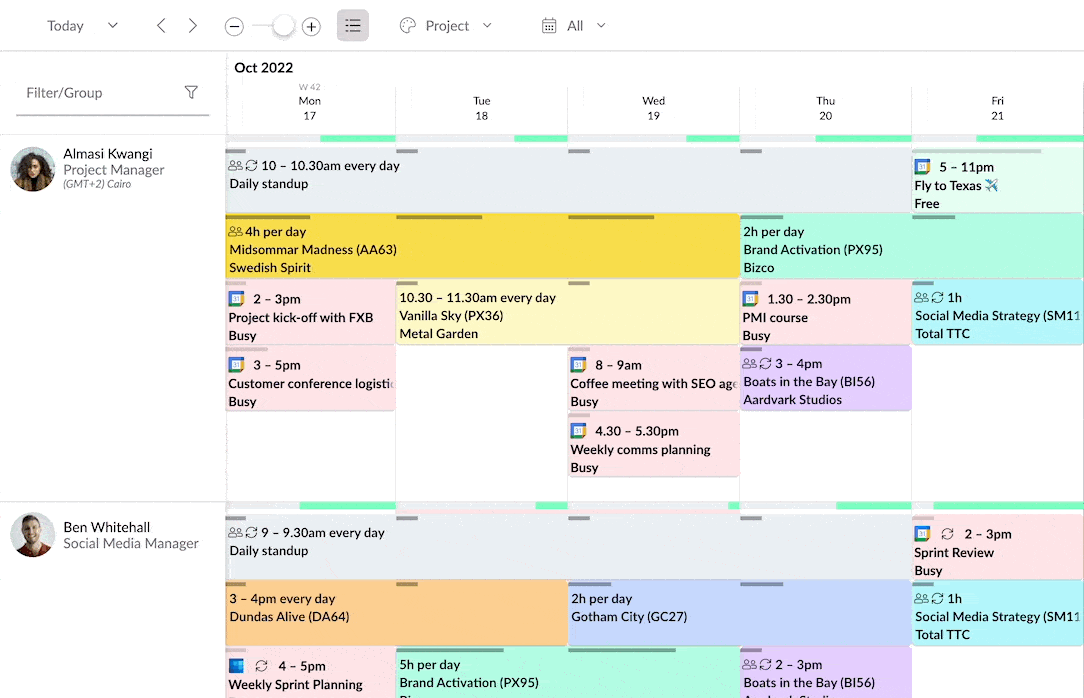 Go To Me is a handy little button in the Schedule that will take you straight to yourself in the blink of an eye. Now there's a time saver if we ever saw one!


Navigating the Schedule is easier and more efficient than ever with our new keyboard shortcut. Simply type G for GO followed by any other character to quickly jump to matching resources and

say goodbye to scrolling

for good.
And now, without further ado, let's dive down into some of the smaller – but perhaps, equally as important – additions, fixes, and improvements.
Calendar integrations:
On the topic of external calendars, we've made some performance improvements that make the connection and syncing process faster and more reliable.

External calendar event containers have been slightly redesigned in the Schedule. The containers are now red or green to show whether the time is Busy or Free and more information has been added.

Uncategorized time off events created in Resource Guru now show more useful information when synced to an external calendar.
Webhook fixes:
We had reports of some missing/incorrect data in some webhooks. The "

deleted_at

", "

archived_on

", and "

deleted

" properties are now showing the correct data.

It's now possible to create a webhook that reacts to changes in custom field data.
Other bug fixes:
We've fixed a bug that prevented some historical bookings from being deleted once an associated project or client had been archived or deleted.

Some users were hitting an issue using the new "g" shortcut feature. We've zapped two bugs that have smoothed everything out.

We've fixed a couple of issues in the Reports section. The date picker now accepts keyboard input and the left/right chevron icons have been reset.

When using filters on a mobile device, long custom field names were breaking the layout. This issue has been resolved.

We found and fixed a bug attempting to reset normal availability for a resource across a number of selected days.
Going forward, we'll be sharing more frequent product updates to keep everyone updated. As always, we'd love to hear your thoughts and feedback as we see out the remainder of 2022 trying to make Resource Guru the global choice for mastering your team's time.
Missed previous product updates? Find them here: