If your organization is struggling to keep projects on track with spreadsheets, emails, and files that seem to vanish right when you need them – you'll be pleased to know that there's a huge variety of project scheduling software out there that can put an end to your woes.
As with all software, there's no one-size-fits-all solution. You'll need to do some groundwork to figure out which one is best for your specific needs based on factors such as team size, budget, and the complexity of the projects you work on.
A good project scheduler should help you organize your teams, streamline your workflow, and keep everyone in the loop about tasks, progress, and deadlines. That's a given.
But a great project scheduler goes a step further by placing a focus on the wellbeing of the humans in your workplace – reducing project fatigue and ensuring your team members can manage their daily workload and stay physically, mentally, and emotionally productive.
What to think about when choosing project scheduling software
Whether you're a tiny team that works on simple projects or a distributed workplace with complex teams working across multiple departments and 24 time zones  – finding the right project scheduling software is essential to help your team members stay focused (and sane).
These are some key things to think about when you're in the decision-making process.
Ease of use
Let's start with the most obvious factor. Finding a project scheduler that doesn't require weeks of training or an engineering degree will help your teams get on board faster, and actually use the new software that you're paying for.
Most of the project scheduling solutions out there are pretty intuitive and easy to navigate, but the more feature-rich tools designed for large teams have a steeper learning curve, as you'd expect.
Productivity
The modern work day is awash with distractions – not to mention deadlines. Whether working in-house or at home, it can be difficult for team members to stay on top of everything that needs to get done.
If productivity is one of the biggest roadblocks in your projects, you'll need to find a project scheduling solution that gives you a clear view of where team members are in a project at any given time.
Features like time tracking, reporting, and performance measurement are incredibly helpful if efficiency is your main concern – but they're not available in all project schedulers, and are rarely available on any low-tier plans.
Collaboration
Working together as a team requires successful communication and collaboration throughout a project.
Some project scheduling software places a bigger focus on this aspect than others, ensuring people can stay on the same page, and see what each team member is working on at a given time. You might need functions like a Slack integration, native messaging functions, or centralized emails to make projects flow more smoothly.
Collaboration features are especially important in your purchasing decision if your teams are working asynchronously across time zones, and you need to know that everyone is working efficiently and managing their time well.
Centralized information
Some project scheduling software allows you to upload documents, videos, and images. This enables your teams to keep project and meeting notes in one central place instead of tearing their hair out trying to remember which email thread they were attached to.
Some schedulers do have limits on the size and types of files you can upload, so you'll need to check that the software can either natively store the types of files you commonly use, or that you can easily integrate the scheduler with another tool that can handle document storage.
Time management
The best project scheduling software makes it simple for teams to manage their work day, complete tasks, and stay at maximum productivity levels.
You'll be looking for features such as time tracking (for both billable and non-billable hours), task tracking, and reporting. These will help you manage performance and profitability and identify how many hours are invested in each project.
Resource management
One of the biggest reasons for project breakdowns and team burnout is overbooking your human resources. Just because there's a spare space on a team member's calendar doesn't mean that they're available for yet another meeting, or extra tasks.
The World Health Organization describes burnout as an "occupational phenomenon" resulting from chronic workplace stress, and much of this is caused by people struggling with calendars that are booked solid every day.
If you care about the productivity of your teams, make sure the project scheduler you choose has taken resource allocation into consideration. People are more productive when you manage their workload carefully so they have room to plan, think, be creative, and deliver their best quality work.
Capacity planning
Planning for upcoming projects means taking your resource capacity into account. Your project scheduling software should give you the ability to look ahead and identify when you might need to hire freelancers, or where potential resource bottlenecks might appear.
Some scheduling platforms don't include these native capacity planning features. This can make it tricky to work out how many resources you'll need to cover a project (or multiple projects) across a given timeline to ensure you can meet the coming demands.
With all of these things in mind – let's take a look at the seven best project scheduling software tools available in 2022, so you can decide which one is the best fit.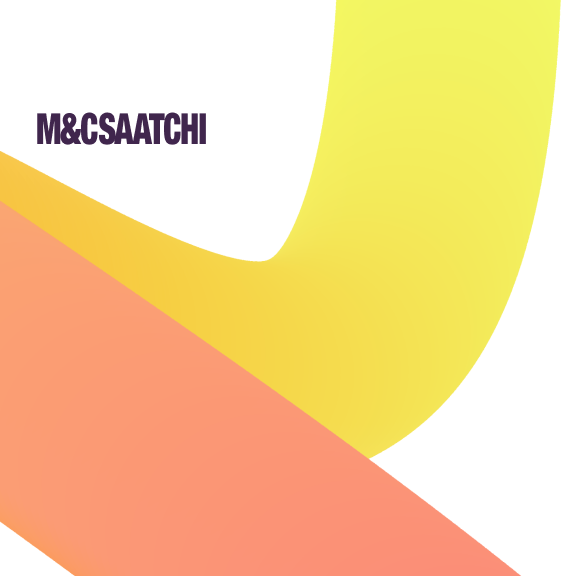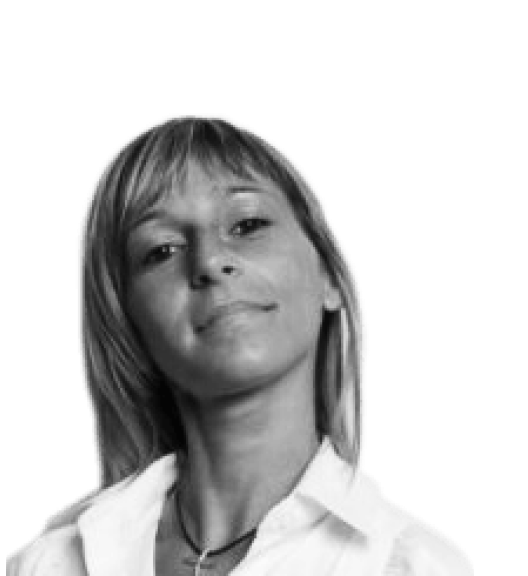 "Resource Guru is simple to use. It allows us to optimize our resources and keeps an eye on every project."



Try It Free
Resource Guru – Best project scheduling software to manage people and workloads
Out of all the project scheduling software options on this list, Resource Guru is the only one that can help you manage your projects based on the real availability of your team members.
While most project scheduling tools are great for organizing work – they fall short of allocating human resources in a way that prevents overwork.
In other tools, it's hard to see how people's workloads are stacking up across multiple projects, so it increases the risk of being double-booked. But with Resource Guru, it's simple to manage workloads across multiple projects. This ensures that you can cross the finish line for every project on the due date, and without your team members imploding before they get there.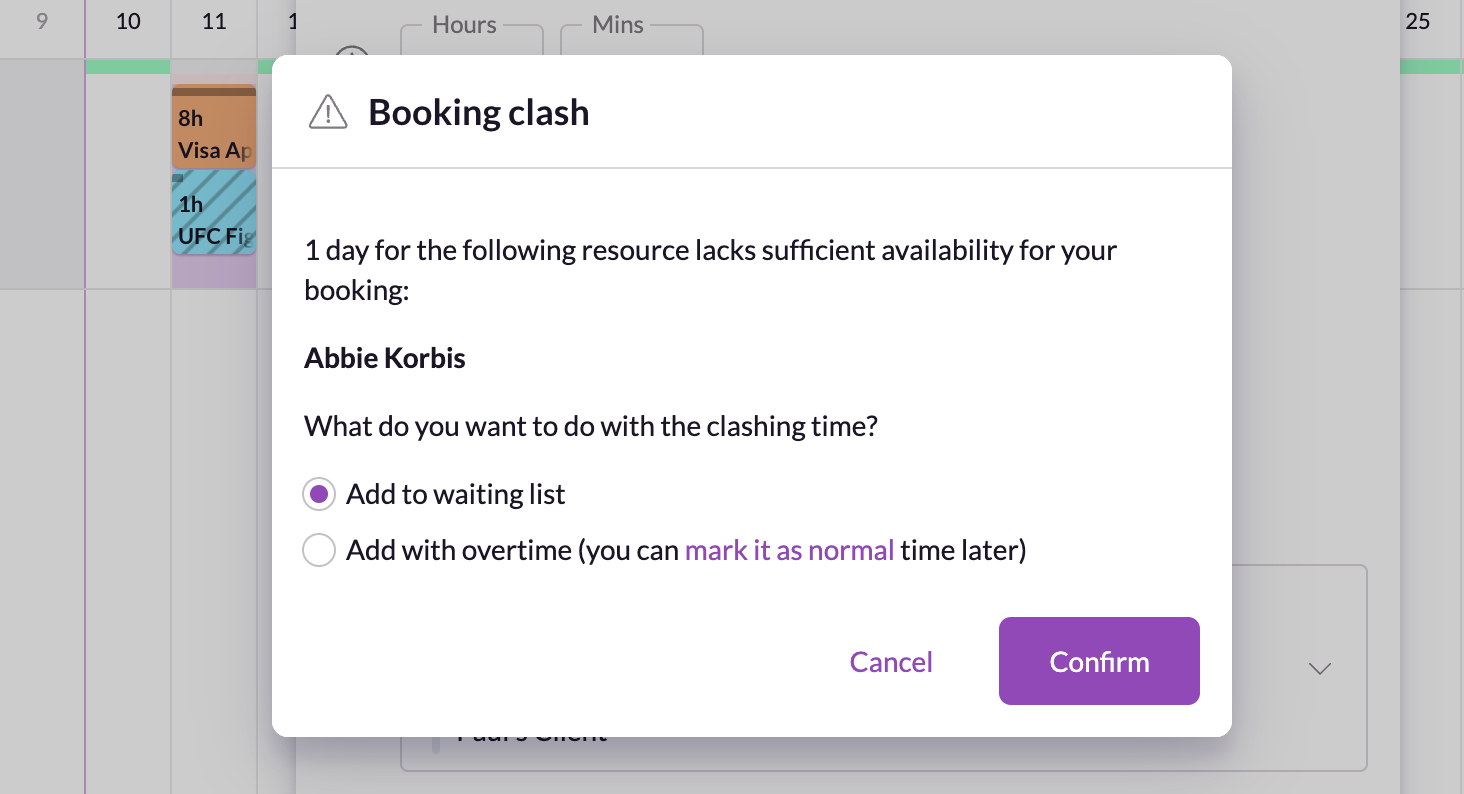 Resource Guru enables individuals to set their own boundaries around projects and prevents them from exceeding their physical and mental capacity to take on more work. Managers can easily see who is actually available at any given time and can monitor individual utilization rates, so people aren't being booked when they're too busy or out of the office.
With Resource Guru, time off can be factored into project plans. This means project managers won't be caught off guard by someone being on vacation or taking maternity leave, for example.
Because you can manage leave and vacation time alongside billable and non-billable working hours, it's easier to achieve a healthy work-life balance – a lot of other tools don't give you the capacity or visibility to manage time off in this way.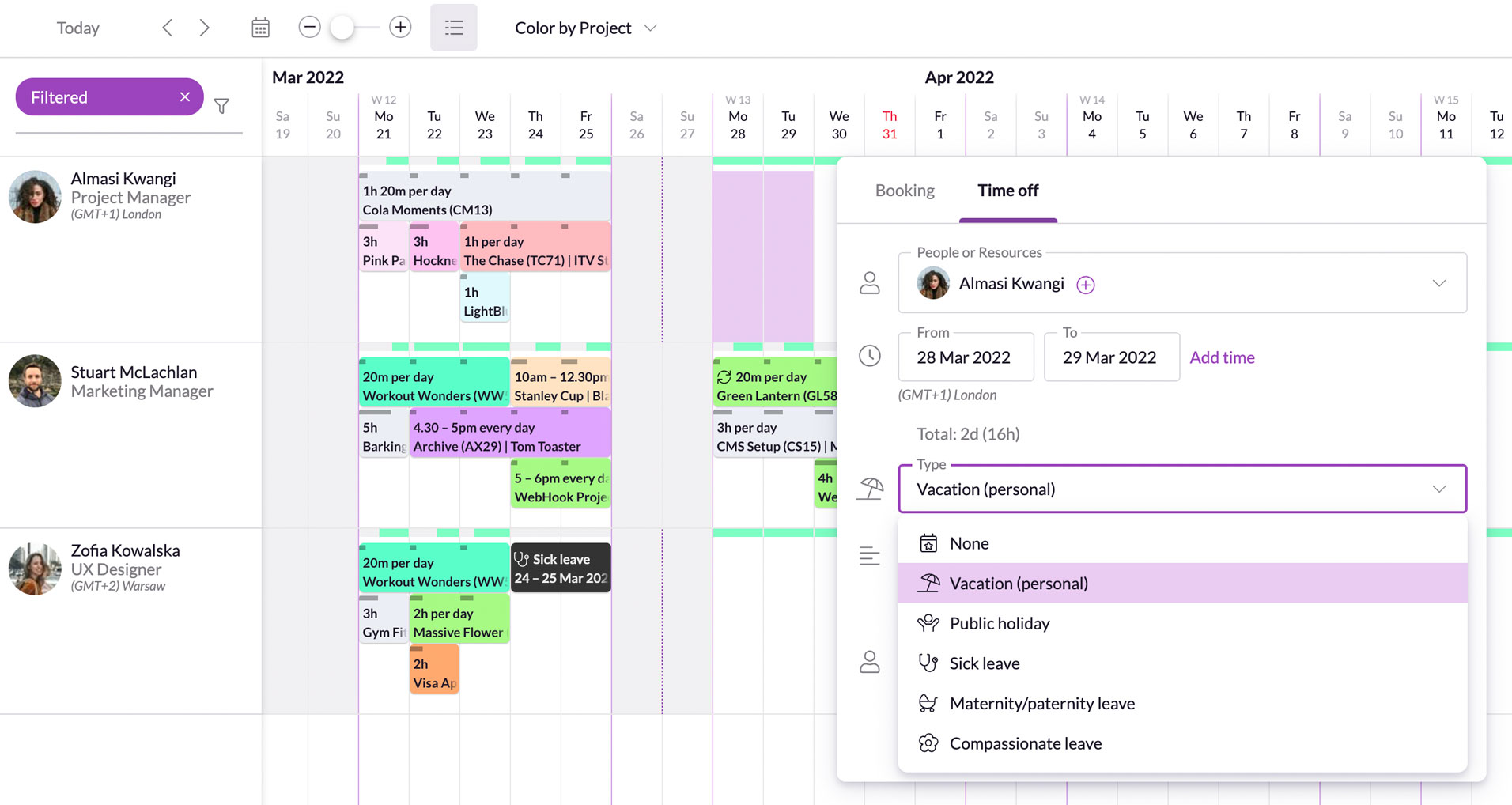 Teams using our project scheduler can regain balance in their day and prevent work overload with a variety of features, including an advanced "clash management" system, and an easy drag-and-drop dashboard so tasks can be moved around if there's a conflict.
Resource Guru helps our agency see availability of resources to ensure we are allocating projects efficiently. Without it, we were running blindly and were hoping that team members would speak up when they were too busy or too idle. Now, we can see this ourselves (days in advance) and prevent talented employees from going unused. – Getapp review
The options for color coding in the dashboard make it a breeze for teams to plan projects and see at a glance who's working on what. The dashboard also updates in real-time so you have full transparency into everyone's progress.
As well as robust task and planning features, Resource Guru also offers daily schedule emails, equipment management, meeting room booking, and capacity planning tools. All of these features are designed with a human focus, to help teams do their best work, reduce employee turnover, and improve morale in the workplace.
In terms of integrations, Resource Guru syncs with a number of other popular apps, though we will admit that it doesn't have the sheer scale of integration options that a tool like Hive offers.
Resource Guru offers competitive pricing for its feature set. Plans begin at $4.16 per person, per month on the Grasshopper plan, with an extra $2.08 for each non-human resource (equipment and meeting rooms). This plan includes most of the features available on the higher tiers, with the exception of reporting, data imports, phone support, and SSL – which makes it incredible value for a starter plan.
The Master plan is available from $10 per person, per month with non-human resources at $5 each, making it more affordable than many of the other schedulers on our list. Plus – we'll also give you a 20% discount if you pay annually!
Teamwork – Best all-in-one project scheduling software
Teamwork started as a basic task management tool. But over the years, they've become a comprehensive project scheduling solution.
As their feature list is more extensive than the other products on our list, there's a steeper learning curve to factor in – as opposed to more user-friendly tools, like Trello and Resource Guru. Teamwork can feel overwhelming if you're new to project scheduling, or don't have much tech experience – so make sure you set aside plenty of time for your team to find their way around and set everything up.
Once you're familiar with the layout, you can set up customized dashboards, track time and billable hours, zoom in and out on projects, and create project-level teams.
Teamwork helps me keep up with all the thousands of activities between all our clients. It gives me full oversight on what's moving and what's not. – G2 review
Due to the sheer range of features in this platform, there's a helpful advanced search feature built-in so you can easily find what you're looking for instead of trawling through menus and dropdowns.
Teamwork offers some comprehensive features like invoicing, billing, and team chat features – which means you may not need to pay extra for separate tools like invoice software or Slack. On the downside, it's lacking in some of the time-saving automations that other tools have.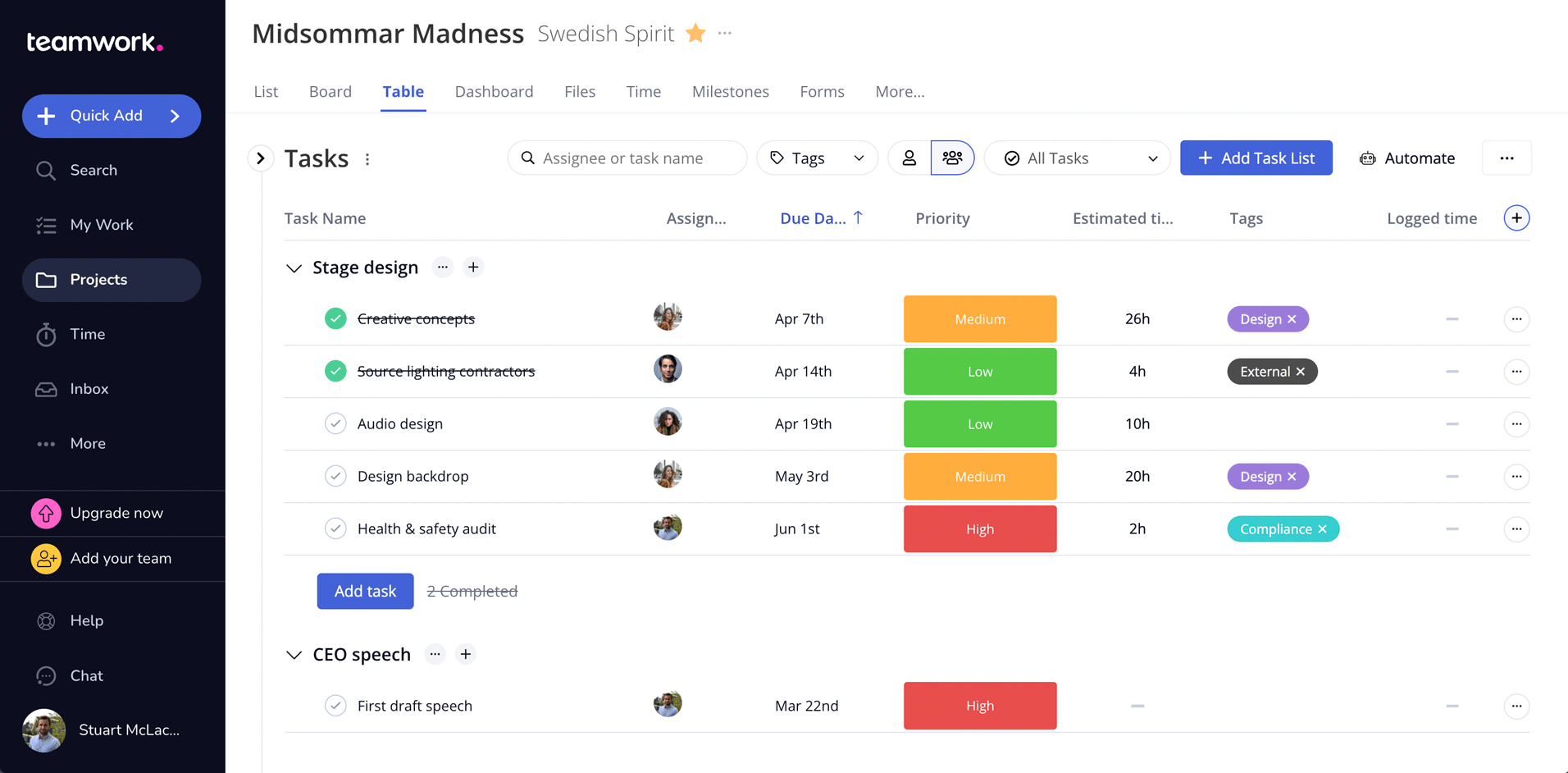 Teamwork is one of the more expensive project scheduling software options on our list. While there is a free plan for up to five users, it only gives you access to very basic scheduling features.
Despite the drawbacks of a higher price point, Teamwork is still our top choice as the best all-round project scheduling software.
Monday – Best project scheduling software for collaboration
Monday is a project scheduling tool that's suitable for smaller teams right through to enterprise organizations.
With a focus on making team collaboration easier, it has a wide range of features that include Kanban boards, Gantt charts, time tracking, automations, integrations, centralized document storage, and plenty of customization options.
It helps with collaboration, accountability, assigning tasks, completing tasks, and overall will help keep your team and organization on track. – G2 review
Monday users say the colorful dashboard views make it easy to work with. There are also fun animations that appear in the dashboard when you hit the project complete button – so if you like to add a touch of gamification to your projects with reindeer and snowballs to celebrate your victories, Monday has you covered.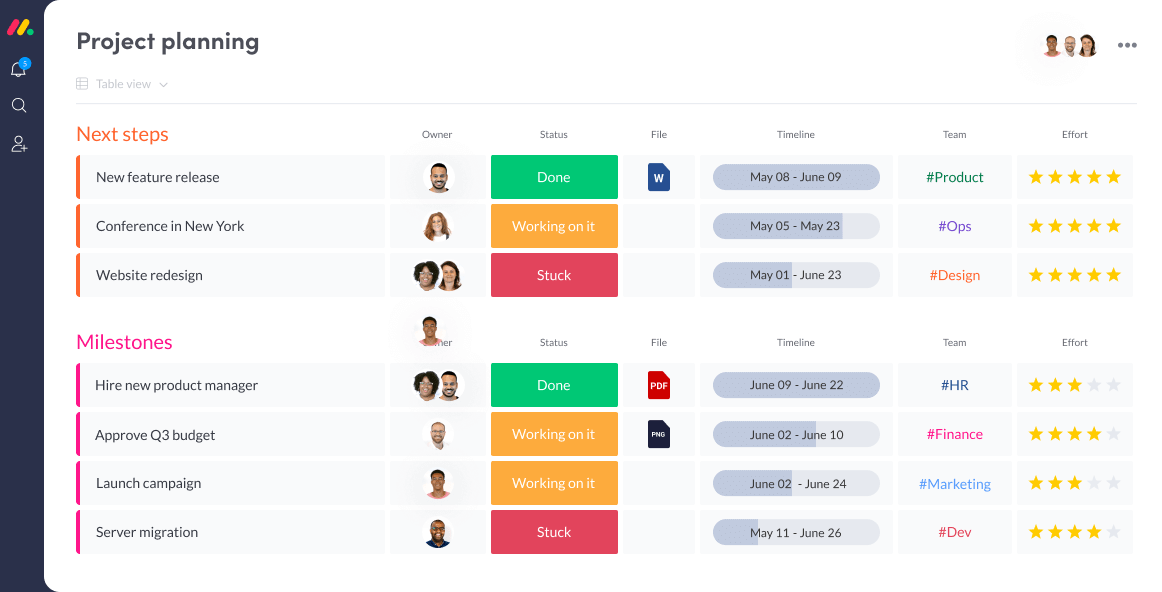 On the downside, many users comment that there is a bit of a learning curve to work through while you figure out how to set up Monday's dashboard for your use cases. The UI can sometimes make it tricky to find things in the menus and dropdowns, and many aspects of the dashboard could be further simplified.
Once you've set up your teams and projects, Monday makes it a breeze to assign and track tasks and sub-tasks. Everyone in your team can work on the platform at the same time, and view each other's tasks – which provides complete transparency for everyone around project progress.
Monday offers three basic tiers from a free plan to the standard plan at $12 per seat, per month. But these low tiers include only very basic features and limit your boards and file storage.
If your organization needs more advanced options for time tracking, integrations, scalability, and customized automations, you'll be looking at the Pro or Enterprise plans.
Monday's Pro Plan is priced at $20 per seat, per month. However, as this is a collaboration tool you might need to purchase access for your whole team in order to get the most out of the tool's features. This will mean you need to buy extra licenses – and depending on your team size, the cost might be a prohibitive factor in your buying decision.
The cost versus functionality of Monday's software makes it less of a good choice for smaller teams, as most of the features are only available on the enterprise levels of this project management tool.
Hive – Best project scheduling software for small teams
If Monday sounds like overkill for your needs, and you're specifically looking for a solution for a smaller team, Hive is a solid option to consider. Users comment that it's especially friendly for people that haven't used a project scheduling tool before.
I love the easy-to-use setup, and on top of that, establishing any particular workflow is the easiest I have seen. – G2 review
Positioning itself as a "democratic project management platform" – Hive builds and iterates based on user feedback, with a view to continually improve the way teams work. If you're a Hive customer, you can submit and vote on any changes that you think would make it better.
Unlike Monday, Hive offers a customizable dashboard for individuals, rather than everyone having to use the same global layout. This means every team member can work the way they want, with either Gantt, Kanban, table, calendar, team or summary views of their projects.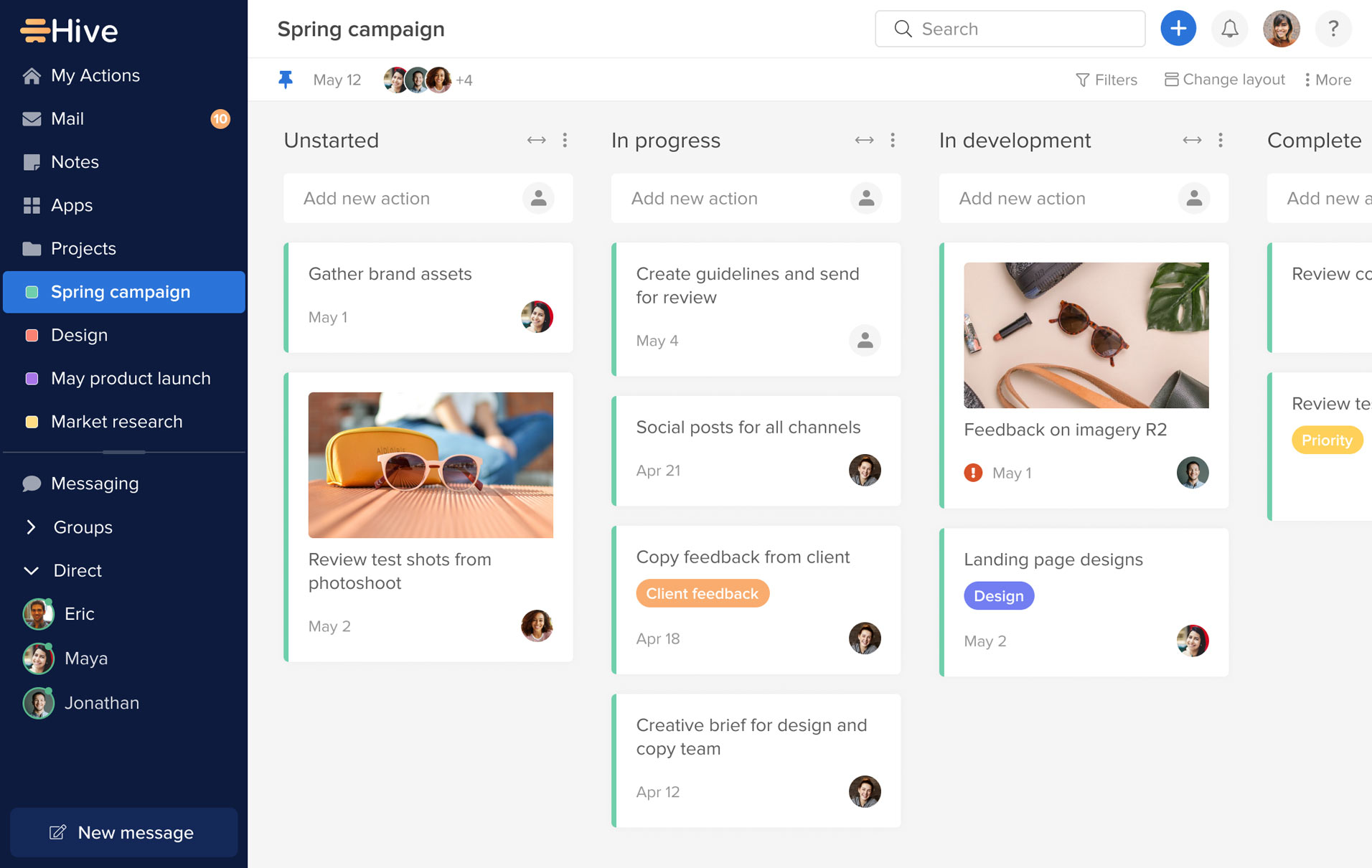 As well as standard project scheduling features, Hive seamlessly integrates with Gmail and Outlook, calendars, and Zoom. It also has a built-in chat feature. This lets teams easily manage their daily communications, tasks, and video meetings from one central place.
Project issues can be mitigated with Hive's risk tracker, and tasks can easily be created and assigned to team members. But perhaps one of the biggest advantages that Hive has over other project scheduling solutions is its integrations.
Hive syncs with over 1,000 of the world's most popular apps – including Slack, Salesforce, HubSpot, Dropbox and FreshBooks. Your teams can bring everything into the central dashboard instead of spending their days switching between multiple different tools trying to find the information they need.
In terms of pricing, Hive is more expensive than tools like Resource Guru, with plans starting at $16 per user per month when billed monthly.
The upside is that all of Hive's tiers give users access to the full range of core features (with the exception of time tracking for the free plan). This means individuals and small teams can enjoy the same basic features as enterprise-level users – including unlimited storage space.
A variety of flexible add-ons and integrations are available for Team and Enterprise plans for extra scalability, support, and functionality.
Ganttic – Best project scheduling software for efficiency
If Gantt charts are your love language, then Ganttic should be on your list of project schedulers to investigate. If the name didn't tip you off already, it's what they do best.
In case you haven't discovered the miracles of the Gantt chart for task and time management – they're a brilliant way to maintain a high-level overview of your projects and deadlines to make sure everything is on track.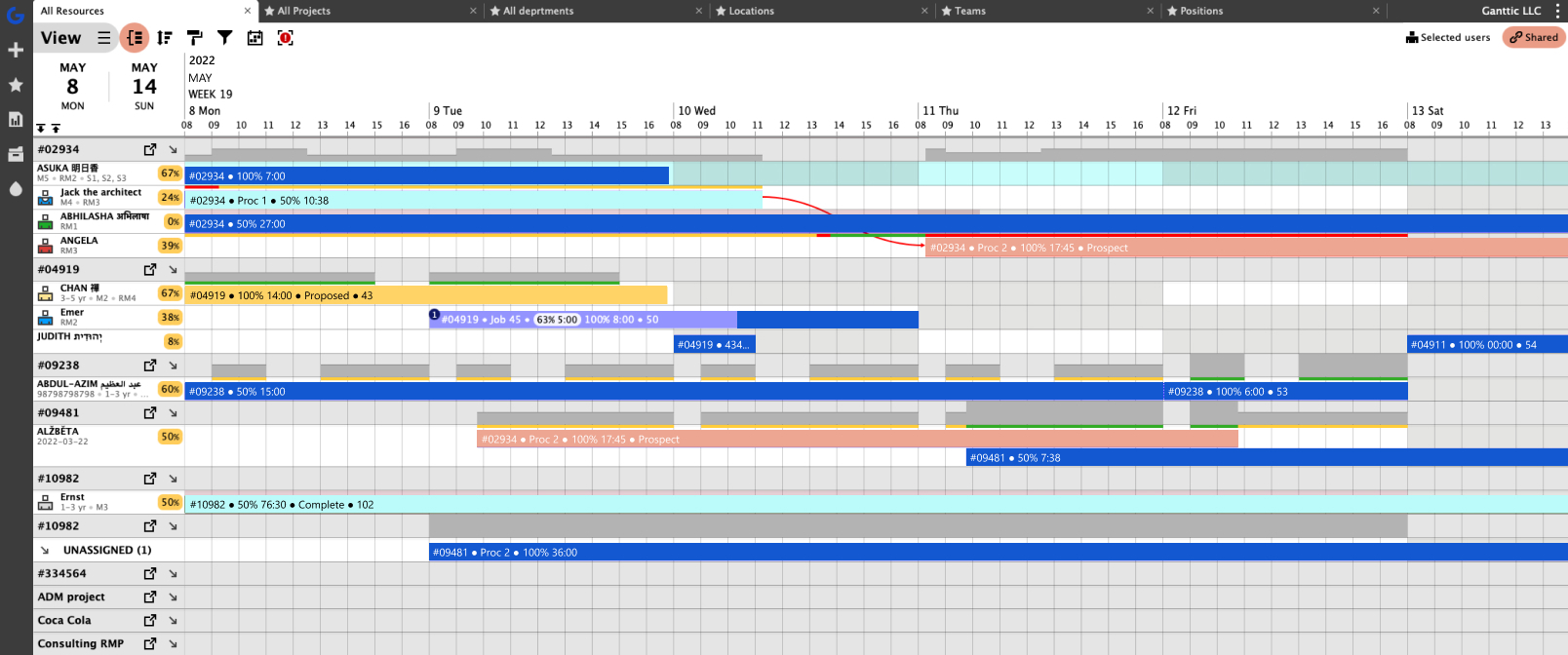 Ganttic promises "maximum efficiency" for its users. It allows teams to get a view of all projects at a glance, and then zoom in to manage specific tasks in detail.
The handy drag-and-drop feature makes it simple to allocate tasks across different projects and adjust them when there's a conflict. If you don't like the Gantt layout so much, you can switch your point of view in the dashboard to Kanban boards, reports, charts, or lists.
Ganttic is ideal if you work across multiple projects at any given time. It enables you to schedule team members, tools, equipment, and facilities simultaneously, and generate performance reports to measure efficiency.
Their pricing strategy is pretty straightforward. Tiers are determined based on the number of resources that you'll be using, and not the number of users themselves. Ganttic defines resources as "anyone and anything that needs to be planned for a project to succeed". This includes meeting rooms, machinery, equipment, and people.
On this basis, it's a little tricky to estimate whether the price points make Ganttic better value than other project scheduling software. But the advantage here is that Ganttic's pricing tiers let you invite an unlimited number of users. So unlike Monday, you won't need to buy extra licenses for each team member.
Ganttic's free plan lets you work with up to 10 resources, with 50 resources costing $59 per month, and scaling up to an enterprise-level tier of $790 a month for 1500 or more resources.
Resource Guru is the people-focused project scheduling software – try it free for 30-days (no credit card required).
Trello – Best project scheduling software for managing simple projects
Trello is one of the most popular project management and scheduling software. Its user-friendly Kanban layout makes it really easy to get started. You can set up and share boards, lists, and cards in minutes, even if you're not a tech whizz. And that's not an exaggeration. Trello is as easy as it gets in terms of app learning curves.
This software is ideal for teams with simple, repetitive tasks that need to streamline their project management. It's not as robust as Teamwork or Hive and is lacking a lot of the functionality and reporting tools that help project managers track efficiency and performance.
Trello also doesn't have the same variety of point-of-view options as other project schedulers – and only the Kanban view is available to users on the free plan. You also can't get a high-level overview of how task delays might affect other timelines and projects – so if your team needs more agile project management features, this might not be a good fit.
One of the functions it does have that users love, is the automations. Trello's automation bot, whimsically named "Butler", increases your efficiency and saves time by configuring buttons and triggers for things like notifications, due dates, moving cards, and tagging people for next steps. While this sounds complicated, it's every bit as simple as the rest of Trello's features.
Similar to Monday's project completion animations, Trello builds a bit of fun into their product, with features like customizable board backgrounds, emoji reactions, and stickers to make work feel…well…less like work.
Trello offers four pricing tiers, beginning with a free plan for individuals and small teams. The free option is an excellent place to get started, as it has a good core range of features to help organize simple projects. Your whole team can use Trello for free on this plan as long as you don't need more than 10 boards – but you can create unlimited lists and cards within those boards.
The only major pain points with the free tier are that users can't upload any files larger than 10MB unless they upgrade, and it's missing more advanced functions to cope with complicated projects.
If you need to scale, or have a larger team that needs to manage multiple complex projects, the higher tiers offer more customization and collaboration features, plus enhanced controls, support, and security.
Paid plans range from $6 per user, per month, with volume discounts keeping the price competitive at $7.38 per month (billed annually) for up to 5,000 users. If you're managing Godzilla-sized teams and projects, there's also an option to contact their sales team for a customized pricing plan.
Asana – Best general project scheduling software
Asana is one of the most popular project scheduling tools and is probably the most similar to Teamwork in terms of features.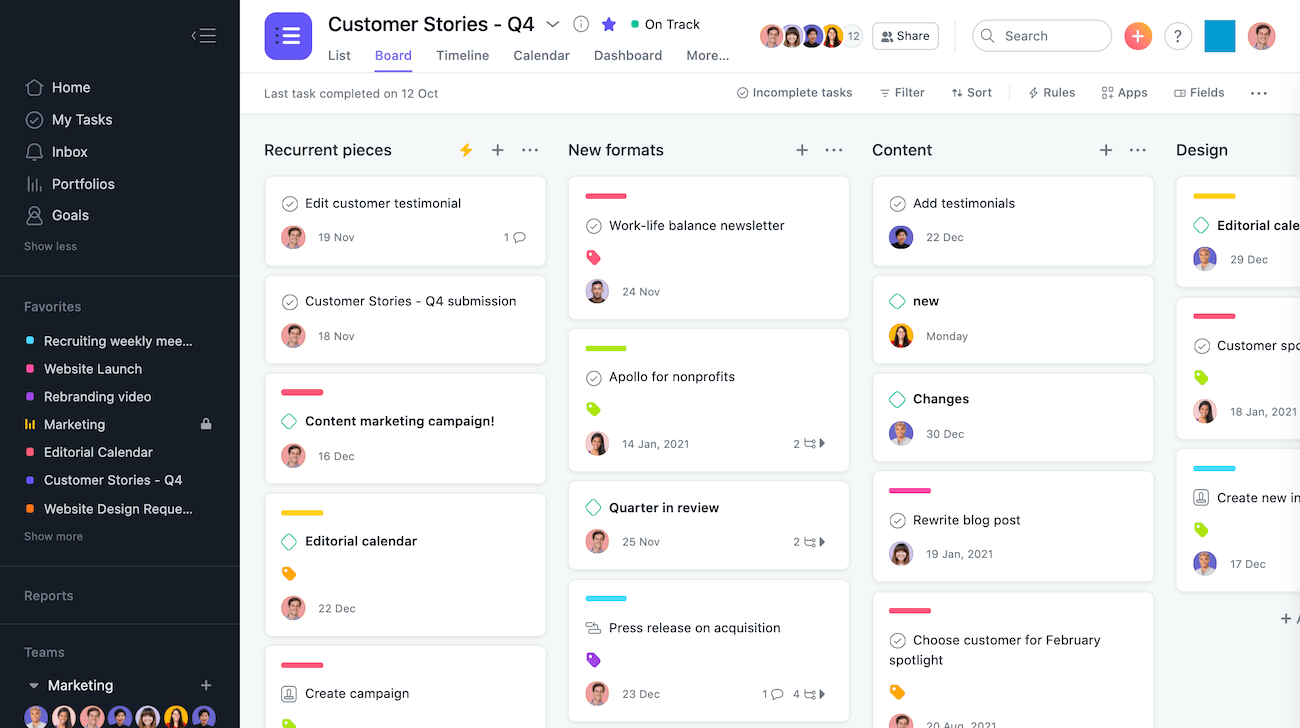 It's a solid generalist solution, covering all your bases for project planning, task assignment, tracking, and collaboration in a simple, beautifully designed dashboard. It provides a huge range of features and settings for teams to play around with. Users especially love the flexible setup and scheduling features in the dashboard.
There are no rules on how to use Asana. Your team or organization can decide what features and settings make the most sense for you. Other project management systems I've worked with have been more rigid. – G2 review
Asana does the basics of project scheduling very well – making it a good choice if you're trying out this type of software for the first time.
Your teams can visualize their workloads and projects with Kanban layouts, lists, or timeline views, set up basic automations – and it's easy to drag and drop elements to move tasks and bookings around.
The free pricing tier in Asana is the most generous out of all the project scheduling software solutions on our list. It allows you to add up to 15 users and lets you schedule unlimited projects and tasks. You also get 100 free integrations and can set up basic workflows in this tier.
The top tier plans cost $30.49 upwards per user, per month – which makes it slightly more expensive than Teamwork when billed monthly, and much more expensive than tools like Resource Guru or Trello.
Which project scheduling software is right for you?
It can be overwhelming trying to pin down the exact project scheduling software that's right for your organization so you don't waste time and money testing and switching tools.
All of the project schedulers in our list can manage the basics of project and task planning – but the granular details of their features and pricing are what you need to assess before you take out your credit card.
If you're a small team looking for a simple project scheduler and a generous free plan – Asana is probably the best fit for you. If you need a robust all-round tool and you don't mind a steeper learning curve and higher costs, we recommend Teamwork.
And if your focus is ensuring smooth scheduling and healthy and productive workday for your team members – then Resource Guru should be top of your list.
Start a free trial today and see how we can make project scheduling a breeze for your business.