The big news in the last few months has been the release of two hotly anticipated new features – Approval Workflow and email notifications (which we've expanded to include time off events too).
But there's been much more bubbling away beneath the surface. Read on for a roundup of some updates and enhancements we've made in the last few months: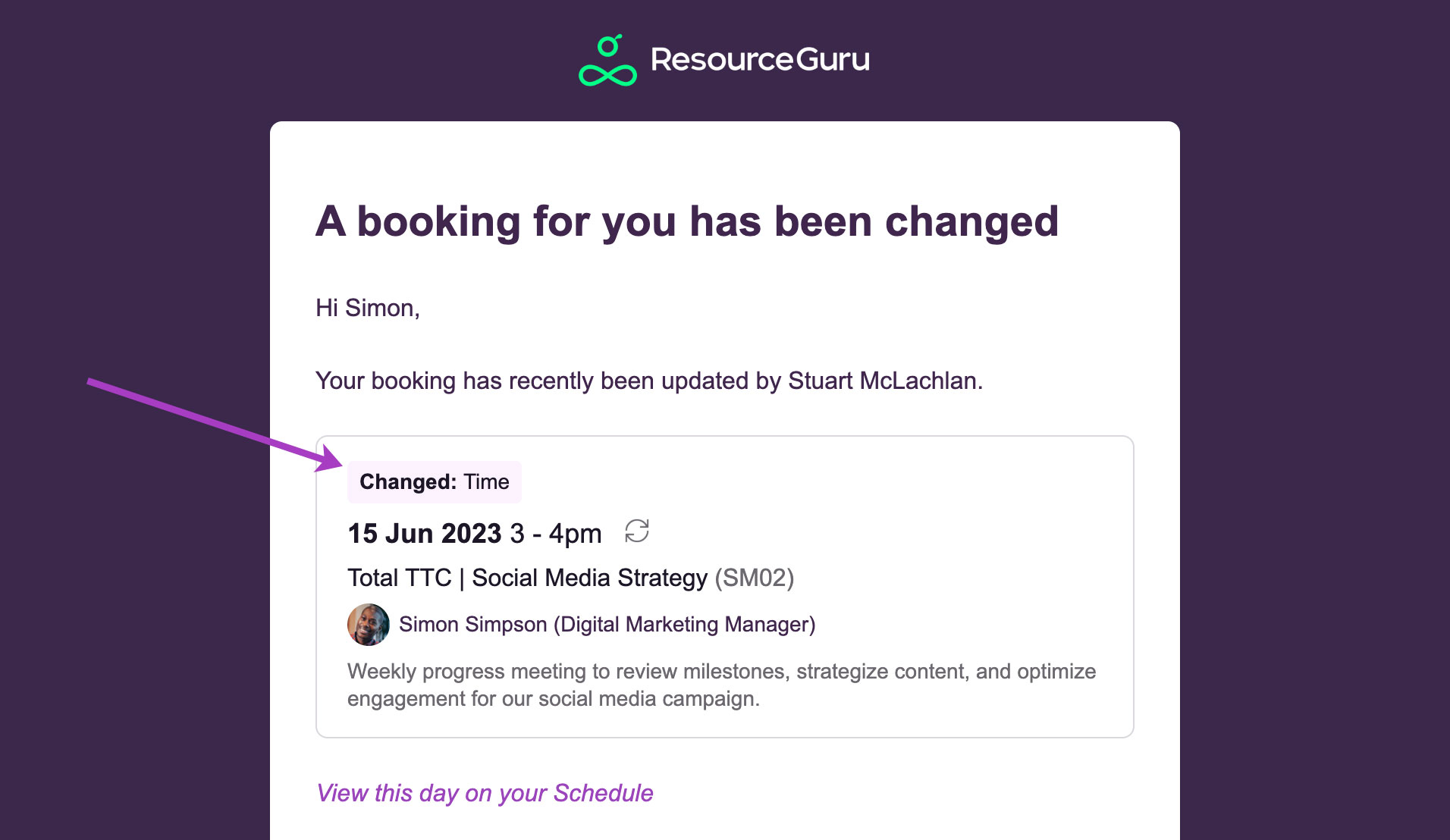 See what's changed when bookings are modified. We've upgraded our email notifications so they now tell you what's changed when someone edits one of your bookings. Whether it's been rescheduled, repeated, or reassigned, you'll be better informed of important changes to your schedule.
Track when team members were last active in your account. "Last login" info has been available in Resources for a while, but it was too literal before. If someone never logged out (why would you!), they would never need to log in, so the "last login" time and date wouldn't change.Now, "last login" info updates every time a page is loaded, so you can easily check when team members were last active (and follow up with anyone who isn't logging in, but should be 👀).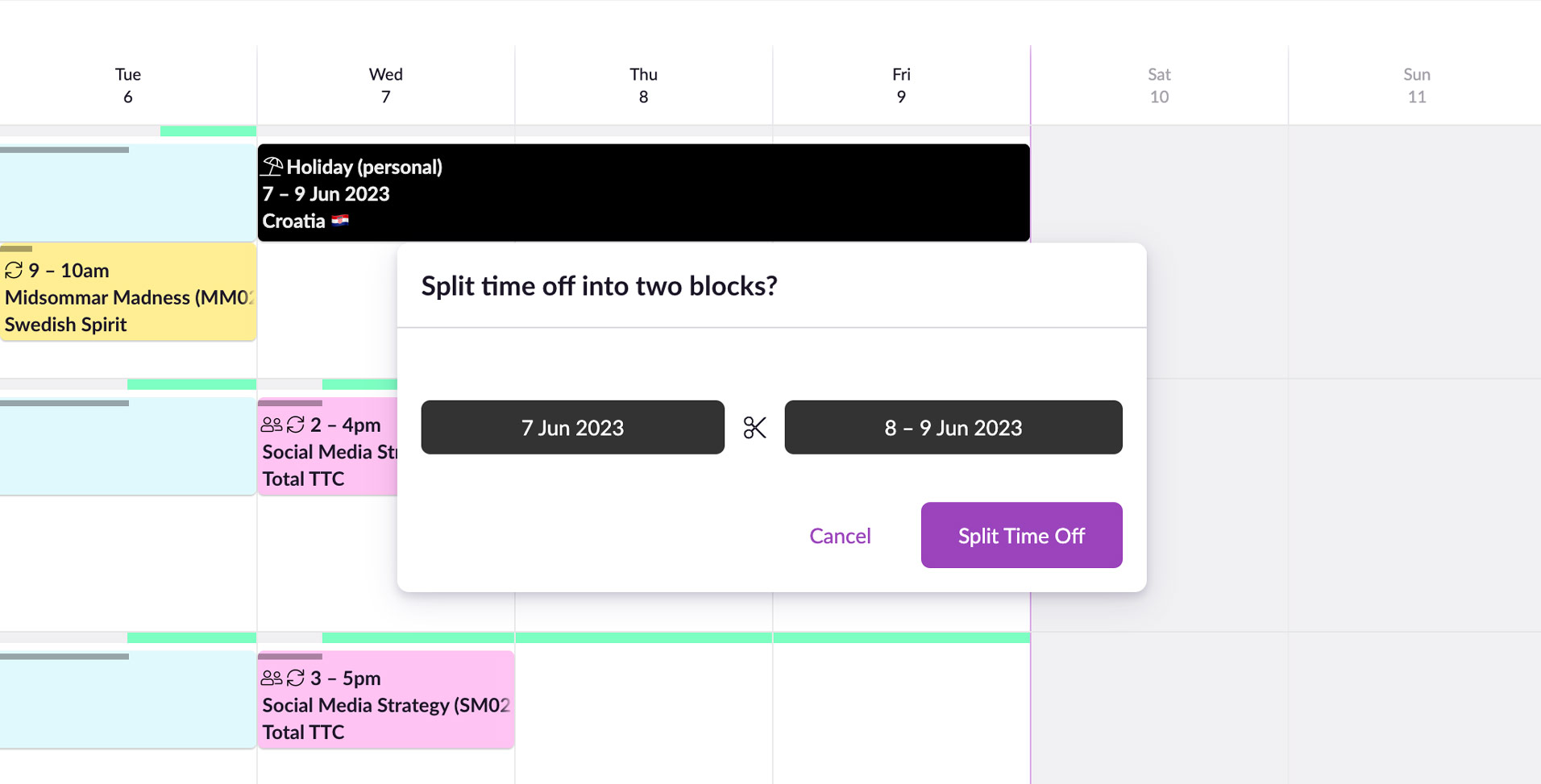 Split vacations in the Schedule. You could already split other types of time off, but you can now do this for vacations too. This will make it quicker and easier to keep your schedule up-to-date with work, play, and everything in between.
Alongside those functional changes, we also freshened up how things look in a few areas:
External calendar icons are now larger and clearer in tool tips – hover over a synced Outlook or Google calendar event to see them.
The Waiting List and Tentative Bookings icons in the Dashboard have been switched from circles to rounded rectangles for better consistency.
We changed the font used on the Settings page to bring things up-to-date with other parts of the app.
Bug fixes and performance improvements
We want Resource Guru to be a smooth and seamless experience for everyone. Here's a shortlist of what we've ironed out recently:
Emails
We truncate booking descriptions when they appear in our daily schedule email and email notifications. But we found that when the description included a link, and that link got cut off by truncation, and then an email client stepped in to automatically convert it into an active link… it broke. This has now been fixed so links will go where you expect, even when they're truncated.
Following a change to our email infrastructure, we noticed that the dates shown in daily schedule emails weren't matching up to the dates in the subject line for customers in some time zones. We've wound the clocks back and nipped this in the bud.
In the "upcoming time off" section of the daily schedule email, we show who's assigned to each time off event and indicate how many more aren't shown. However, a pesky bug meant the resource count was wrong. That's been resolved.
Schedule
Extra long bookings (over 3 months) were proving tricky to drag-and-drop, but that's no longer the case.
A keen-eyed customer found that archived people and resources weren't being removed from multi-resource bookings. They should be, and from now on, they will.
We noticed that it sometimes took a long time for external calendar events to sync, which could lead to connection timeouts. We refactored the external API calls to resolve this.
Billing
Customers on our annual plans get "monthly adjustment invoices" which show account credit and charges for any additional resources added. Confusingly, these were being labeled as "monthly invoices". We've now renamed them as "pro-rata adjustments".
Some customers with variations on our standard rates were seeing incorrect information when viewing their Next Payment info in Billing. This was quickly fixed and now shows the correct payment amount.
Settings
Two important toggles on the SSO configuration page mysteriously disappeared. These have been retrieved so customers can create and edit their SSO config without issue.
The navigation tabs on the Settings > Resources and Settings > Apps pages went walkabouts. We fixed the offending code, so they're back where you'd expect them.
Other bug fixes
We discovered an issue where project codes were being limited to 191 characters, rather than the 255 promised. We've now expanded the limit.
Authorizing Resource Guru using a third-party service had become unnecessarily difficult thanks to an invisible "Authorize App" button. We've reset how this looks so it's highly visible and clickable.
One of our customers noticed that the client_id param was missing in webhook payloads for bookings that have clients assigned. This is now fixed.
Got feedback? Email is the best way to contact us if you need a speedy response. Get in touch at happytohelp@resourceguruapp.com.
Wondering what else is new with Resource Guru? Read up on recent product updates: