As winter sets in and the world winds down to the end of the year, we're warming ourselves on the roaring fire of fresh new product updates. Read on to see what we've been working on recently to make Resource Guru a better resource management tool than ever.
First up, let's dive into some of the bigger, more noteworthy updates:
When creating a booking that goes beyond someone's available hours, you now have a third option to resolve the clashing time. Instead of adding it to the waiting list, or adding it with overtime, you can now choose to add the booking and extend someone's availability without adding overtime.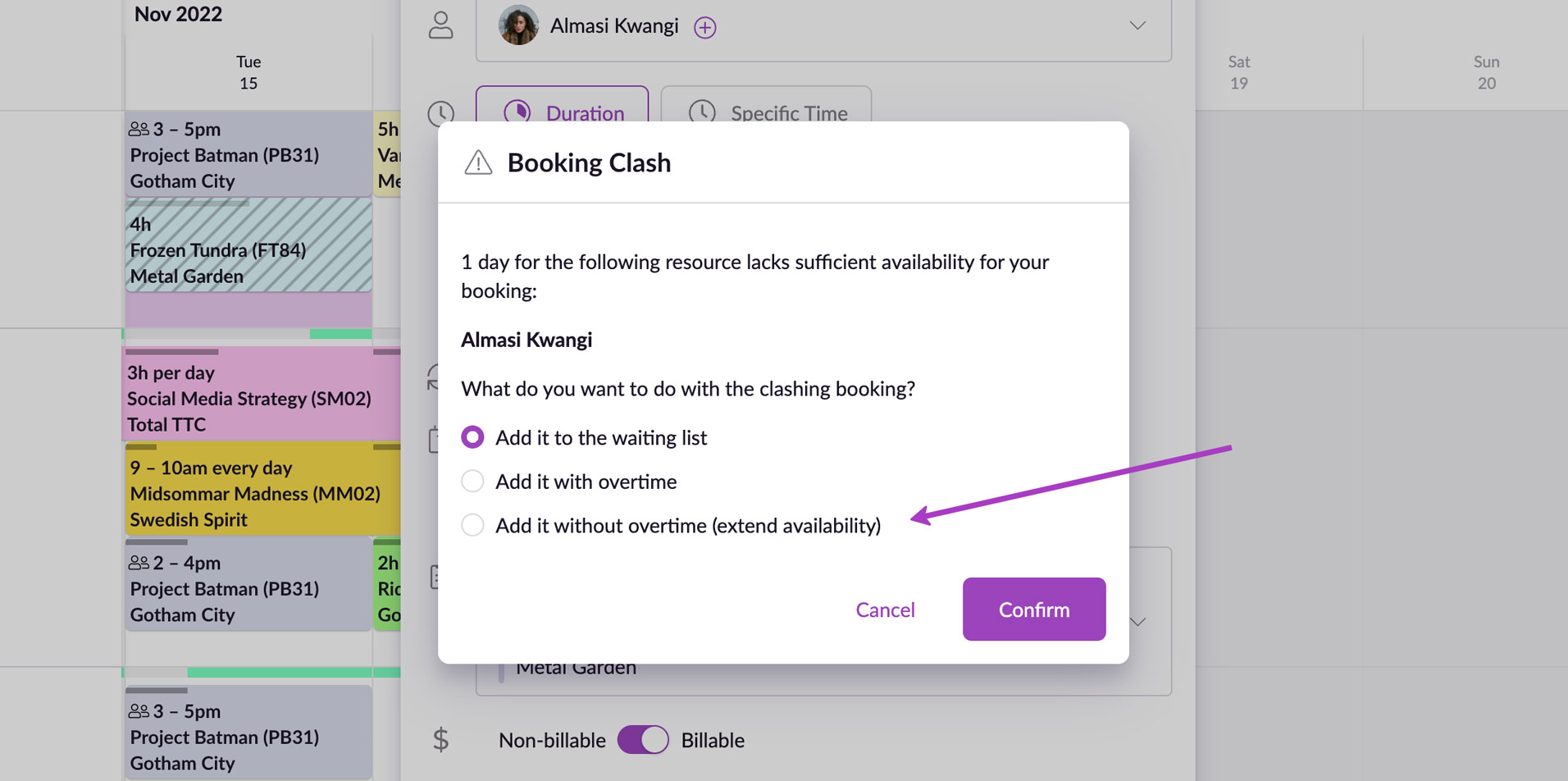 We've updated how our calendar integrations work so "free" events synced from other people's external calendars are now hidden.

Events can be marked as "free" or "busy'" in Google Calendar and Outlook. But since a "free" event has no impact on someone's actual availability, it can lead to confusion and create clutter in the Schedule. From now on, you will only see your own "free" events and not other people's.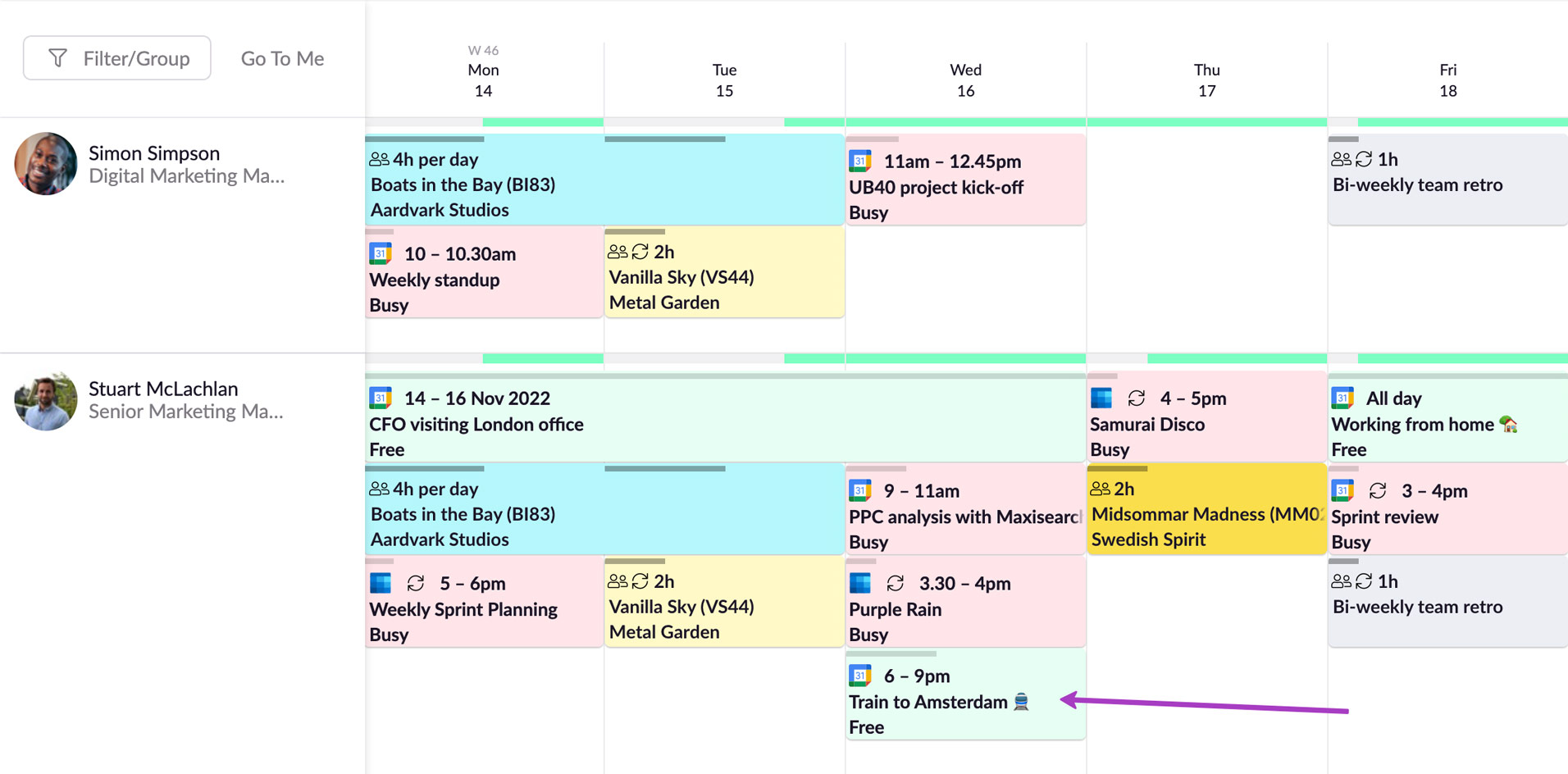 It's now easier to resolve booking clashes caused by time zone changes. When this happens, a booking clash notification will pop up, giving you the option of either adding the bookings to the waiting list or deleting the clashing time.

As a remote, distributed team, we're already benefiting from this update (yes, we use Resource Guru too!), and it should be a big help for anyone with a busy schedule who switches time zones frequently.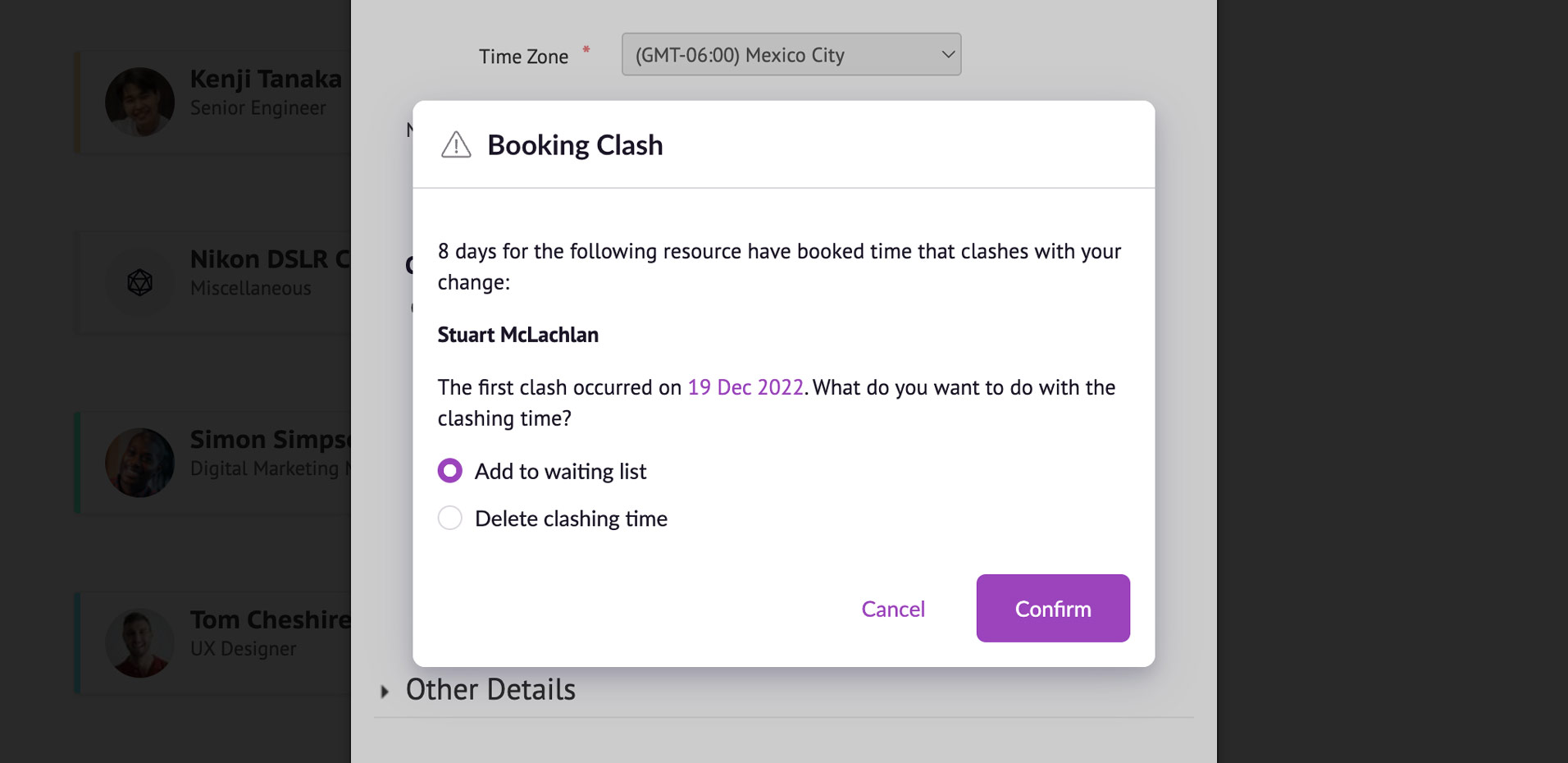 Finally, webhook fans will be pleased to hear that a number of new properties have been added to the resources webhook payload. This now includes data for creator_id, user_id, deleted_at, and minutes_per_day.
Bug fixes and performance improvements
Moving on to the smaller stuff. We've also been working our way through various bug fixes and performance improvements so that Resource Guru continues to work as quickly and smoothly as you expect.
Here are the highlights:
We found and fixed a bug that was causing the page to become unresponsive when you archived or deleted existing projects or clients.
We resolved an issue with resource job titles, which were being lost when they were updated at the same time as custom field option IDs.
An eagle-eyed customer spotted that long custom field values were being cut off when using filters in the Schedule. This has now been fixed.
The "Update" badge in the Product Updates list had mysteriously disappeared. We've now retrieved it so you can easily distinguish between minor and major product updates.
We fixed an issue with missing spacing on parts of the Settings page.
We squashed a bug that was preventing users with specific custom permissions from seeing the list of resources linked to a multi-resource booking.
We found that custom fields were going rogue in downloaded reports and changing order unexpectedly. We've applied a fix so they're now sorted and reported correctly.
We improved the performance of our calendar integrations so it now takes less time to fetch external events
Please get in touch if you have any thoughts or feedback on any of these updates. You can flick through previous product updates below to catch up on anything you might have missed.
In the meantime, we hope you enjoy the rest of your year. We're excited to bring you even more updates and improvements in 2023!
Read up on recent product updates: