Even the best-laid project plans fail when there's a lack of communication. How can you keep things on track if your team isn't fully aligned on what they should be working on?
Problem solved – we've just added new email notifications to Resource Guru that will keep you and your team up-to-date on upcoming work, time off, and important changes to your schedule.
Keep teams up-to-date on upcoming work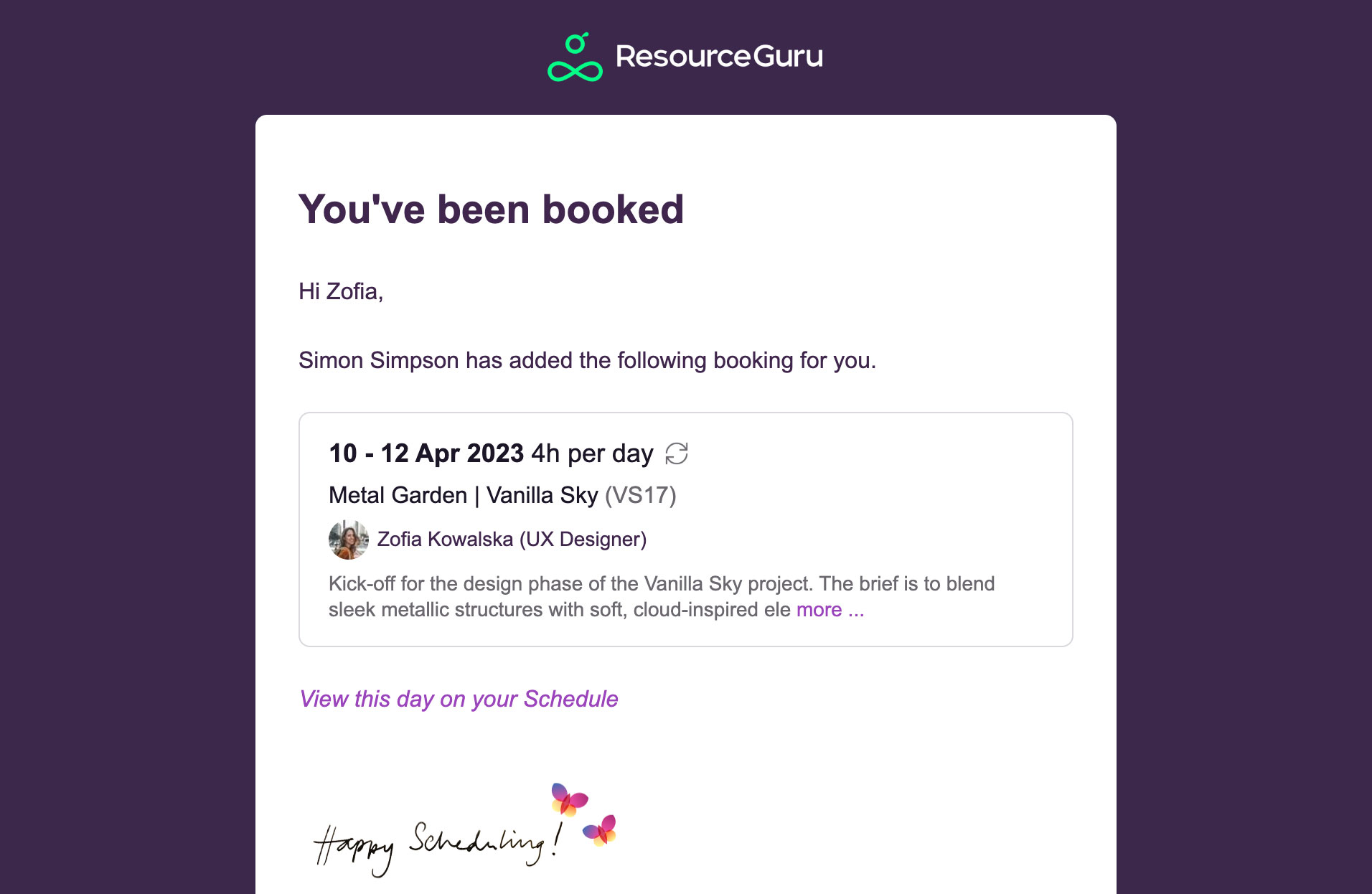 Simply assigning work isn't enough – you need to be sure that people know about it so each phase of a project starts and ends when you expect.
With Resource Guru, team members can check upcoming work in their personalized dashboards. But sometimes you need a more direct way to get the message across – particularly when you're creating or changing bookings at short notice.
Our new email notifications will help you bridge the gaps in communication and keep everyone in the loop on what they should be working on.
Every team member will now be notified whenever:
they are booked
one of their bookings is changed
one of their bookings is deleted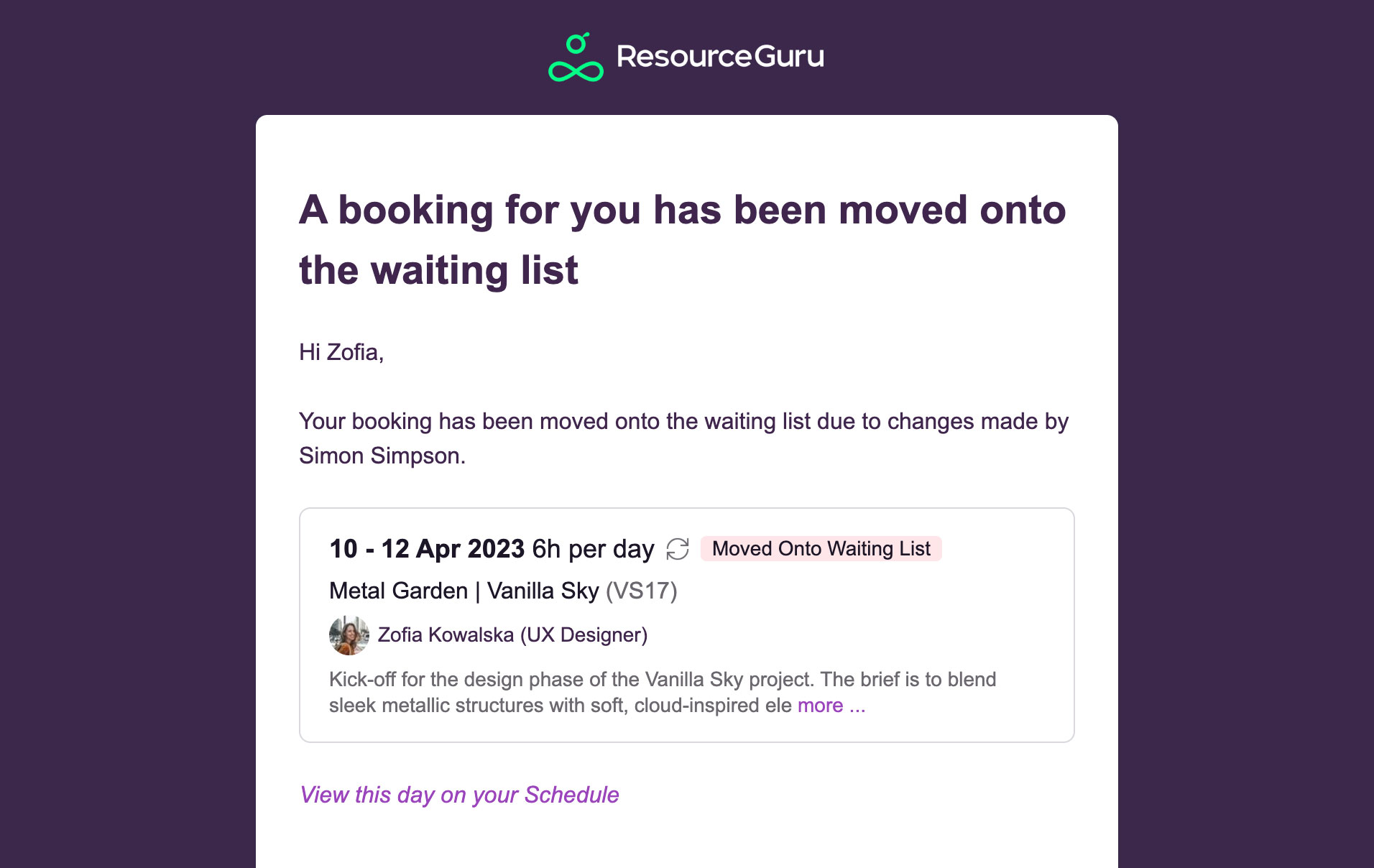 Team members will also be notified if one of their bookings moves onto or off the Waiting List. Any bookings marked as tentative won't trigger email notifications until they are confirmed.
Track changes that impact project plans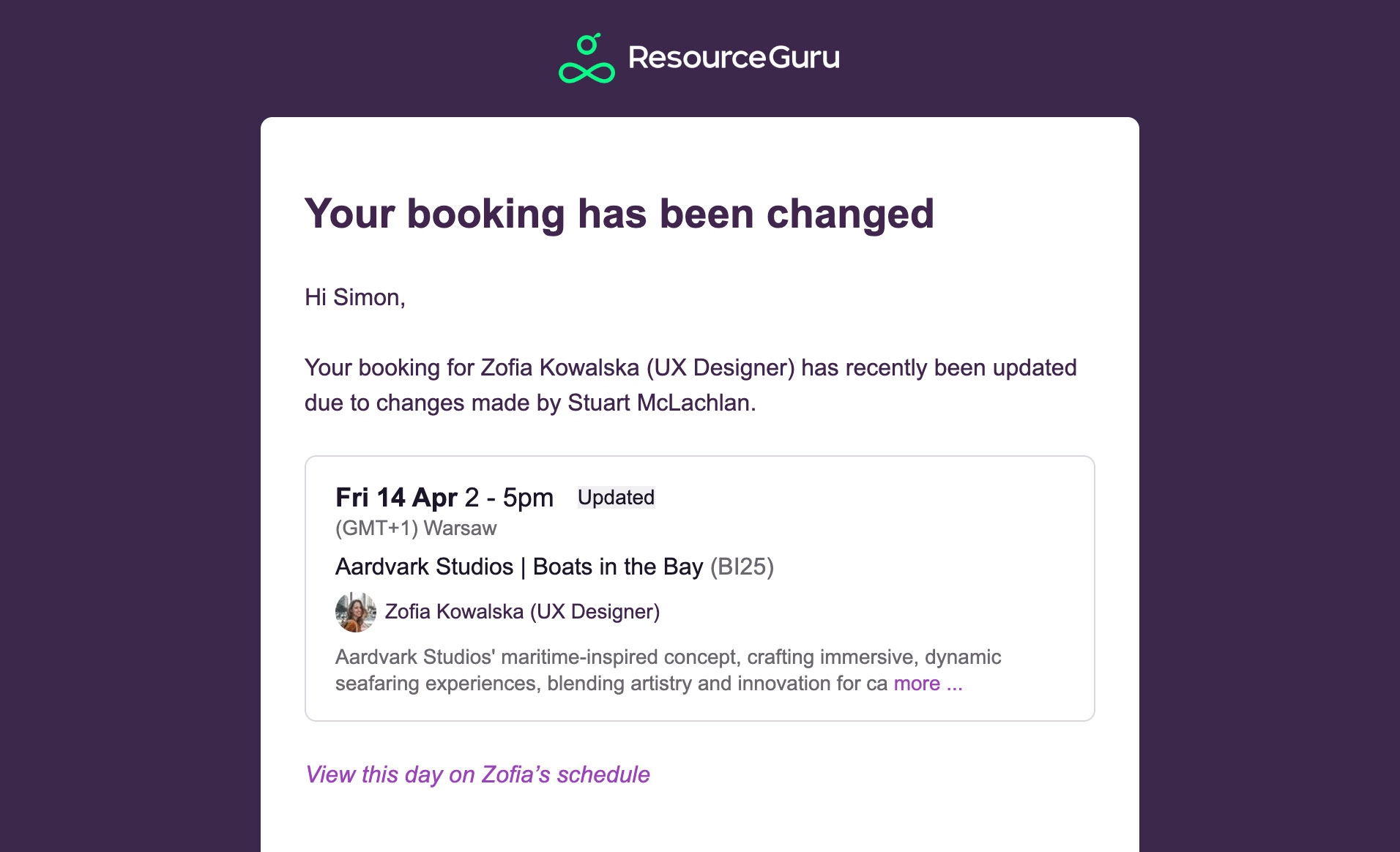 For any managers assigning work, it's important that you know when a colleague makes changes that could impact your carefully curated schedule.
Our new email notifications will ensure that you're instantly aware of changes to bookings you've created and who made them, so you can follow up with them to resolve any issues.
Stay on top of time off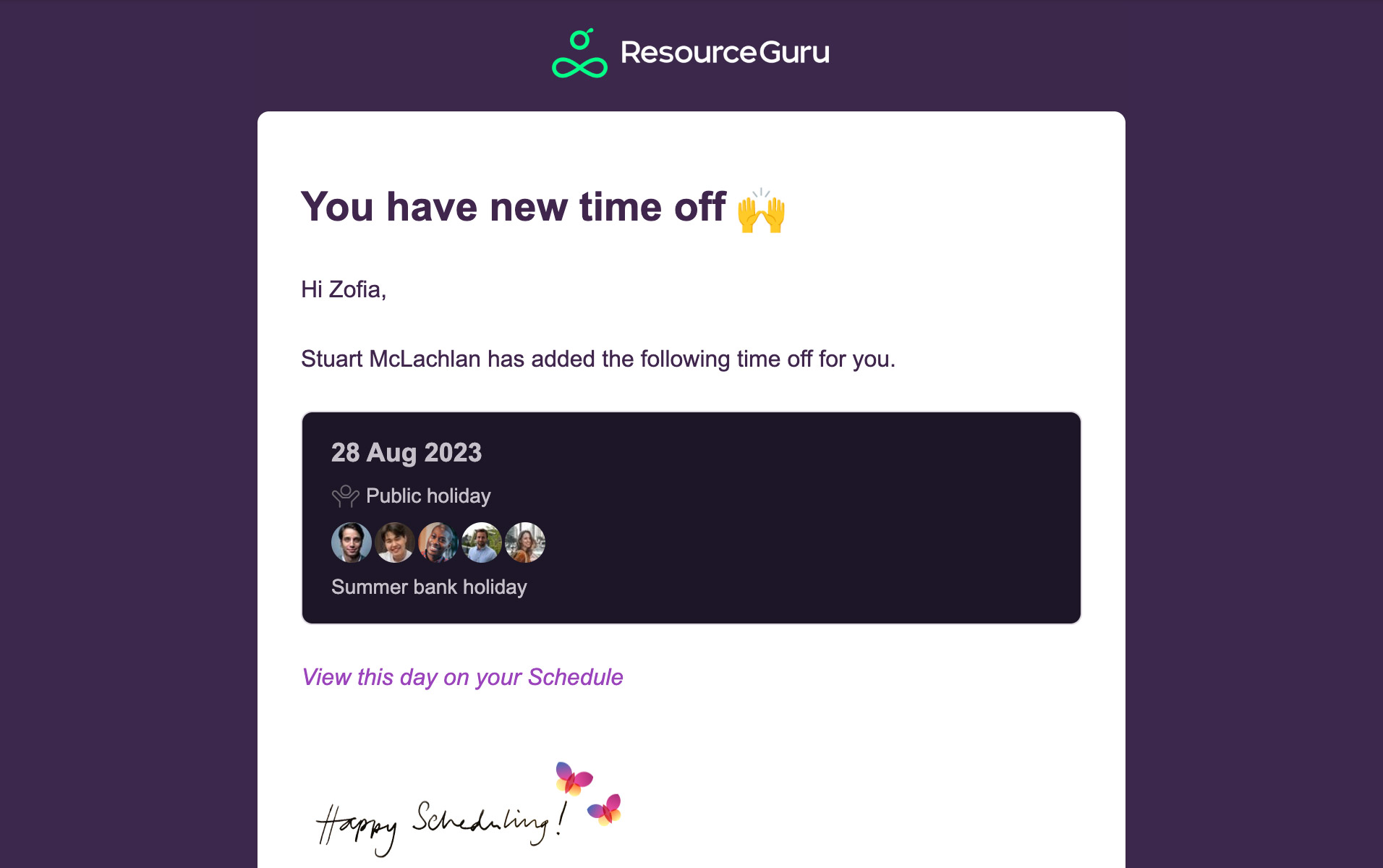 We've also added email notifications for time off events, so everyone on your team will be informed whenever:
they are added to a time off event
one of their time off events is changed or deleted
Time off impacts team capacity, so it's important that vacations, public holidays, and other types of leave are communicated clearly.
A simple way to manage your notifications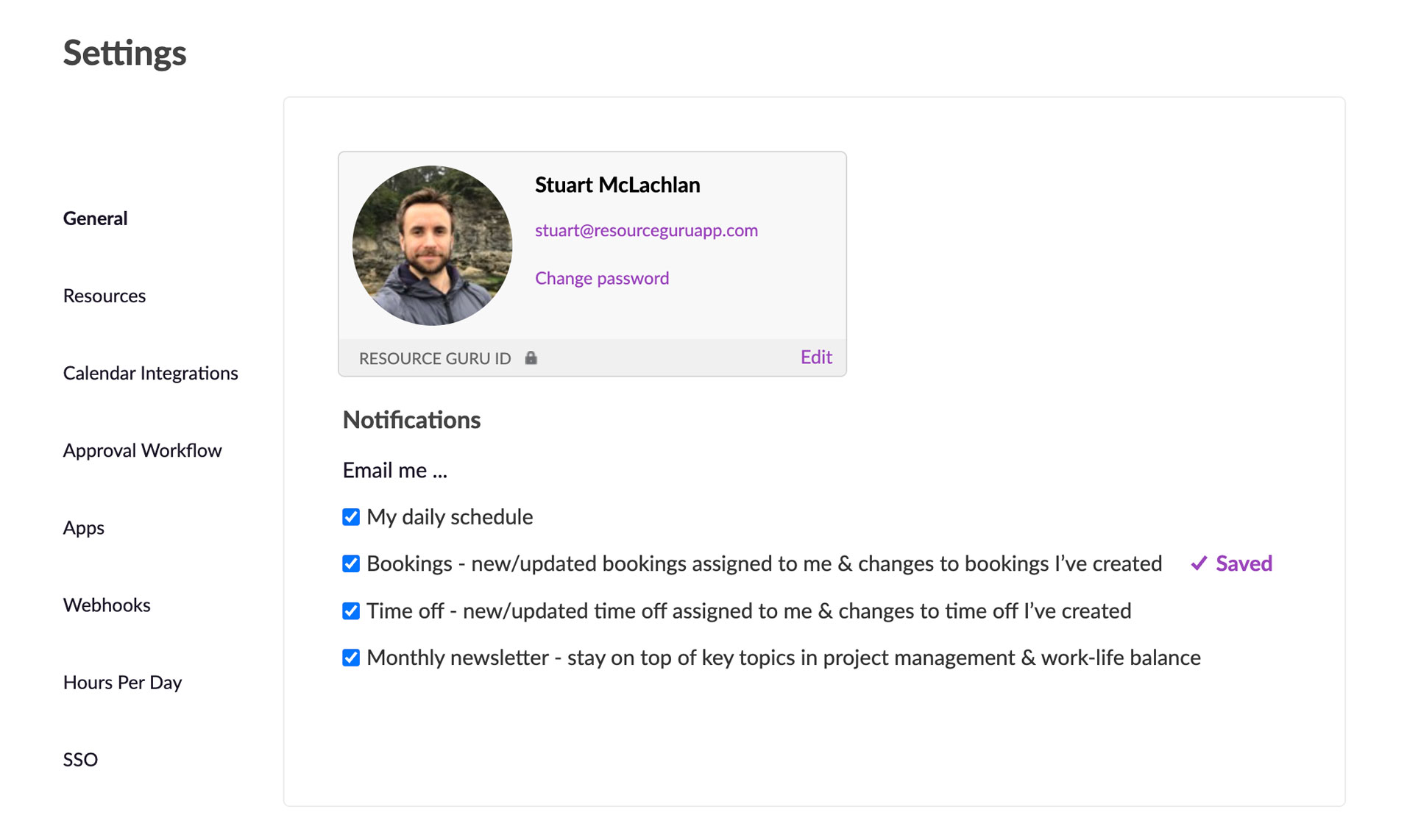 We all work differently and we know not everyone will want to be notified about everything. So we've made it incredibly easy to choose which email notifications you do and don't receive.
You can toggle emails on and off at any time from Settings > General. Every email will also have an unsubscribe link in the footer making it easy to opt out at any time.
More ways to stay on top of your schedule
You can learn more about our email notifications in our Help Center.
We'd love to hear your feedback on what else would be useful to keep you and your team up-to-date and aligned. Send a message to our friendly Customer Support team and let us know what's on your mind. 🙂