Asana and Teamwork are both formidable products for helping you manage your work. Both have done a great job of paving the way for new entrants into the project management software market.
But as you're pitching Asana vs Teamwork and deciding which is right for you, we also want to show you how Resource Guru can help you manage your team's workload, rather than just being a simple project management tool
Resource Guru is an easy to use resource management tool that helps your team stay productive and stops them from burning out.
Get a free, 30-day trial of Resource Guru →
Asana vs Teamwork vs Resource Guru
Both Asana and Teamwork are great project management tools.
Asana is a flexible, general team project management tool. They've been around for a long time and have built a reputation on having all the features generalist tools should have. They're a popular choice for small teams getting into collaborative project management for the first time as well as established teams who want to modernize their workflows.
Teamwork is made for client work. They put a big emphasis on that in their product and marketing. Features like billing and invoicing don't really exist in the other platforms here. They also include built-in chat for teams – which seems like a peculiar feature given that they're still positioning themselves as a task management tool.
On the other hand, Resource Guru is focused on helping teams manage resources so that project deadlines are met and no-one gets overloaded – that means happy clients and happy teams!
Let's compare Asana vs Teamwork vs Resource Guru to see what each is good at and where there could be a better fit for you.
Top 5 reasons project managers choose Resource Guru over Asana or Teamwork
We've already said how good Teamwork and Asana are as project management tools.
But as one of our customers recently said, "Project management is easy, it's resource management that's the difficult part."
1. Get a tool made for resource management, not task management
We can talk about feature differences when comparing Asana vs Teamwork – and we're definitely going to do that in a moment. But at their core, they're just for different kinds of business.
Asana is general project management software for working on projects with your team.
But don't let 'general' fool you – it's pretty flexible. They place a big emphasis on workflows and integrations with other tools – so you can work on complex projects as well as simple projects.
Team members can work on tasks together, add recurring tasks, and visualize their project with a timeline (not too different from the project management favorite: Gantt charts), Kanban boards or just plain old task lists.
On the other hand, Teamwork is a much better choice when the goal is to help agencies improve collaboration and delivery for clients. While they started as a task management tool, they're moving towards a much more integrated, all-in-one model.
For example, they recently added additional products to their platform including CRM, Chat, and Client Billing functionality – at an extra cost, obviously.
In many ways, Teamwork is no longer a task management or project management tool but really a client management tool – they even have a time tracker app for contractors to keep their billable time up to date.
Unlike both Teamwork and Asana, Resource Guru is designed for teams who want to focus on resource management as opposed to task management.
Project management tools typically view projects as standalone things, isolated from all the other projects and time constraints in an organization.
But Resource Guru allows you to take a calm, strategic look at your team's progress on projects. This means you can see your team's capacity and know when there are going to be conflicts.
With Resource Guru you're able to shift resources so you avoid the tyranny of multiple due dates all falling at the same time.
You can view real-time reports of how your team is doing and send daily emails for everyone on your team explaining what scheduled work and meetings they have coming up.
At the end of the day, the question is: do you want a tool that manages clients (Teamwork), tasks (Asana), or project resources (Resource Guru)?
2. Your project management software should be easy to use
When you spend a large amount of time in software, you need it to be easy to use and to scale well with your team and your needs. Both Asana and Teamwork claim to be easy to use. But let's dive deeper to be more specific about what ease looks like.
Asana really is a beautifully designed tool. The team over there have put a lot into helping project teams manage as much as possible from one platform.
Features like Board View – which lets you see your task list as a Kanban board, complete with any images that you might want to keep front and center – make Asana a really attractive tool that gives off a feeling of ease.
But here's the rub: let's say that a project deadline slips and now your tasks are falling behind because there are dependencies that haven't been completed. What do you do?
Asana's solution is to try to get you to fix these things in advance with their Timeline view. They also have a nifty feature that allows you to visually drag the start and end dates of tasks.
So that solves the problem, right? Not quite.
No project is an island: your team's workload on one project affects their ability to deliver in another project. Even dragging one task around on a timeline in one project can mess with a team member's availability to deliver on another project.
Asana does have a feature called Workload which tries to solve this issue by showing you team member workloads across projects – but this doesn't allow you to move tasks and due dates on a project level.
Worse, it's a feature that's only available on their top pricing tier which just isn't affordable for most businesses.
So, while it's incredibly user friendly, if you're managing a fast scaling business, you're going to find that you hit a ceiling with Asana.
Resource Guru on the other hand puts team workloads front and center. It's designed to manage these sorts of complex project interactions and helps you take a pragmatic view of project management: simply drag, drop, extend, contract, split or duplicate bookings so that your team stay on track, engaged, and not overloaded.
This ease of use is one of the things that Resource Guru users love most. For example, one customer in marketing at a mid-sized business said:
"It's very easy to list out the tasks for you or your team. Our team use it on a daily basis for the quick team catch-up and Resource Guru provides a quick overview of each team member's tasks for today so the account manager can assign the tasks based on people's availability. With this tool, we've managed to increase the team's efficiency greatly."
Like Asana, Teamwork focuses on task sequencing – they want you to think about the order that everything should get done in and stick to it with deadlines, calendar syncing, and other features that try to address productivity failures in teams.
But everyone's had that awful feeling of looking at a task list that seems longer than their arm.
And when you're looking at task lists, there's a lot of information about task dependencies that are entirely missing.
In fact, Steve, a partner at a small business said that their team continues to use other tools in tandem with Teamwork to manage workloads:
"Our team still uses other software to track overall what team members are working on to make scheduling easier… if Teamwork had a gantt view that showed what each person is working on, that would be very helpful."
When it comes to ease of use, Asana and Resource Guru are the winners. Teamwork's users say that there's a learning curve to implementing it.
But Asana and Teamwork both fail to manage shifting resources in order to make real project progress happen.
Resource Guru doesn't have a lot of the features of Asana and Teamwork, but for teams who want to manage resources, it's a brilliant product – you can even use it in tandem with Asana or Teamwork.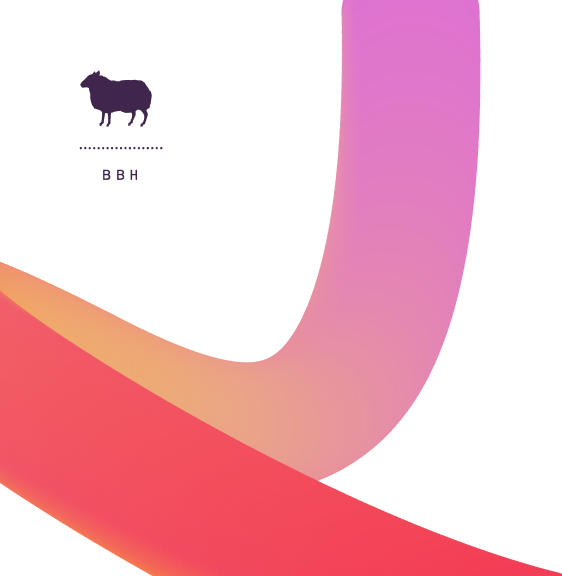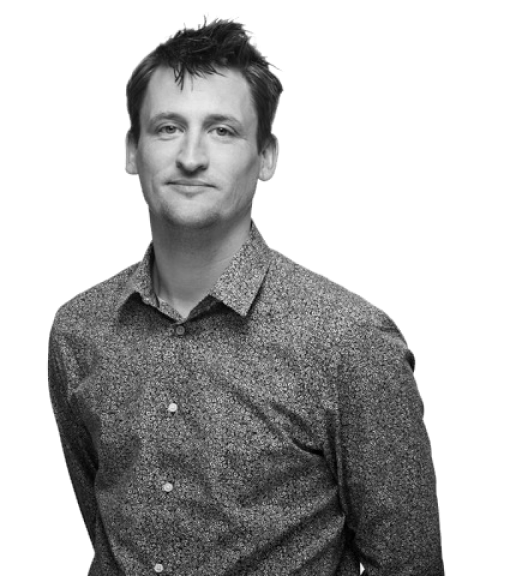 "Resource Guru has the perfect balance of simplicity and detail. It's easy to see where issues might arise."



Try It Free
3. People-focused management: the modern way of planning projects
"What gets measured, gets managed", goes the old Peter Drucker quote.
And it was super useful: this quote is one of the driving philosophies of project management at companies like Google, Facebook, and Apple.
But over time, we've all realized: staying on task is important, but managing people's energy is the best driver of productivity available to businesses.
As we mentioned in the previous section, both Asana and Teamwork focus on task sequencing – they want you to think about the order that everything should get done in and stick to it with deadlines, calendar syncing, and other features that try to address productivity failures in teams.
However, neither of these products manage what matters most: resources.
For example, let's say you want to know how much time a team member has available to take on a task on a project. But you want to factor in their upcoming time off and also the fact that they've got commitments that aren't related to the current project already in their calendar.
Neither Teamwork nor Asana give you visibility of a person's time in this way – and let's face it, it's definitely not atypical that people have multiple projects, additional time commitments, and also time off to plan around.
And what about when there are non-human resources like rooms, equipment or vehicles to plan around? That's also not unusual – particularly if you're running a client services business like many Resource Guru customers are.
Only Resource Guru manages non-human resources like rooms or equipment on projects.
So the question is: do you want to manage your projects in a static way with the standard task model?
If you're nodding your head, no judgment: you should use Teamwork or Asana.
Or do you want to use resource management software that takes into account the way that your team is living and working so that you can plan more effectively and hit those project deadlines?
If so, Resource Guru is a better choice for you.
4. Asana's a breeze, Teamwork is not
If you're investing in project management software for your company, you're also investing a little bit of your reputation. After all: if the tool you chose isn't easy for all your team to use, you're going to lose face – your team won't love spending all day in a product they hate.
If you're not able to stomach that, you might want to avoid the switching risk associated with taking on a complex product like Teamwork.
As Teamwork moves away from being just a shared task management tool, we're seeing them add a lot of functionality designed to help teams collaborate and chat. They're also offering Teamwork CRM, which lets professional services teams manage client relationships and deals.
While you can use just one of their tools, the theme is: move more of your business to Teamwork. But if you're already set up with a whole range of tools that do the same things as Teamwork does – do you really want to switch everything over to them?
Asana is not nearly as complicated as a product. They make team collaboration on tasks a lot easier to get started with than Teamwork.
One thing that we really like is their project templates library which has templates for product teams, marketing projects, operations (lots of Gantt charts, obviously), and even IT and HR teams: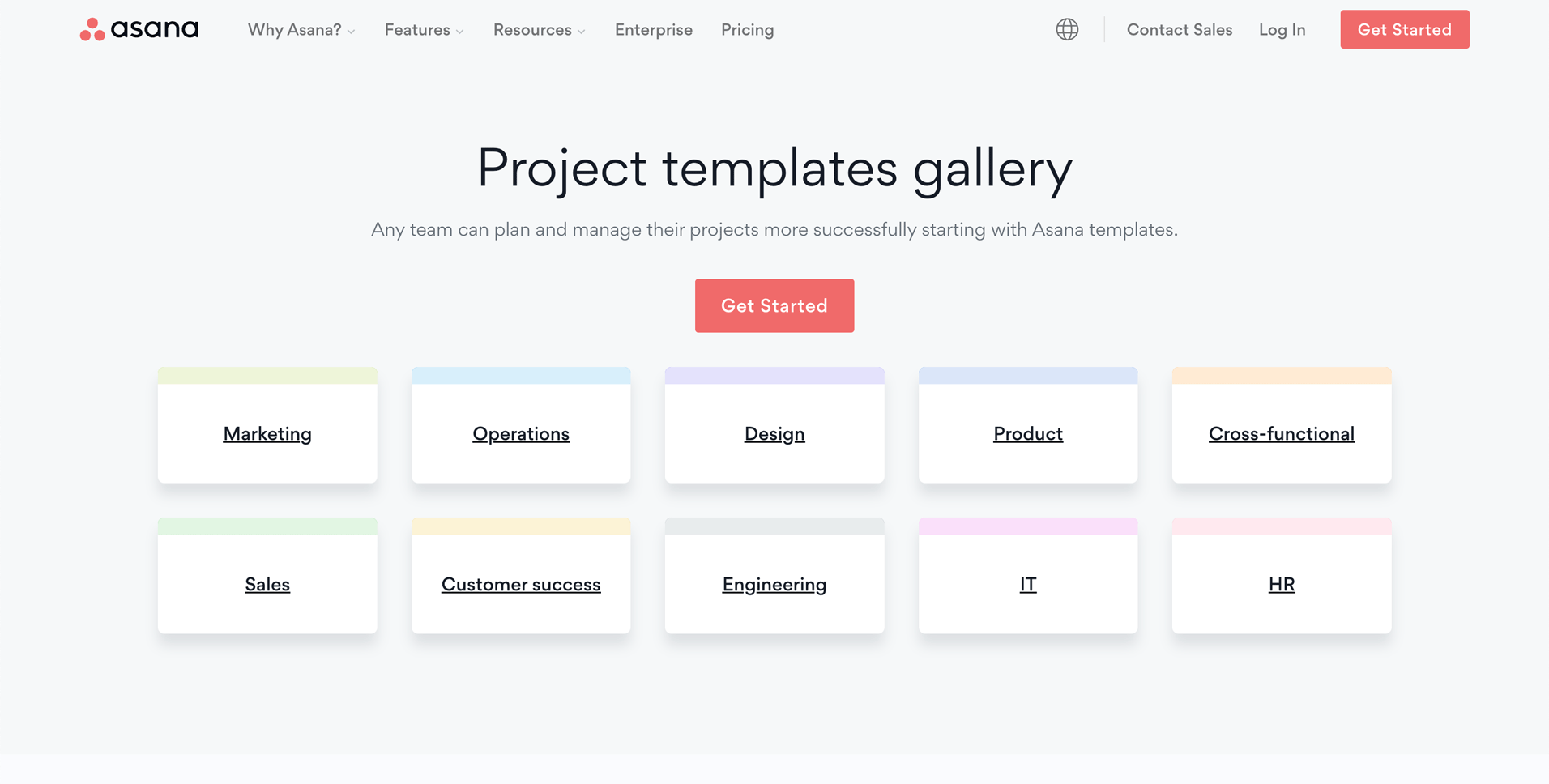 That's really important because getting setup with project management software can feel like a project in its own right. Using a template library can cut down some of the complexity of setup that is usually associated with this kind of software.
Resource Guru is also extremely easy to use – and that's backed up by almost every reviewer on G2.
For example, here's what our customer Logan said about Resource Guru:
I like the ease of managing several people's schedules in one view. It's easy to know exactly who's needed where in a quick glance and flexible enough for frequent changes.
It really is a seamless change for your teams to start using Resource Guru.
5. Asana and Teamwork are deceptively expensive
Every product is priced differently. Although in this case, all three products price on a per user basis.
And with that in mind, let's look at the prices for a team of 70 on the full featured plans of each product.
A team of 70 on the Master Plan of Resource Guru would cost $465.50 per month.
A team of 70 on the Grow plan of Teamwork would cost $1711.50 per month.
A team of 70 on the Business plan of Asana would cost $2134.30 per month.
You can see that there's a significant price difference there. Why is that?
Put simply, Teamwork offers a much bigger set of features because it's for a really specific purpose – helping client services teams manage their projects. That's why they've included features like integrated team chat, intake forms, and a Hubspot integration.
Asana loads a lot of its best features into the Business plan. So if you need to use a feature like Asana Portfolio – which lets you get a birds-eye view of all your projects – then you're going to have to pay a lot of cash to do that.
But Resource Guru is made for managing resources on projects. We do a very specific task extremely well – and by this point, we hope you're convinced!
So when comparing Asana vs Teamwork, consider whether inefficient resource management and capacity planning are the real problems you're trying to solve.
We're not trying to be Teamwork or Asana (in fact some of our customers use one of the tools alongside ours) – we're trying to help teams who appreciate the value of their people and resources to manage projects in a flexible, modern way.
And if that sounds good to you, we'd love to show you how easy that could be for you in a free, 30-day trial.
Manage project resources, not tasks. Get happy clients and happy team members.
Resource management, not task management
Manage your team's time and energy, flexibly
Simple to set up, configure and use
Simple pricing, no lock-in