When it comes to managing your projects, shared calendars and resource allocation, you want to find the best project management software for the job. Monday and Asana seem to be popular project management tools. So we decided to take a close look at Monday vs Asana.
While Resource Guru is generally rated to have the best-in-class resource management features in a project management tool, we wanted to give both Monday and Asana a fair review, assessing which features they actually offer, what it's like to use them, and where both tools have space to grow.
To do that, we demoed each project management tool, took vigorous notes, and compiled that information into a spreadsheet that we'll give you a peek at below.
Monday vs Asana – be aware of the potential pitfalls of task-based project management software
The best software puts people—how you organize them, assign them, and manage their time—first. With task-based project management tools, it's all too easy to add due dates to tasks without knowing if the person has the capacity to carry it out. This creates an inherent clash between project requirements and reality and generally leads to poor outcomes for both projects and employee stress levels.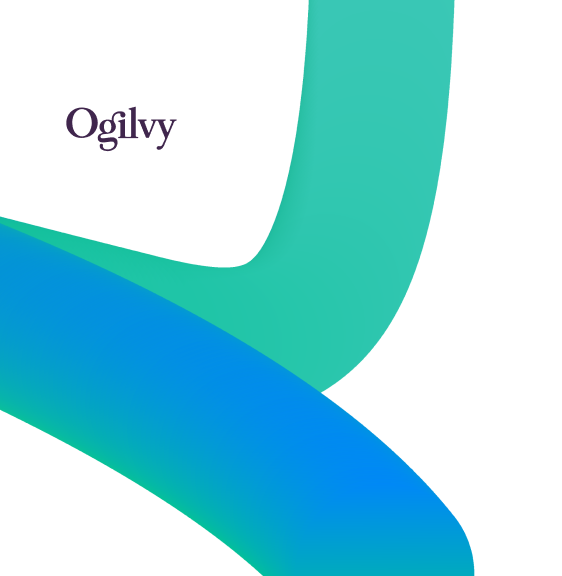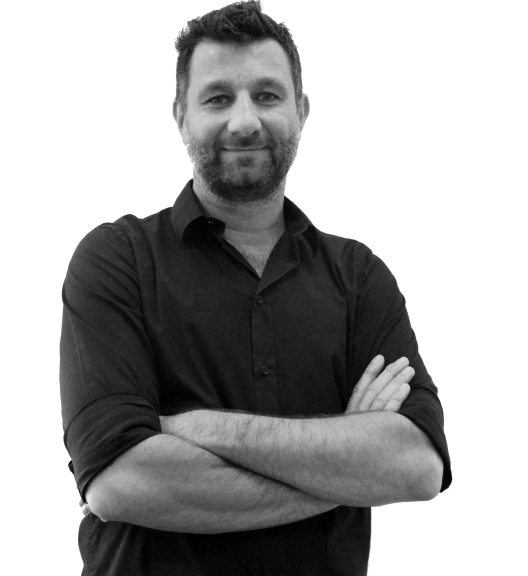 "With the Guru software we get better insights into our daily planning. Great tool & easy to use."



Try It Free
Let's clarify with an example.
Let's say you need a senior developer, to complete a code review before moving on to the next stage of the project by June 15th. Your temptation might be to make the task due that day, regardless of what that developer already has on her plate. Is she already fully booked on other work? Has she scheduled some vacation time? Needless to say this senior developer probably won't get her assigned work done on time without overtime stress.
The project manager and stakeholders will feel frustrated because the project will start to lag behind schedule. What's worse is the developer will often think it's their fault. It's a spiral of despair with long-lasting consequences.
Task management systems like Monday and Asana are great for collaborating and mapping projects out. But step off the happy path with multiple projects and they start to fall down. They're not great at factoring in the reality of people's work time in a busy services based business. Once you factor in time off and other work, project timelines are rarely achievable leading to failed projects and high staff turnover.
It's easy to be drawn in by the simplistic marketing messages of these products promising easy project completion—based on deadlines, not actual resource availability—but all too often it turns out to be a case of the emperor's new clothes. If only it were as simple as just marking something as "Done"!
Monday overview
Of all basic software available to any office worker, the spreadsheet is the most versatile. Monday has taken the spreadsheet and made it colorful and flexible. Cells break out for updates, comments, and attachments, and users can switch between multiple task management views like Gantt, Kanban, and calendar.
Monday is customizable and users can create their own boards. We found it easy to use the drag and drop functionality for workflows without adding too much complexity.
As a task-based system, Monday prioritizes visualizations: who is working on what, what the timeline is, and progress trackers are all at-a-glance options available to Monday users.
Problems with Monday
Tasks rule Monday. Regardless of whether you're looking at a budget breakdown or a timeline projection, Monday suffers all the scheduling problems we mentioned earlier in this piece. Monday sets project managers up to create unrealistic expectations of their team, as task due dates aren't informed by people's capacity.
Monday does offer very basic capacity visualisation but it's not straightforward. Users have to cobble together features managing freelancers, vacation days, sick days, schedules, and permissions to create anything close to resembling resource allocation. The 10,000-foot capacity planning view barely provides any insights other than an estimate of how overbooked your resources are and no easy way to fix the overallocation.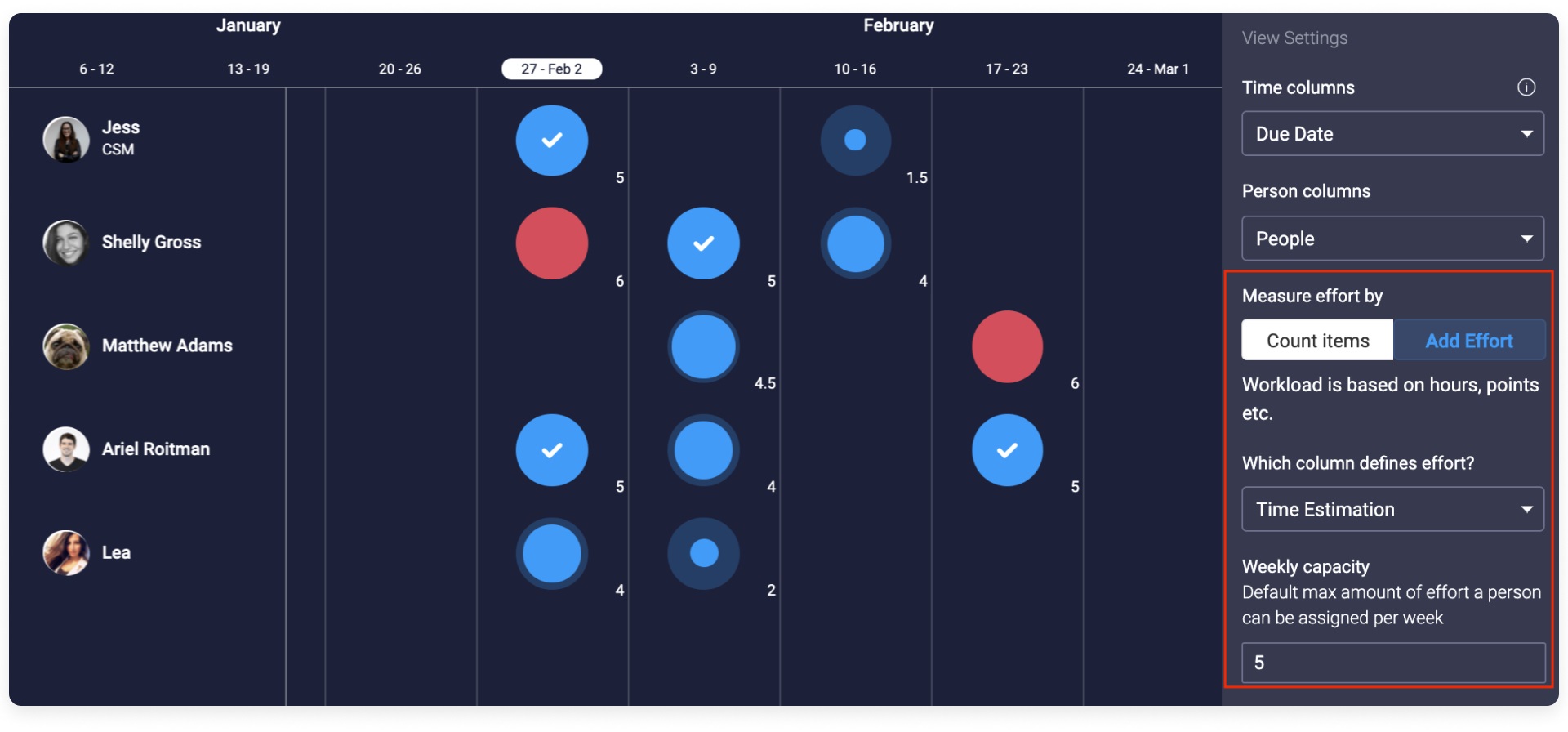 As we played with the tool, what we found mirrored the experience of lots of reviewers on Capterra, Software Advice, G2 Crowd, and GetApp: Monday's nemesis is its own flexibility. Users get overwhelmed with the platform's tangle of integrations.
One reviewer at a small (1-10 person) company writes, "It became overwhelming to organize everything into a simple, concise place to find information." With over 50 integrations, it's clear that Monday prioritizes creating frankenware over a comprehensive, self-contained, all-in-one platform.
Monday pros and cons
Pros
Flexible and aesthetically pleasing user interface
Integrates with lots of third-party applications
Robust task automation options
Team communication
Cons
Rudimentary capacity management, meaning deadlines are often missed
Customization options quickly become overwhelming
Difficult to fully onboard to the tool
Offers a wide breadth of features that lack depth
Monday pricing
Monday gives out a trial for curious project managers, offering up just two seats for free. That plan is severely limited—users only get 1,000 "items" (think rows on a spreadsheet representing tasks, projects, and/or customers), no integrations, no automations, and only three of Monday's eight available views and reporting options (Kanban, Dashboards, and the activity log).
Their plans jump from free to pricey, starting at $10 a seat per month for their "Basic" plan when billed monthly. This plan doesn't offer integrations, automations, or more advanced features like time tracking or dependencies. It does give users unlimited items, 5GB of storage (compared to the free version's 500 MB), and unlimited free viewers.
Though Monday offers a "Standard" plan at $12 a seat per month to start offering features like limited automations and integrations and a handful of views (calendar, map, and timeline), Monday's full product doesn't kick in until the "Pro" plan, which is an incredible $20 a seat per month.
Pro users get a majority of Monday's features, including:
100 GB of storage
Unlimited guest access
Scalable integrations and automations
Time tracking
Dependencies
Formulas
Chart and workload views
Private boards and documents
Board administrators
Even still, Monday gates what some might deem their most important features, including simple features like email notifications and advanced operations like HIPAA compliance, guaranteed uptime, and "Premium" integrations like Salesforce, behind their enterprise pricing plan.
Asana overview
"Asana" is another name for yoga postures and poses, and like the name suggests, this project management tool offers a "flexible" approach to project management.
Like Monday, Asana is a big, big tool with projects serving as its core heartbeat. Projects parse out into tasks and subtasks, each step with their own space for notes, assignees, tags, custom fields, dependencies, and due dates. Asana offers different views, like Gantt charts and Kanban boards. Most of Asana uses drag-and-drop features, breathing simplicity into the project management software space.
Asana offers a wealth of templates, making it adaptable for a variety of industries. For example, sales users can jump in and use Asana as a QBR meeting planner, marketers can use it as a social media calendar, and operations managers can use Asana to manage a return-to-office plan. The tool offers enough adjustability to accommodate a variety of teams and functions.
Problems with Asana
Like Monday, Asana also struggles with tasks as the lynchpin to their web of features. If you use Asana to create schedules for your team, you'll inherently get sucked into making a calendar based on what needs to get done instead of what availability your team actually has This leads to overtime, missed deadlines, and employee burnout.
While Asana offers plenty of options to customize your workflows, it lacks job-specific features. For example, someone looking for bug tracking would need to cobble together several templates and manually create a long-term audit trail. Asana has basic capacity management with its workloads feature, but given it doesn't record people's availability or time off, it's pretty inaccurate. You also need to be on the enterprise plan (at $30.49 per user) to access workloads.
Finally, Asana offers so many features that it can take a long time to fully understand everything the platform has to offer. While plenty of people can get started with a simple task list upon signup, getting to know all of Asana's features would take days of webinars and videos in their dedicated "Asana Academy," where superusers learn the ins and outs of the bulky tool.
Asana pros and cons
Pros
Lots of great templates to quickly get started
Accessible user interface that's quick to learn for uncomplicated projects
Easily plan for traditional projects, from Gantt charts to calendars
Team collaboration
Task dependencies
Free plan
Cons
Rudimentary and expensive capacity management
Difficult to onboard completely
Extremely pricey
Tasks and subtasks can look similar
Asana pricing
Asana offers a fairly robust free option for teams of 15 people or fewer. Users on the "Basic" plan get unlimited tasks, projects, and messages, along with a handful of other nice-to-have features like time tracking, access to Asana's mobile apps, and integrations.
That said, many of Asana's core features, like dependencies, templates, and even start dates are gated behind their next pricing tier: "Premium."
Asana's Premium plan starts at a whopping $13.49 per user per month when billed monthly. The plan includes a handful of important add ons like custom fields, unlimited dashboards, and advanced search.
For even more features, Asana's $30.49/user a month"Business" plan offers premium functionality, like goals, portfolios, and premium integrations with tools like Tableau and Power BI.
Companies with large, complex teams and requirements may want to upgrade further to Asana's "Enterprise" plan (pricing is custom to each business). Enterprise plans include SSO, SAML, data export, and 24/7 dedicated support, along with a few other niche features.
Asana vs Monday for resource managers
Looking over Monday and Asana with a keen eye for resource managers, there are a few takeaways worth mentioning.
Firstly, while both tools are expensive, it's clear that Asana's free tier offers a whole lot more than what Monday gives in its free trial. That said, Asana costs more as you scale up in team size.
Secondly, templates and integrations are at the core of both Monday and Asana's functionality. Neither system contains an all-in-one solution. With such a setup, custom fields will be essential to customizing the two tools to your needs, along with integrations with tools you already use. Monday puts up a paywall for integrations, whereas Asana doesn't allow users access to custom fields or templates unless they're subscribed to their "Premium" plan.
Another consideration is how you plan to use either tool for resource management. Here, we break down what Monday vs Asana has to offer so that you can pick what's best for your team.
Monday for resource managers
Monday takes a task-first approach to managing its resources. Project manager divide up the project's tasks by due date, and then the project manager guesses how long that task will take to complete. The project manager then assigns Monday's users up to their weekly capacity, all of which is visible under the "Workload" view. Monday doesn't record people's availability or time off so its capacity management shouldn't be taken too literally.
Monday's resource management feature is perfectly average—so long as you know exactly how long each task will take and the exact availability of your employees, Monday offers an adequate resource management feature for small companies looking to do light scheduling.
They don't have much functionality for freelancers or part-timers, which is a serious drawback for companies working with a more advanced and complex workforce. Guests can only add comments and attachments, assign users, and add and edit columns if needed. They cannot be added to a team.
Asana for resource managers
Asana takes a similar approach to resource planning as Monday—tasks oriented. Users can create tasks and milestones and assign users to those tasks. They can also allocate hours to those tasks. However, like Monday, Asana has no concept of availability or time off so, you're still likely to have some nasty surprises mid project.
Asana relies on integrating with more advanced resource management tools to get everything done correctly.
A cool feature that Asana's Business-tier plan has is the Workload view. This lets managers get a 10,000-foot view of their team's relative capacity over the course of a short period of time. While it's more of an aesthetic add-on than a source of truth, some project managers might appreciate it when juggling resource-intensive projects.
Asana does allow guests (defined as people who don't have a company email address) access but with limited permissions. There are no special resource planning features for these guests, and they cannot ever see company goals, create or own rules, or manage custom fields.
Resource Guru – A better resource management tool than Monday and Asana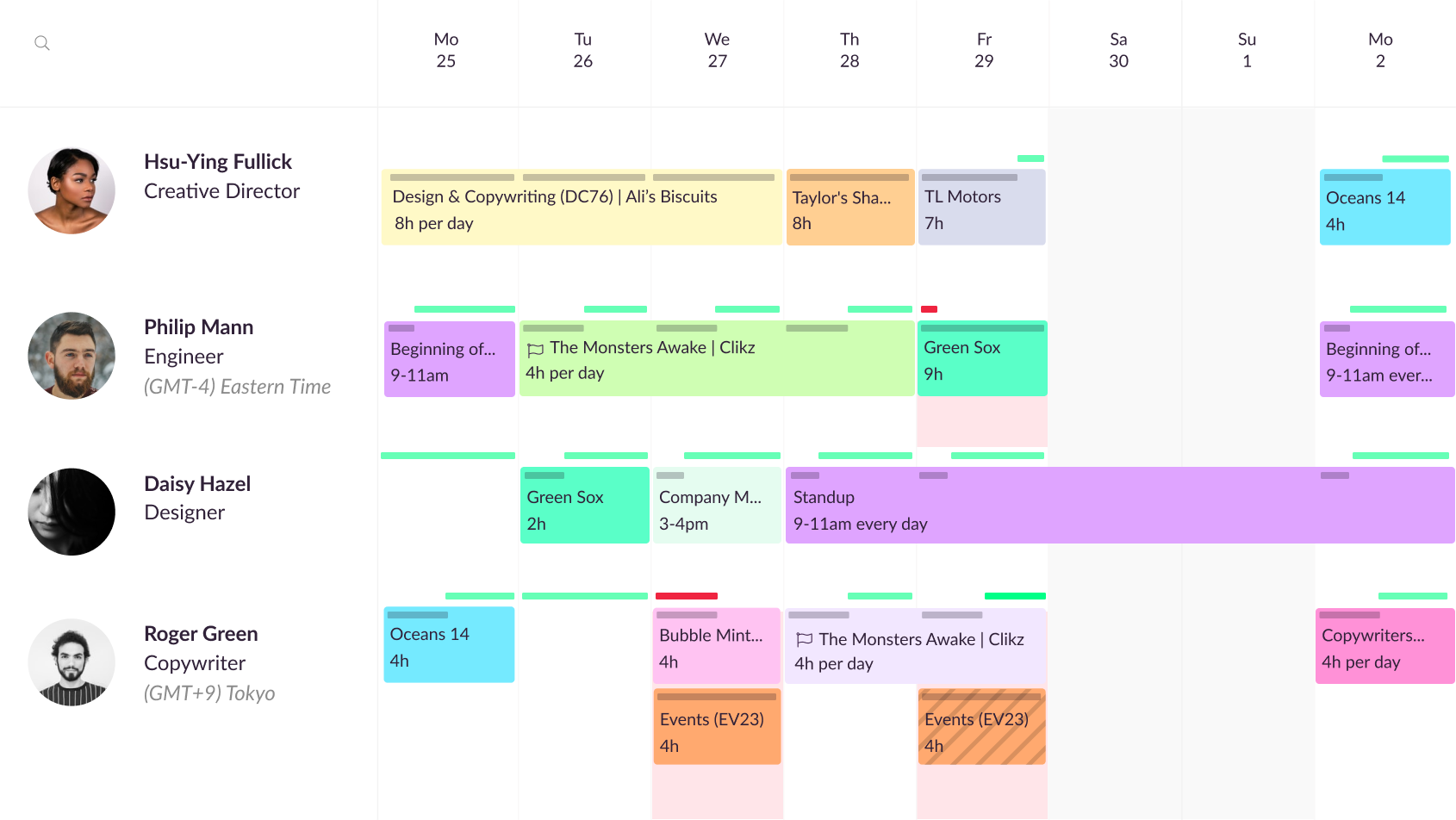 Resource Guru is more than just another project management tool. Because it approaches the problem from a starting point of people and their availability, it's a solution rooted in reality. Resource Guru respects people's time and strives to bring balance to the workplace.
One of the reasons why Resource Guru excels at resource planning is because the tool takes a people-first approach to resource forecasting, capacity planning, and resource scheduling.
Many other project management tools rely on Gantt charts to figure out when their projects begin and end. Gantt charts can't factor in other projects that a person is working on. It's an unrealistic way of resource planning and doesn't account for sick days, vacation time, and inevitable project delays. It's no wonder that this method has resulted in staggering rates of project failure.
Instead, Resource Guru's people-first approach allows project managers to visualise their projects in the context of team availability and prevents team members from being overbooked and from burning out. It also enables team members to manage their own time availability and prioritize their own tasks.
When time clashes arise, which they inevitably will, Resource Guru allows the option to book overtime, tentatively book time, or add time to a "waiting list". It even gives project managers insight into what time is billable and what isn't, making estimating the budget far easier. Filters enable project managers to find team members with the right skills for the job over any given timeframe.
Managers can invite guests, like freelancers or third-party stakeholders, to join Resource Guru and gain as much or as little insight into the team's project as deemed necessary.
More on Monday vs Asana vs Resource Guru?
Ultimately, Monday and Asana are slightly different tools to Resource Guru. They are more like elaborate, collaborative todo lists. Resource Guru is more of a team calendar that enables you to plan projects and have true visibility of people's time. Which some would say is a business' greatest asset.