It's been great to hear such positive feedback about the new Schedule Beta and its huge performance gains. Now you can enjoy the same drag and drop functionality you have in the existing Schedule, only better.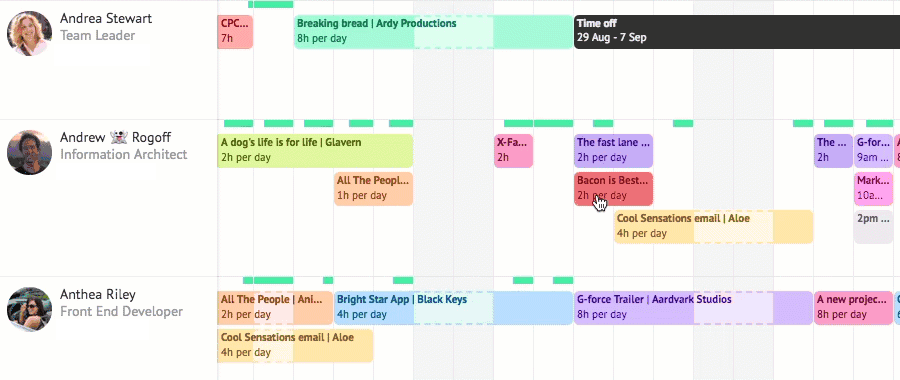 It's actually been live for a couple of weeks but we've been polishing up some of the rough edges and, with the new dynamic reshuffle, have arrived at something that looks more like an arcade game than a productivity app!
The redesigned schedule has allowed us to fundamentally improve the drag and drop experience. When you drag your bookings around the Schedule Beta it will now dynamically update, giving you an instant preview of where you booking will land.
Dragging and dropping on the Schedule Beta will also preserve the number of days booked, taking availability and time off into account. Even when you're dragging extremely long bookings between rows, the schedule will instantly recalculate the required start and end dates to make sure the same number of booked hours are used.
Speaking of long bookings, when you drag a booking that extends beyond the edges of your browser window you'll now see a a helpful drag summary that lets you preview the new booking dates before committing to the change.

Don't worry, your old favorites from the Schedule are still available: you can extend and contract bookings, and you can can hold down the SHIFT key while dragging a booking to create a duplicate copy.
Our team is hard at work on the remaining elements of the Schedule Beta, including powerful filters and the creation and editing of bookings. You can keep track of developments with our Product Updates messages, available in your Profile dropdown menu. A new update is waiting for you whenever you see the small pink dot :)