We've been hard at work building a powerful integration with Zapier and are excited to announce the launch of our private beta testing programme, the final stage before we make it available to all of our customers.
What is Zapier?
Zapier (rhymes with happier) enables you to connect Resource Guru with the other
apps you use to run your business, including Gmail, Salesforce, Trello, Jira, and Slack.
Zapier thinks about software integrations in terms of "Triggers" and "Actions."
Activity in one app triggers a resulting action in another app, without you needing to do any work.
Connecting two apps together is called making a "Zap." Zapier lives in the middle, monitoring your triggers and initiating actions in whatever workflow you establish. You can find out more and sign up for a free Zapier account at zapier.com.
The beta programme
As a final step before we officially launch the integration, we're making a beta version of the Zapier app available to customers who have previously expressed interest in integrations. They will be able to provide us with feedback that will help us make any final changes that may be needed. If you're interested in joining the beta then please get in touch via our contact page.
Getting started with the Resource Guru Zapier beta
If you've been invited to join the beta programme you can start using the Zapier integration today by following the detailed instructions below.
Adding the Resource Guru app to your Zapier account
You'll need a Zapier account to use the beta so if you don't already have one, head over and create a free account now. Once your new Zapier account is ready, you will need to login to Zapier and then click on the link we sent you in the email invite. You will see an invitation page that looks like the screenshot below:
Press the orange "Accept Invite & Go To Dashboard" button to add the invite-only app to your Zapier account.
NB You will not find Resource Guru in the Zapier Zapbook/App Directory until you have done this.
Using the Resource Guru app in Zapier
To begin the process of using the Resource Guru Zapier app, look for the "Make a Zap" button on the top of the Zapier website:

Zapier prides itself on providing a very intuitive and easy interface for new users to build integrations. Each small step is fully explained in the Zap Editor, and Zapier requires every Zap to be built slowly, step-by-step.
You are first asked to "Choose a Trigger App." There is one aspect of the process that can be confusing to new users, so we will explain this thoroughly.
As explained at the beginning of this tutorial, Zapier is organized into Triggers, Searches, and Actions (TSAs). The Resource Guru app has many different TSAs. When you attempt to search for the new app inside the Zap Builder, be sure to search for the words Resource Guru.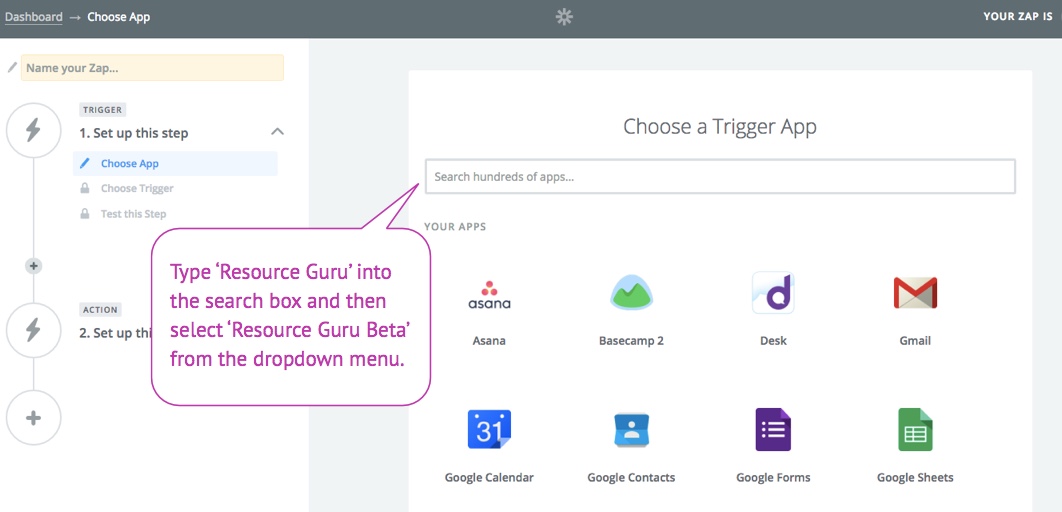 After selecting Resource Guru as your trigger app you will be presented with a screen that allows you to select the trigger you want to use.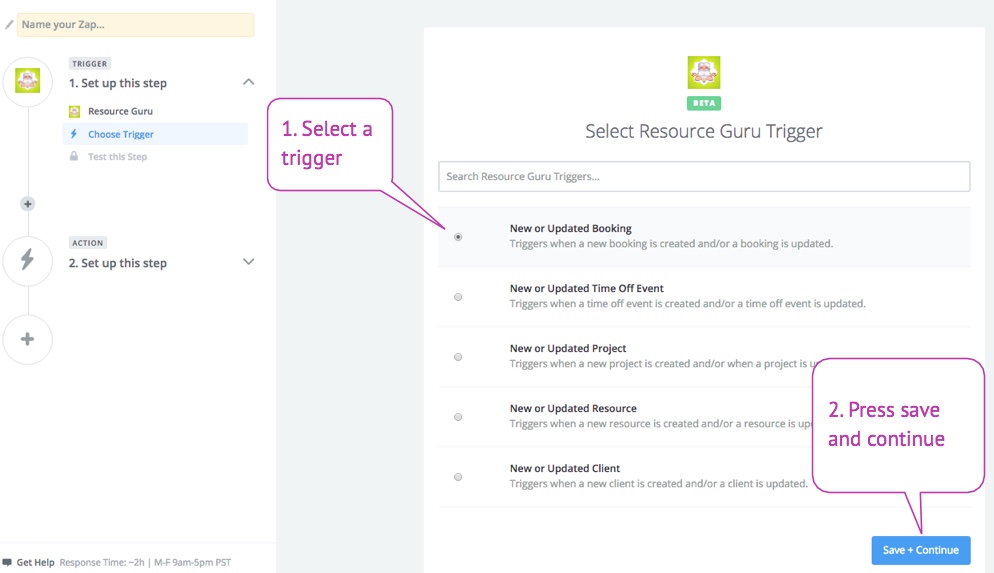 Not sure where to begin with all of the Triggers and Actions? Here are a couple of easy example Zaps to get you started:
New Wufoo form entry triggers Create Client in Resource Guru.
New or Updated Booking in Resource Guru triggers new Email in Gmail.
New or Updated Time Off Event in Resource Guru triggers a new Channel message in Slack.
New employee added to Salesforce triggers a Create Resource action in Resource Guru.
Once you get into the Zapier "Triggers, Searches, and Actions" mindset, you'll come up with all sorts of new ways to make the Resource Guru app useful to your team.
Questions about how to use Zapier further? Check out these handy tutorials:
Zapier basics
How do I create a Zap?
Is my app supported by Zapier?
If you're having trouble, or have additional questions or feedback please let us know via the feedback form link in your invitation email.