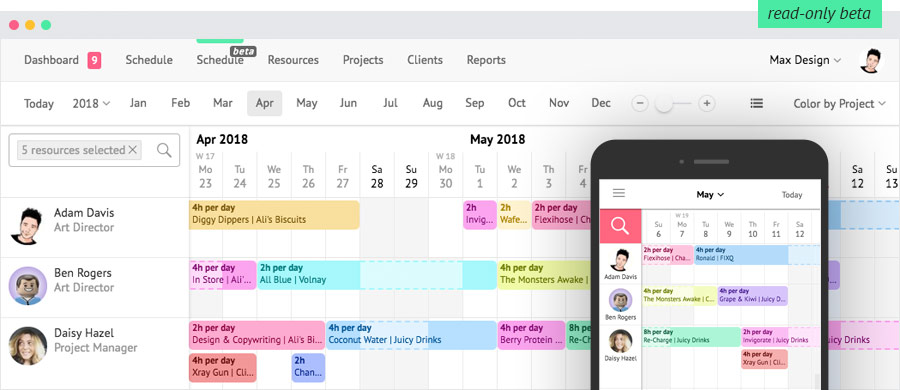 The Schedule is the heart of Resource Guru. And, over time, we've steadily improved the performance and functionality. But the time has come to replace it with something much better. Something more modern. Something with much higher performance.
Making decisions like this is always difficult. We've had to defer other features in favor of this big change. But the Schedule is so core to Resource Guru that we're sure it will be worth it. Here's what's new in the read-only beta.
It loads faster – like, a lot faster!
The new Schedule is blazingly fast. Even with thousands of resources and a hectic schedule, it all loads in no time at all.
Mobile-friendly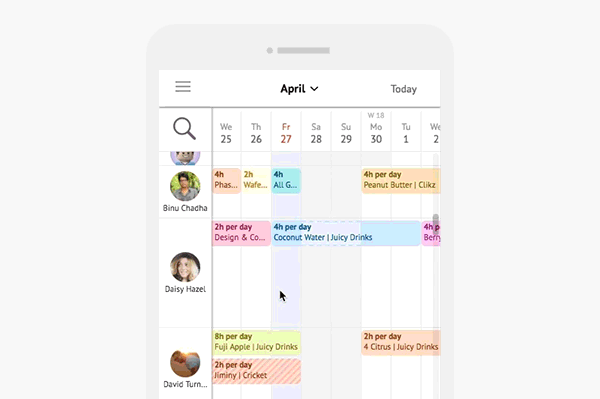 It's been re-built from the ground up to work beautifully on smaller screens. Other sections of the app will follow suit in due course.
Infinite scrolling
No more Load More buttons! Just scroll and scroll and scroll … nothing gets in the way of you and your bookings anymore.
More powerful search
We're still working on adding the filters but, in the meantime, the search has become a lot more powerful. You can now search by name, job title or custom field – giving you a lot more versatility than before.
A fresh, new design
We've given the new Schedule a facelift and cleaned things up. Improvements include tweaks to the availability bar – making it much easier to find available time than before. Log in to see what's changed.
Share any view of the Schedule with team mates
Sharing a specific view of the schedule used to be difficult. We now store the visual parameters in the URL, everything from date range and filters right down to the booking itself.
Roadmap acceleration
Other good news is that this work will make developing hotly anticipated features like a Project View and Repeat Bookings much quicker than before.
The new Schedule is still in beta so please send us your feedback – it's vital to helping us create a truly great product. Looking forward to hearing your thoughts!