I am sure you know the feeling – you're working on an important client project and you need another team member to add the finishing touches before the deadline.
You send them an email with the document attached only to see that dreaded auto-response in your inbox: "I'm currently away on vacation with no access to email". As your heart rate increases, you ask yourself: "Is anyone else available?"
Whether or not you can quickly find someone for the work is going to determine the outcome of the project. But how can you find the person you need? And how can you prevent these situations from happening again in the future? You can use resource planning software.
What is resource planning?
Resource planning is an essential part of the project management process, helping you allocate your resources in an efficient way so you can finish projects on time and under budget. It involves taking the time to plan a schedule of your resource's upcoming bookings and availability so you can make sure:
you have people with the skills required for your projects, and
these people will be available for the work when needed.
Resource planning will also allow you to forecast your resource utilization for the coming months ahead and know whether you'll need to take on any extra full-time staff. You can use this information to start recruiting or getting in touch with freelancers.
In short, resource planning helps you make sure you're getting the right person working on each project – the person with the combination of skills, experience and availability you need.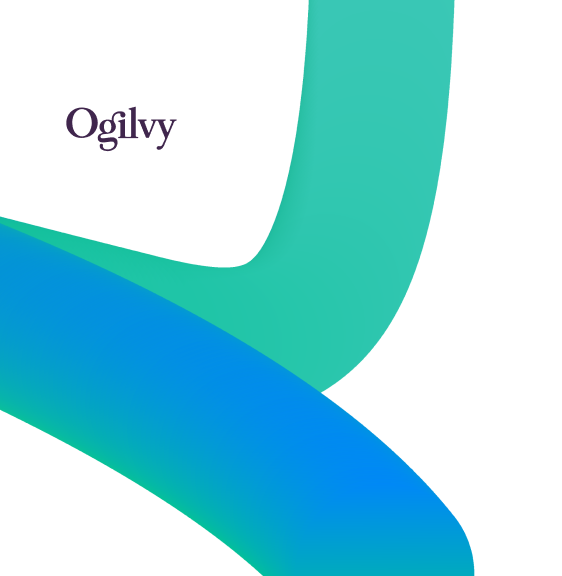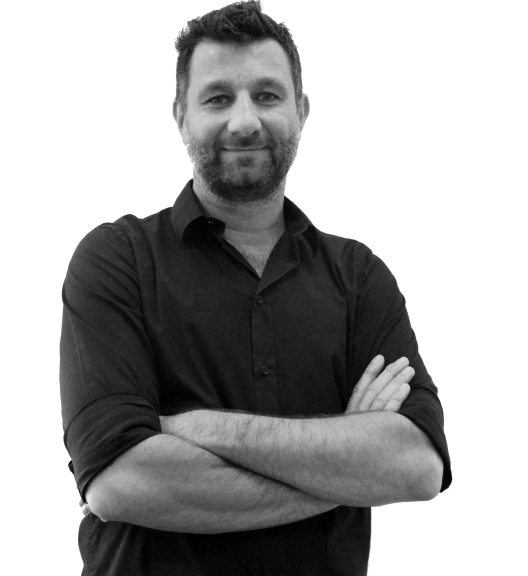 "With the Guru software we get better insights into our daily planning. Great tool & easy to use."



Try It Free
Can I use a spreadsheet for my resource planning?
While many people try to use a spreadsheet for resource planning, the complexities involved in day-to-day project scheduling mean they tend to quickly run into problems. The simple truth is that a spreadsheet is not a team calendar – they are designed for calculations, not date-based planning. If you're using a spreadsheet to plan resources you will struggle to keep up with the ongoing changes to people's schedules or to avoid over-allocating resources.
It's much easier, and cheaper (when you consider the value of the time savings into account) to use dedicated resource planning software like Resource Guru.
Can't I just use Google Calendar or Outlook?
If you're using Google Calendar or Outlook to plan your day then you might think that you could simply use these tools as your team calendar app, but there are limitations to this approach.
When you're planning resources for a project, it's often more efficient to let the people doing the work decide when the actual work is done rather than trying to micro-manage their day – as long as it is completed on time it doesn't usually matter to the planner whether it was worked on between 9am – 11am or 3pm-5pm.
This can be difficult in Google Calendar or Outlook as every booking needs to be made for a specific time, but the best project planning tools will allow you to create duration-based bookings, so people will know the projects they should be working on while still having the autonomy to decide when the work is completed.
What should I look for in a resource planning tool?
The top resource planning tools will have a range of features including:
Fast project scheduling
A project planning schedule is only useful when it's accurate, so your resource planning tool needs to be fast and simple to use to ensure resource bookings and availability are kept up to date. The best tools have drag and drop scheduling to help you make fast changes to your bookings, along with powerful filters that let you focus the schedule on specific resource types to quickly find resources with availability.
Booking clashes, overbooking, and overtime
People aren't robots – they aren't available 24/7 and can typically only work on a small number of projects at any one time. A good resource planning tool will allow you to customise resource availability based upon realistic work hours, and will gracefully handle booking clashes (where multiple bookings are made for the same time period) and overbookings (where resources are being booked beyond their availability) through the use of a waiting list.
And when it's crunch time for a vital project? Your resource planning tool should allow you to add overtime to temporarily increase a resource's availability – but for the sake of your team-members sanity, don't make a habit of it!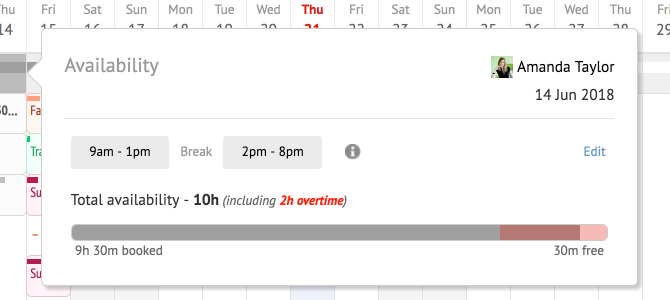 Time off and leave management
It's impossible to accurately schedule future projects if you're not taking your team's time off into account. Your resource planning tool should allow for time off bookings, temporarily removing availability so a resource isn't accidentally added to a project while they are away. The best scheduling tools will display this time off alongside regular bookings, giving you the full context of your team's workload.
Utilization reports
Forecasting resource utilization is an important part of resource planning – if your team is busy and you're going to need to find additional talent to take on a future project then it's vital that you know this early as possible, and not when the project is about to start. The top resource planning tools will help you monitor total resource utilization while also letting you filter down to view more granular calculations on a per-person, per-role, and billable/non-billable basis. And for those times where you need to dig even deeper, you should also have the option to download your report data into an Excel spreadsheet to further slice and dice your data as needed.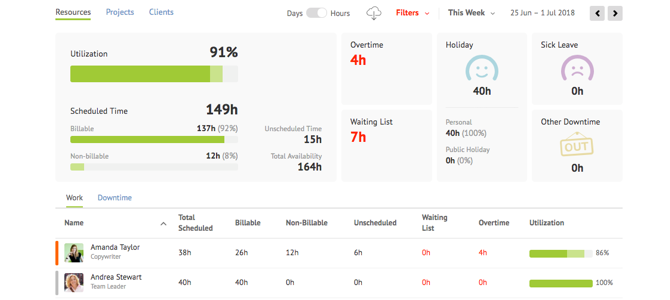 No more searching required :)
There's no need to look any further for a resource planning tool. Resource Guru is used by teams at Apple, NASA, Deloitte and Saatchi & Saatchi, with powerful functionality including simple-to-use drag and drop scheduling, personal dashboards, absence and leave management, custom fields and filters, utilization reports, and customizable resource availability.
Check out our free guide to resource management, or start your free 30 day trial of Resource Guru today.
Related articles: