Today's a great day – we're one step closer to taking the new Schedule out of beta and retiring the old one. The Schedule beta now features new elastic overtime and redesigned availability exceptions. We've also taken this opportunity to refresh the colors in the app in preparation for an imminent brand update. Stay tuned for an announcement on that in the coming months. Based on feedback from many of you, we've also lightened the project and client color palette to make the Schedule less noisy and more readable.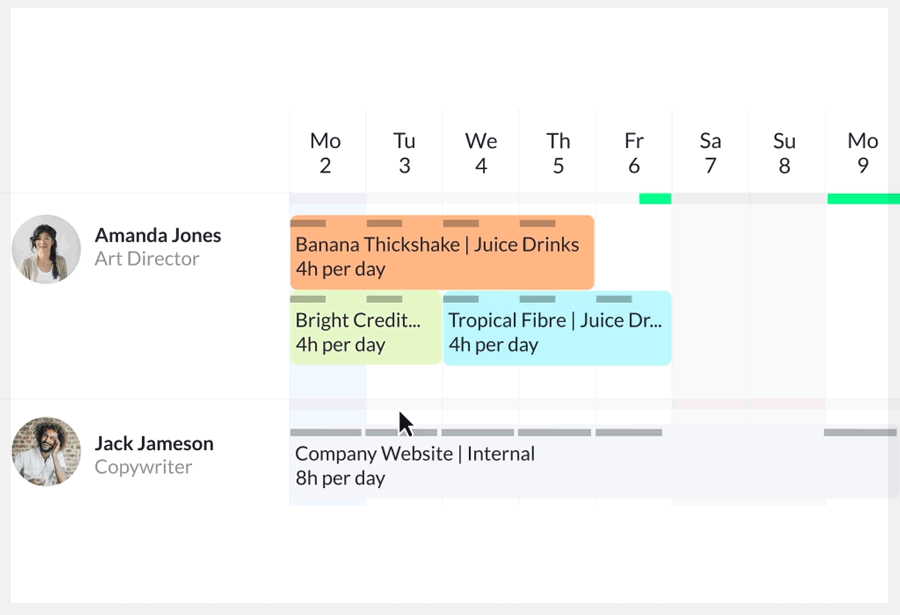 New elastic overtime
We think you're going to love the way the new overtime works in the Schedule beta. In the past, adding and removing overtime was very cumbersome. You had to edit the availability for a day and manually flag any overtime. If you then moved that booking to another day, you'd have to manually move the overtime by editing the availability on both days all over again. A bit laborious to put it mildly!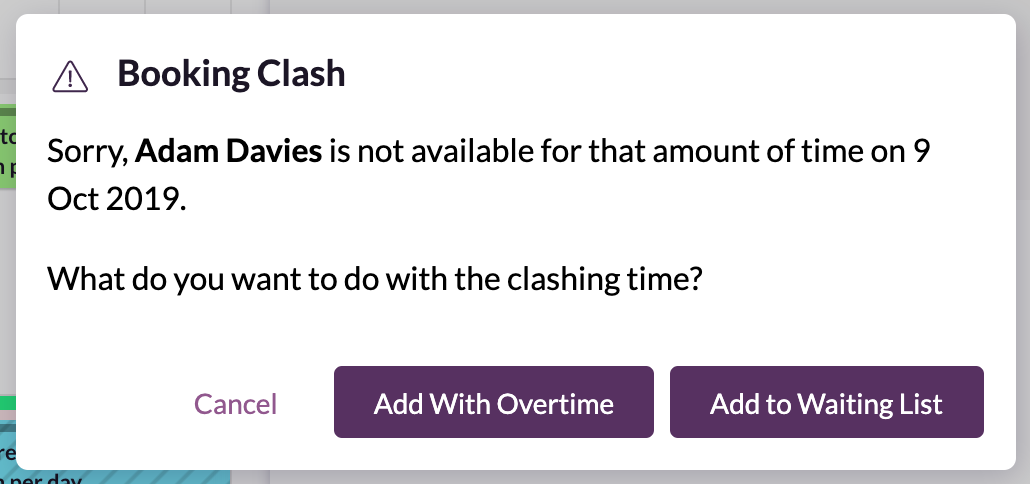 Now, when you try to add a booking on a day where there isn't sufficient availability, you'll see an extra option to Add With Overtime.
Selecting this will automatically increase availability for that day to accommodate the booking and flag extra hours as overtime. The overtime is elastic, so if you later move the booking, the overtime will automagically ✨ be removed from that day and be added to the new day if that's what you want. Pretty neat eh?!
If you don't want the added time to be marked as overtime, you can simply click on the availability bar and drag the overtime slider to remove it.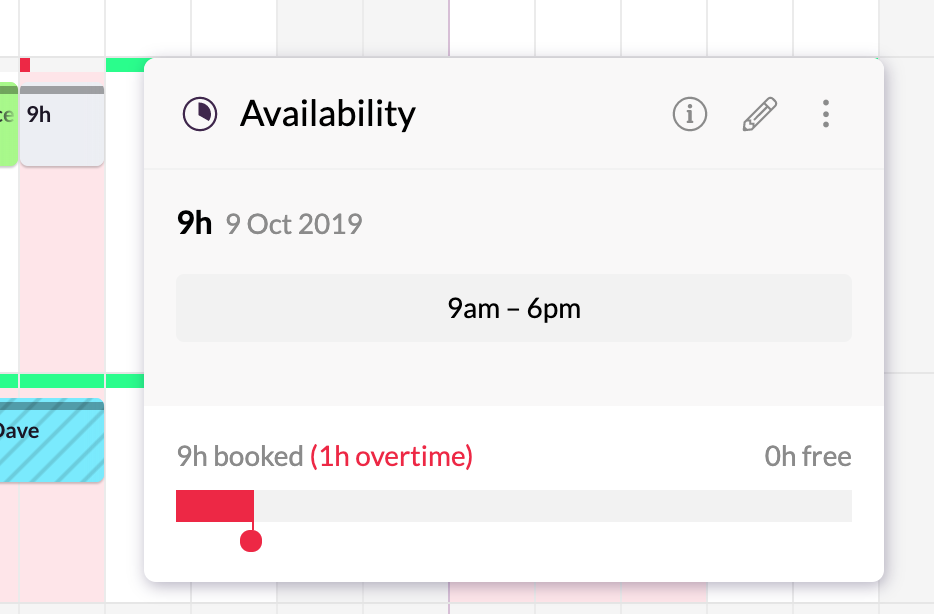 What else is different with the new overtime?
Overtime can now only exist where there is booked time (previously you could flag overtime capacity but not many people used it). However, if you want to increase someone's availability for a day, you can still edit their available hours in the popover. Then, if they actually work some of the longer hours, you can flag it as overtime when you subsequently add bookings.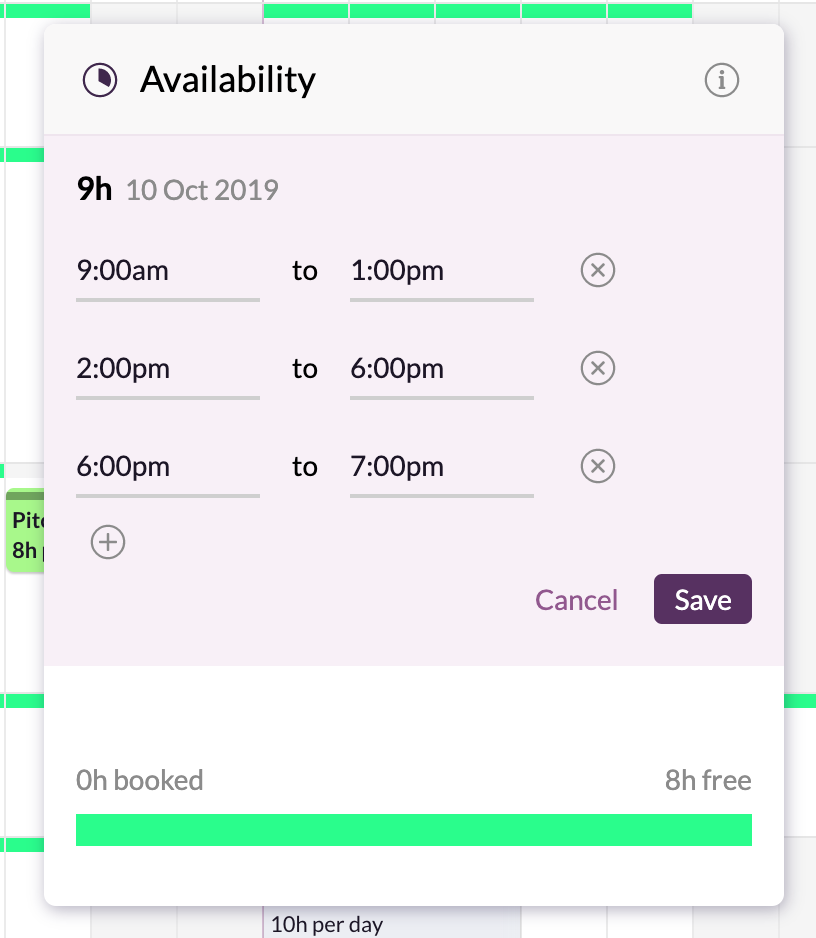 If you want to make a more permanent change to someone's availability over a long period of time, we still recommend that you do it using Normal Availability in the Resources section.
As usual, you can read more about this and all our other features in the Help Center.
A lighter color scheme in the Schedule
Following your feedback we have lightened the color palette to make bookings in the new Schedule more readable and less noisy.
This is the second color change in recent months so we're sorry for any inconvenience. But we hope you agree that it's a significant improvement.
Moving over to the new Schedule
Overtime can no longer be edited in the old Schedule. It will also be retiring soon so we recommend that all our customers start using the Schedule beta from now on instead. As always we're eager to hear your feedback so, if there's anything in the old Schedule you currently rely on, please let us know as soon as possible.
The second biggest cause of project failures
There are lots of different reasons for project failure but one of the biggest is poor resource planning. A Project Management Institute (PMI) article lists it as the second most frequent cause of project failure. We invested a lot of time and effort in our new overtime feature because, along with the Waiting List, it gives you the tools you need to create a realistic schedule.
Other scheduling tools allow you to casually over allocate resources. For example, making someone 130% utilized next week. But what does that even mean? Does it mean that person is actually going to work 30% extra next week? Or does it mean that person won't be doing the extra work and it will be allocated to someone else before the work is due to start? The problem with all this is that firstly, it's unclear. Secondly, it's too easy to do without thinking about the implications. And, thirdly, the work usually comes around before anyone's noticed that it needs to be reallocated. And you know what that means? Yup, you'll be working late this week – again! Maybe it's time to dust off that resume?
Resource Guru is designed to eliminate these problems before they even happen. If you need someone for 130% of their normal time, simply add it as overtime. Yes, technically it's still overallocating someone but at least you know exactly what you're doing and there's no doubt about whether the work is going to be done or not. And, because it's all tracked in Reports, you can measure who's putting in extra time and for how long. Allowing you to manage it in the long run. As they say, you can't manage what you don't measure.
On the other hand, if you simply want to overallocate to highlight work that needs reallocation in the future, you can simply add it to the Waiting List. It's a great way to pencil work in and keep it on your radar for reallocation at a later date. It's clear to everyone that bookings on the Waiting List are unconfirmed and need to be reallocated before the due date.
Replacing employees is super-expensive
Other negative effects of thoughtlessly overallocating staff are poor morale, stress and burnout leading to staff churn. Have you ever worked out the cost of replacing an employee? Factoring in the time and effort spent finding candidates and interviewing them. Plus the recruitment or advertising fees. It's more than you think. According to SHRM, the average cost-per-hire was $4,425 in 2016. And, for executives, the average goes up to $14,936!
And let's not forget that quality and concentration levels drop when people are overworked. People often rush things in an effort to get home at a reasonable time. In the end it's your clients and ultimately your business that suffer as a result. Thoughtless overallocation is just all kinds of wrong.
Stress is a killer
Like, literally! According to the American Institute of Stress, "numerous studies show that job stress is far and away the major source of stress for American adults and that it has escalated progressively over the past few decades." And, it's "associated with increased rates of heart attack, hypertension and other disorders." Ultimately, this means that thoughtless overallocation of work is a killer too.
In many countries, including the USA and UK, employers have legal duties to ensure the health, safety and welfare of their staff. This means that they can be sued for knowingly creating stressful working conditions. Worth bearing in mind the next time a project manager casually allocates a 150% utilization rate to an employee for 3 weeks.
The unique tools in Resource Guru are designed to help you foster a healthy, happy work environment where there's a lower chance of staff churn and an increased chance of project success.
Click To Tweet
Photo by Sandra Seitamaa on Unsplash