Jackie Olson has had an unconventional journey in the ad world. Shortly after joining Digitas in Boston, covid hit. Fast forward two years and she's left the ad world for a job as a snowsports instructor in Seattle. Today? She's just moved to London with her fiancé.
Read her story and discover what work-life balance means to her today.
"Work-life balance is something my finacé and I have talked about a lot lately," she says. And why wouldn't they? With a move to London and plans for a family in the future, the topic is more relevant than ever. 
When asked about what work-life balance means to her, she says "It means the ability to be successful both at work and at home."
This is a definition probably a lot of people can relate to. 
During a time when there's a significant talent shortage in the ad industry as employees are demanding more work-life balance or leaving the industry completely—the industry is facing a whole new set of challenges, if not, a crisis.
But let's travel back in time to see exactly what kind of journey Olson has been on.
The path to advertising
At university, she studied journalism at the University of Missouri-Columbia which eventually led her down the path to communications and advertising. 
Why advertising? Olson thrives in collaborative environments, has an acute ability to understand client needs, and enjoys building relationships. All of the aforementioned are key qualities in a project manager.
After college, she made the move to the East Coast where she joined a smaller agency to gain experience, before moving to Digitas, consistently ranking as one of the top ad agencies in the US.
Olson was excited when she first walked into the Digitas office at 40 Water Street in Boston's Financial District. Still relatively new to the city, she was looking forward to meeting new colleagues, joining clubs, and getting more exposure to Boston's world of advertising.
But just a few weeks after her first day, covid hit.
Managing projects in the new normal
Managing multiple projects, teams, and client relationships, is difficult as is. Throw a pandemic into the mix and an industry that's not used to working remotely? 
Well, things get even harder.
But at Digitas, the message from leadership was clear: employee well-being was important. 
While well-being was prioritized, they struggled with trust and visibility. 
Soon, the classic insecurities of newly remote businesses started to crop up.
Where is this person? What are they doing right now? Are they really working?
An agency with a former thriving and dynamic office culture with teams that are used to getting together to brainstorm, collaborate, and strategize daily, managing projects in a remote setup proved challenging.
Perhaps it was a sign of the times, perhaps it was luck of the draw, but two years later, Olson had worked on multiple accounts and projects, few of which ever came to fruition.
When Olson assessed her career and thought about chasing a promotion or getting a raise, it dawned on her that she actually no longer wanted to do the job she was in.

"When I looked at the people above me and what they were doing, I didn't see that as a path for me or a lifestyle that I would enjoy."
So Olson made up her mind: it was time for a change.
From meetings to the mountains
When asked if there was anything specific, a moment, a task, or an interaction that brought Olson to her decision, she said "No, it was more a slow realization over time. Why am I doing this?"
During a conversation with her mom, she asked Olson what she would do if she could do anything. She answered, "I'd teach kids winter sports."
So Olson packed up her life in Boston and headed west to Seattle.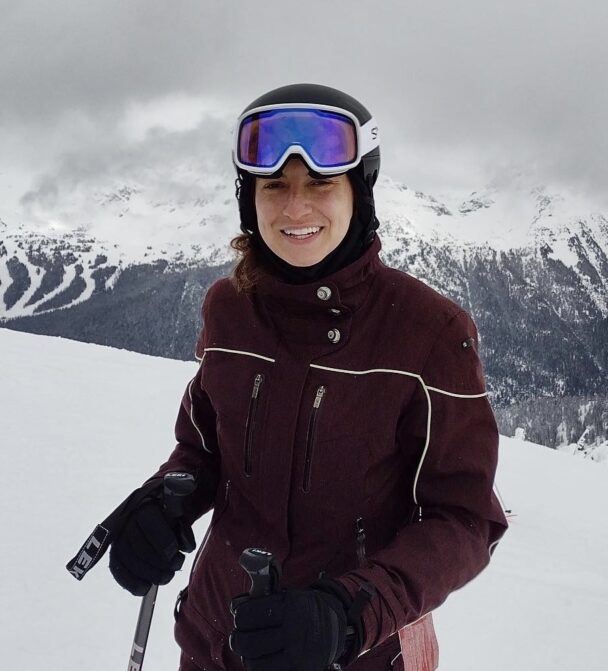 Turns out that decision would be life-changing in many ways. Because in Seattle, she found more than an entirely different lifestyle—it's where she met her fiancé, the reason she's now moved 8000 miles to not just another new city, but a new country, London, United Kingdom.
Exploring what's next
Today, Olson is navigating her newfound hometown while figuring out what's next for her. Currently, she's living in limbo as she's waiting for her visa to come through.
"I'm just looking at where I can fit myself back in and what that looks like." After a brief pause, she adds "I don't know," followed by a laugh. 
Earlier, she explained that her path so far had been pretty clear-cut. Just like most of us, she went to school, followed by college, and went straight into her first role as a young professional, with no break in between.
So as of right now, "I don't know" sounds like a pretty exciting place to be for Olson.
Looking for someone with a knack for building relationships, a keen collaborator, and know how to navigate client relations?