Fifty Eight are a company with a serious mission. Since launching in September 2014 they have been partnering with organizations including the University of Liverpool and the Ethical Trading Initiative to provide training, consulting, and the development of practical solutions in an effort to address the challenges of modern slavery and improve working conditions in global supply chains.
One of their latest projects is Just Good Work, a platform that helps migrant job seekers and workers receive simple, concise and accurate information for their life and work in their destination country. A lack of local knowledge and connections means migrant workers are often targets of unscrupulous and criminal recruitment and employment practices, so the Just Good Work platform provides them with access to legal and practical help, and helps them apply for jobs that are legitimate, worthwhile and appropriate to their skills and abilities.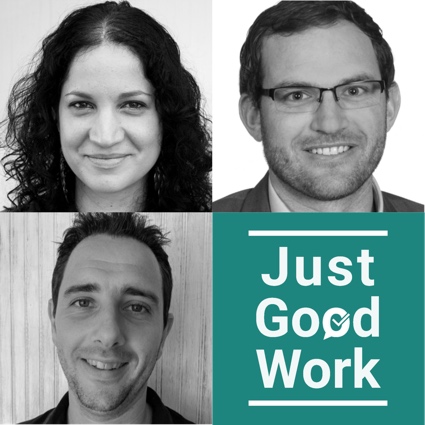 Angela, Quintin and David of Fifty Eight
With a team spread across the UK, USA and New Zealand, Fifty Eight often find themselves working on projects spanning multiple time zones. They initially tried to manage their capacity planning and reporting with Excel spreadsheets and a basic timesheet tool, but as Quintin Lake, a Director at Fifty Eight explains, this solution wasn't scaling to meet their needs.
"As our team and the number of projects we were managing began to grow, we felt we needed better integration of planning and reporting, and also that we wanted as simple tool that our international team could all access. We wanted to make sure there was a good foundation for future growth."
Knowing they needed a more powerful system, they left Excel and their timesheet tool and started scheduling their projects with Resource Guru. They are now using the Schedule beta to manage their bookings, and are also fans of Resource Guru's reporting functionality, which allows them to get an accurate picture of their planned and billable capacity.
"With Resource Guru we can very quickly see what projects we have planned in the coming weeks and months, and easily shuffle work from week-to-week using the simple scheduling interface. We can also accurately report our actual time against project plans and do this all in one tool."
"Resource Guru has certainly given us a better tool for making decisions that allow us to focus our efforts on the work that is most profitable for the company."
Quintin estimates that the move to Resource Guru is saving them between 5-6 hours a month compared to their previous scheduling system. "Resource Guru has helped us better focus and manage our time through a better picture of what work is already planned vs what is coming in our pipeline. It means we can better balance delivery of existing projects with bringing in new work, and is helping us plan for the future through knowing where our capacity is being exceeded. Our team all really enjoy using it and that helps make it more effective as well!"
Learn more about Resource Guru, or start your free 30 day trial today.
Related articles: